Short URL: https://tnot.es/ER
Eritrea Travel and Tourism Information on Travel Notes

Find Eritrea Travel and Tourist Information with links to official travel and tourism websites and state resources for visitors to Eritrea.
About Eritrea
Eritrea was formerly under Italian control, and then taken over by Great Britain during World War II.
Countries neighbouring Eritrea are: Sudan, Ethiopia and Djibouti.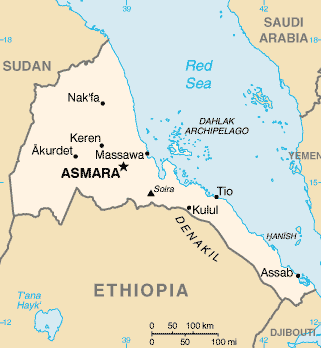 Eritrea remained a British protectorate from 1941 until 1952.
At the insistence of the UN General Assembly the federation of Eritrea with Ethiopia was to be completed by September 1952.
Once the federation was concluded, Haile Selassie of Ethiopia made moves to end Eritrea's autonomy.
Within ten years Eritrea had been reduced to a province of Ethiopia. The seeds of resentment had already been sown, and watered.
Map of Eritrea:
A large file with readable place names around Eritrea.
Eritrea Language and Culture
Eritrea reflects many languages, cultures, and religions because of its diverse population.
Despite this ethnic diversity, the Eritreans have been closely bonded by their long drawn-out opposition to Ethiopian control.
Weather in Africa:
Local weather forecasts for destinations around Africa.
The Eritrean Liberation Front sprouted up in 1958 and an armed struggle, that would last for 30 years, was getting under way; to be pursued more vigorously by a military splinter group called the Eritrean People's Liberation Front.
After capturing the major towns in the early 1990's, the EPLF were finally recognised by the international community as a provisional government.
An almost unanimous vote in favour of independence in April 1993, earned Eritrea a place in the United Nations the following month.
Sovereignty was proclaimed on May 24th.
Asmara succeeded Massawa as the capital of Eritrea in 1900, when the country was an Italian colony, and remained the capital when Eritrea gained independence from Ethiopia in 1993.
Asmara Attractions
As well as the Grand Mosque there is also a Roman Catholic cathedral in Asmara. The former Colonial Palace is also worth a visit.
Walking in Asmara:
Although it would be easy to think of Asmara, the Eritrean capital, solely as an Italian built colonial city, its origins actually reach back some 700 years.
Getting Around Asmara
Asmara Public Busses:
Public transport is well organised in Asmara. Busses and mini busses have specific stops where they can be boarded.
Hotels in Eritrea:
Find hotels in Eritrea with special online rates.
Hotels in Asmara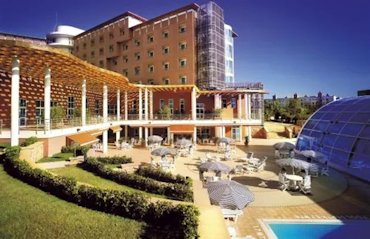 Hotel Asmara Palace:
Der Mie 4 Expo Area, Asmara, Eritrea.
As you would expect, this 5-star hotel in Asmara offers luxurious rooms, a beauty centre, tennis court, two swimming pools, and six restaurants and bars.

Guests at the Hotel Asmara Palace enjoyed the excellent service, delicious food and large rooms.
This seaport, on the Red Sea near Asmara, was for many centuries a dominion of Abyssinia.
Then the Ottoman Turks took possession of it between the 16th and 18th centuries until it was ceded to Egypt in 1864.
Italian troops occupied Massawa in 1885, and it became a part of Eritrea.
Two islands and the mainland together form Massawa.
Massawa
There is not much of interest in the mainland part of the town, although this is where the majority of the population live. The first of the two islands is called Taulud with the old railway station, the St Mariam's Cathedral and the Imperial Palace. Crossing the second causeway you enter the rather Moorish port area of town. Intermingled with larger ships are numerous hours from Yemen and Saudi Arabia.
by Mebrat Tzehaie.
Other major cities include Assab, Keren, Nak'fa, Ak'ordat, and Tessenei.
Dekemhare
Dekemhare - once the site of fairly extensive agricultural and light industry, and famous for its wine - suffered through several skirmishes and offensives during the War of Liberation.
Keren
This mountain city is one of the five major secondary towns in Eritrea, with a population of 121,000, and the regional capital of the Anseba Region.
Mendefera
Mendefera - a bustling market town - is also known as Adi Ugri.
by Mebrat Tzehaie.
Red Sea Survival Kit:
The live-aboard boat you choose for your Red Sea holiday may carry oxygen, but have no means of delivering it. It may have a poorly qualified crew. It may even be unseaworthy. John Bantin's survival guide suggests a list of questions to ask if you want to avoid a bad trip.
War, drought and famine have hit the country hard and by independence it was estimated that 20% of the population was displaced and as many as half a million were living as refugees in Sudan.

Add a Business Listing - Add a Destination Guide - Add a Place to Stay.



If you find Travel Notes useful, please take a moment to like us on Facebook and share with your friends on social media.
Africa Index - Africa Tourism - Africa Travel Websites.