Lac Abbe, Djibouti by Lesly Derksen on Unsplash.
Travel Notes: Africa - Djibouti Travel Notes - Updated 07 August, 2023.

Short URL: https://tnot.es/DJ
Djibouti Travel and Tourism on Travel Notes

Find Djibouti Travel and Tourist Information with links to official travel and tourism websites and state resources for visitors to Djibouti.
About Djibouti
Located in the Horn of Africa notable tourist attractions in Djibouti include Lake Assal, Moucha Island, Lake Abbe, and Djibouti City itself. Djibouti is also known for its whale shark spotting.
Countries neighbouring Djibouti: Eritrea, Ethiopia and Somalia.
Map of Djibouti
Djibouti is bordered by Eritrea to the north, Ethiopia to the west and south, and Somalia to the south-east.
The capital of Djibouti is Djibouti City.
The Republic of Djibouti is a former French Territory of the Afars and the Issas; situated on the southern shore of the Bab el Mandeb - where the Red Sea meets the Gulf of Aden - opposite Yemen.
Brief History
The Cushite people inhabited Djibouti long before the Arab traders and Ottoman Turks were attracted to the region by its strategic position.
With the English set up in Aden (Yemen), the French sought to secure a position on the opposite bank of the Red Sea's mouth, in the late 1850s.
Djibouti became the colony of French Somaliland in 1888 and an overseas territory of France in 1946; renamed the French Territory of the Afars and Issas following a referendum in 1967.
International Affairs
Despite its small size, Djibouti plays an important role in international affairs.
It is home to a major U.S. military base and is a key transit point for ships traveling through the Red Sea.
The country has also been a mediator in several regional conflicts and has hosted peace talks between warring factions in Somalia.
Language
French and Arabic are the official languages of Djibouti, although Somali and Afar are also widely spoken.
The country is predominantly Muslim, with Islam being the official religion.
People
Djibouti has a population of around one million people and is known for its strategic location on the Red Sea, which has made it an important trade hub.
The country has a diverse ethnic makeup, with the two largest ethnic groups being the Somali and Afar peoples.
Unique Landscape
Djibouti is known for its unique landscape, which includes desert terrain, salt lakes, and volcanoes.
The country is also home to several important wildlife reserves.
The Day Forest National Park is home to endangered species such as the Djibouti francolin and the antelope-like Soemmering's gazelle.
Djibouti is known for its strategic location at the entrance to the Red Sea and the Suez Canal.
It has a diverse landscape, including volcanic formations, salt lakes, and sandy beaches.
Whene planning to visit Djibouti, it is recommended to check the current travel restrictions and safety guidelines before making any arrangements.
Day Forest National Park
Day Forest National Park is home to a variety of wildlife, including antelopes, gazelles, and baboons.
It is also a popular spot for hiking and picnicking.
Popular Tourist Attractions in Djibouti.
Lake Abbe
This unique landscape is filled with limestone chimneys and hot springs.
It is also home to many flamingos and other bird species.
Lake Assal
This is a saltwater lake located in a volcanic crater and is one of the lowest points on Earth.
It is a popular spot for swimming and sightseeing.
Moucha Island
This is a small island off the coast of Djibouti that is known for its clear blue waters and pristine beaches.
Whale Shark Spotting
Djibouti is known for its whale sharks; which can be found in the Gulf of Tadjoura, from November to January.
The capital of Djibouti, also called Djibouti, serves as the principal seaport of Ethiopia, and is linked to Addis Ababa by rail.
Map of Djibouti City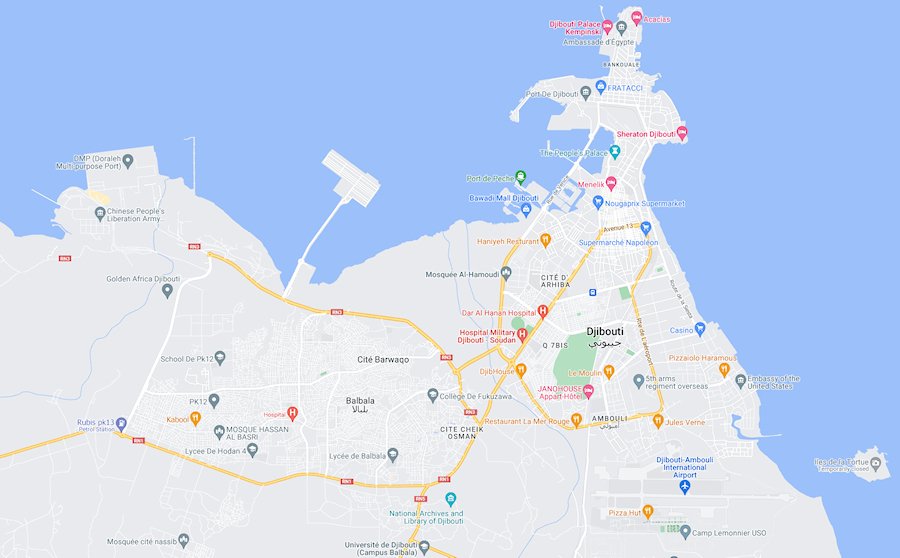 Djibouti City has a mix of French colonial and Islamic architecture, with several markets, museums, and restaurants.
Djibouti Palace Kempinsk
Djibouti Palace Kempinski:
Ilot Du Heron, Djibouti City, Djibouti.
Less than a ten-minute drive from Djibouti-Ambouli International Airport, rest like a sultan in the best hotel on the Horn of Africa; where elegance meets oriental luxury, in a destination full of wonders.
Guests who stayed at the Djibouti Palace Kempinski were impressed with the comfortable beds, large rooms with a luxurious feel to them, and wonderful views.
Djibouti Travel - Djibouti Guides.
Weather in Africa:
Local weather forecasts for destinations around Africa.
Travel Notes Online Guide to Travel
Africa - Asia - Caribbean - Europe - Middle East - North America - Oceania - South America.

The Travel Notes Online Guide to Travel helps visitors plan their trip with country and city travel guides, local tourist information, reviewed web sites, and regular travel articles.

Egypt.
Travel and Tourism Guides on Travel Notes
If Travel Notes has helped you, please take a moment to like us on Facebook and share with your friends on social media.


Travel & Tourism With Industry Professionals.