Short URL: https://tnot.es/YE
Yemen Travel and Tourism on Travel Notes

Find Yemen Travel and Tourist Information with links to official travel and tourism websites and state resources for visitors to Yemen.
About Yemen
The Republic of Yemen, proclaimed on 22nd May 1990, is in the South of the Arabian Peninsula.
Countries neighbouring Yemen are: Oman and Saudi Arabia.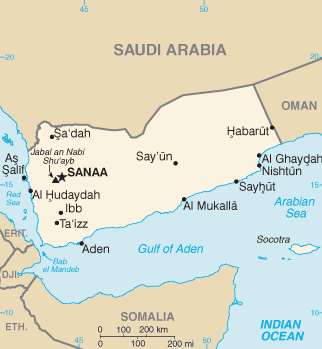 The Republic of Yemen is the result of unification between the Yemen Arab Republic and the Socialist People's Democratic Republic of Yemen; with Sanaa proclaimed the political capital, while the business centre is Aden.
Much of the country is now open to travellers, and relations with neighbouring Oman have also improved.
Weather in the Middle East:
Local weather forecasts for destinations around the Middle East.
One of the most important historical and tourist regions of the Republic of Yemen, especially the old city of Mareb, and the ruins of the Sun Temple, and Bilqis Throne of the ancient Sheba kingdom.
Tourists to Yemen can enjoy two seas, The Red Sea and the Arabian Sea; where fishing and diving are very popular pastimes.
Aden is an old trading port, with numerous old castles, fortresses and interesting museum exhibits.
Discover the mysterious way of life in the South of the Arabian Peninsula.
Tourism in Yemen:
Yemen is Arabia's undiscovered gem. It is a country where you can find the world's oldest skyscrapers, spectacular mountaintop villages, pristine coral reefs, and stunningly gorgeous trees unseen anywhere else on earth.
Yemen Embassy in London:
57 Cromwell Road, London.
Since ancient times Yemen has enchanted travellers, merchants, philosophers and kings with its secrets and wealth.
You too can enjoy adventure, trekking and diving in the south-west corner of the Arabian Peninsula.
FTI Yemen:
From the Red Sea to the Arabian Sea, Future Tours Industries offers a varied cultural program for visitors to Yemen - the crossroads of ancient spice and incense routes and one of the oldest continuously inhabited regions in the world.

Add a Business Listing - Add a Destination Guide - Add a Place to Stay.



If you find Travel Notes useful, please take a moment to like us on Facebook and share with your friends on social media.
Middle East Index - Middle East Tourism - Middle East Websites.