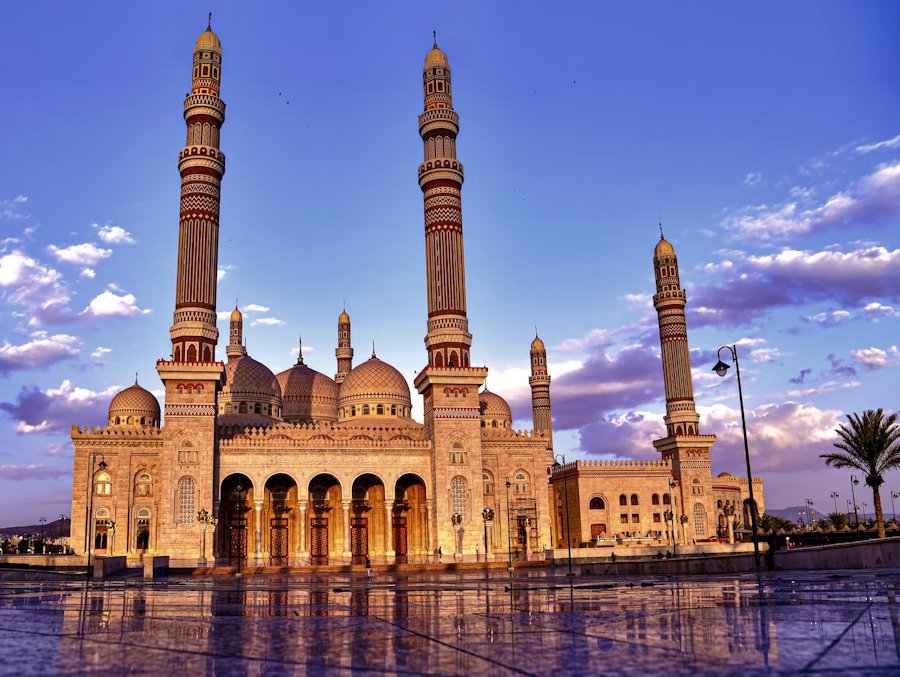 Yemen by Almwald Alezzey on Unsplash.
Travel Notes: Middle East - Yemen Travel Notes.

Short URL: https://tnot.es/YE
Yemen Travel and Tourism on Travel Notes

Find Yemen Travel and Tourist Information with links to official travel and tourism websites and state resources for visitors to Yemen.
About Yemen
The Republic of Yemen, proclaimed on 22nd May 1990, is in the South of the Arabian Peninsula.
Map of Yemen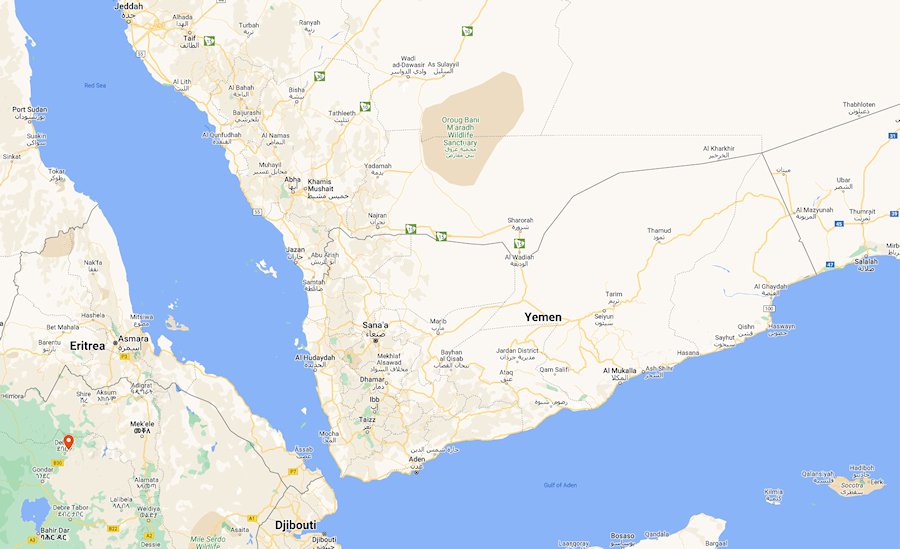 Countries neighbouring Yemen: Oman and Saudi Arabia.
The Republic of Yemen is the result of unification between the Yemen Arab Republic and the Socialist People's Democratic Republic of Yemen; with Sanaa proclaimed the political capital, while the business centre is Aden.
Much of the country is now open to travellers, and relations with neighbouring Oman have also improved.
One of the most important historical and tourist regions of the Republic of Yemen, especially the old city of Mareb, and the ruins of the Sun Temple, and Bilqis Throne of the ancient Sheba kingdom.
Tourists to Yemen can enjoy two seas, The Red Sea and the Arabian Sea; where fishing and diving are very popular pastimes.
Aden is an old trading port, with numerous old castles, fortresses and interesting museum exhibits.
Socotra Archipelago
Socotra, or Soqotra, is the largest of the four islands that make up the UNESCO World Heritage Site of the Socotra Archipelago in the Arabian Sea, 240 miles offshore from their mother land, Yemen.
There's plenty for the adventurous traveller to explore, from the capital Hadibo to Ayhaft Canyon National Park, Qaria Lagoon, Rosh Marine Protected Area, Homhil Reserv, Terbak village and Hoq cave, Qalansiyah, Diksam Plateau and the forest of Firhimin to name a few.
Sometimes known as 'The Galapagos of the Indian Ocean', the Socotra archipelago has an exceptionally large number of endemic species.
Of the 220 bird species recorded, eleven are endemic, including the relatively recently identified Socotra Buzzard.
At ground level, some three hundred plant species are endemic. Many of the insects, reptiles and spiders are unique to the archipelago.
With its superb beaches and dramatically varied landscapes (mountains, forest, ravines, sand-dunes, beaches, caves.) Socotra is a prime target for tourism, which will need handling with extreme care.
Strict regulations are in force to preserve the island's natural heritage and much of it has protected status, but some unprotected land has already been sold to potential developers.
This pristine and relatively unknown little island, so full of natural treasures, may be on the brink of a very different future.
Yemen's Socotra Archipelago could become a dream destination for tourists.
Getting Around Socotra
Public transport on Socotra is limited to a few minibuses. Car rental usually means hiring a 4WD with driver.
The airport for Socotra was built in 1999. Before this modest airport, the island could only be reached by a cargo ship.
When to Visit Socotra
The best time to visit Socotra is from October to April; to avoid the monsoon rains.
Visits to Socotra from the United Arab Emirates can be controversial.
Discover the mysterious way of life in the South of the Arabian Peninsula.
Tourism in Yemen
Yemen is Arabia's undiscovered gem. It is a country where you can find the world's oldest skyscrapers, spectacular mountaintop villages, pristine coral reefs and stunningly gorgeous trees unseen anywhere else on earth.
Yemen Embassy in London:
57 Cromwell Road, London.
Since ancient times Yemen has enchanted travellers, merchants, philosophers and kings with its secrets and wealth.
You too can enjoy adventure, trekking and diving in the south-west corner of the Arabian Peninsula.
From the Red Sea to the Arabian Sea, there's a varied cultural program on offer for visitors to Yemen; the crossroads of ancient spice and incense routes and one of the oldest continuously inhabited regions in the world.
Hiking and Trekking in Yemen
Yemen offers some of the best opportunities for trekking, especially in the mountains north-west of Sana'a.
Yemen Travel Guides - Yemen Maps.
Weather in the Middle East:
Local weather forecasts for destinations around the Middle East.
Travel Notes Online Guide to Travel
Africa - Asia - Caribbean - Europe - Middle East - North America - Oceania - South America.

The Travel Notes Online Guide to Travel helps visitors plan their trip with country and city travel guides, local tourist information, reviewed web sites, and regular travel articles.
Travel and Tourism Guides on Travel Notes
If Travel Notes has helped you, please take a moment to like us on Facebook and share with your friends on social media.


Travel & Tourism With Industry Professionals.

Bahrain.