Bahrain by Ajmal Shams on Unsplash.
Travel Notes: Middle East - Bahrain Travel Notes.

Short URL: https://tnot.es/BH
Bahrain Travel and Tourism on Travel Notes

Find Bahrain travel and tourist information with links to official travel and tourism websites and state resources for visitors to Bahrain.
About Bahrain
The Kingdom of Bahrain is made up of 33 small islands in the Arabian Gulf, between Saudi Arabia and Qatar; the largest of which, is Bahrain itself.
Map of Bahrain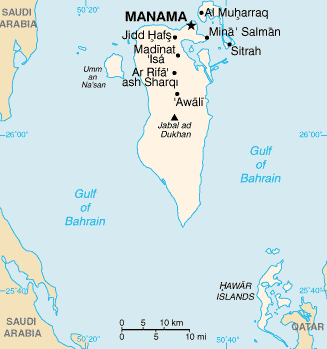 Portuguese explorers who captured the island, in 1521, were eventually overwhelmed by the Persians in 1602.
Bahrain Travel Guides - Bahrain Maps.
Weather in the Middle East:
Local weather forecasts for destinations around the Middle East.
Bahrain History
To escape tribal wars in Central Arabia, the al-Khalifa family moved to the Gulf Coast in the 17th century and found a more prosperous life on the coast of Qatar.
The al-Khalifa family gained control of Bahrain in 1783, until British influence in the region forced them to accept a series of treaties.
From 1861, Great Britain started to control Bahrain's external affairs. Bahrain joined the Trucial States but, when the British withdrew, they elected to remain outside the United Arab Emirates.
Bahrain became an independent constitutional monarchy on 6th December, 1973. Since dissolving the constitutional national assembly in August 1975, the royal family have taken over as unchallenged absolute rulers.
In the 1980's, the Iranians tried to encourage revolution in the island and renew their claims to the emirate; but their attempts were thwarted.
Shiite supporters of a cleric have tried to call for a return to the national assembly but their demonstrations in Manama were quickly put down, in December 1994 and early 1995.
Bahrain's Ninth al-Khalifa
In 1999, Sheikh Isa took over as head of state after the death of his father, Sheikh Salman, becoming the ninth in a line of Bahrain's rulers from the al-Khalifa family.
Bahrain became a Kingdom on 14th February, 2002.
Bahrain Landscape
Other principal islands in Bahrain are: Al Muharraq, Umm an Na'san, Sitrah, Jiddah, and the Hawar group.
Bahrain Language and Culture
Primarily a Muslim nation, Bahrain is considered to be one of the more liberal Arab lands.
Women are permitted greater leeway with dress, entertainment, and social access than in some nearby nations.
The Capital City of Bahrain is Manama
Declared a free port in 1958, Manama became the capital of independent Bahrain.
Manama Location
Map of Manama
Manama Sightseeing
Popular attractions in Manama are the Al-Fateh Mosque; Bahrain National Museum; Corniche al-Fateh; Museum of Pearl Diving; Pearl Monument; and the Tree of Life - 30km south of Manama.
No visit to Bahrain would be complete without a trip to the souk, with its profusion of colours, sounds, and aromas.
Official Bahrain Government and Tourist Information Offices
Tourist brochures are available from the various Bahrain provincial tourism offices. The main office is located on Adliya Avenue.
Bahrain Visa Requirements
No visa is required for citizens of Saudi Arabia, UAE, Qatar, Oman and Kuwait, provided they bring all other travel documents. Any European national visiting Bahrain may receive an 'on-arrival visa' which permits them to stay for a maximum period of one week.
Bahrain Embassy to the United States:
3502 International Drive N.W., Washington, DC.
Bahrain Embassy (UK):
30 Belgrave Square, London, SW1X 8QB.
Bahrain Tourism and Exhibitions Authority:
Bahrain's first purpose-built, 8,000 square metre, pillar-free exhibition facility was inaugurated on 2nd November, 1991 - with a trade fair called, Rebuild Kuwait.
Bahrain Visas Online:
This is the only official website to apply for an eVisa to the Kingdom of Bahrain.
British Embassy in Bahrain:
21 Government Avenue, Manama.
L'Ambassade du Royaume de Bahrein a Paris:
3 bis, Place des Etats-Unis, 75116 Paris.
Sightseeing - Top 10 Sights in Bahrain
Bahrain is ruled by the Al-Khalifa family, and some of their palaces are worth a visit: Bahrain's Guest Palace being one of the more famous.
Behind the modernism of Manama is the old town with its decorative houses, rambling Arab souks, old mosques and the occasional date palm grove.
The Bahrain National Museum is situated on the intersection of the Muharraq Causeway and King Faisal Highway.
Bahrain Grand Prix:
The Bahrain International Circuit is located in Sakhir, behind the University of Bahrain.
Getting To and Around Bahrain
Bahrain by Air
Airlines and Airports - Flights.
Flights to Bahrain - BAH
Bahrain International Airport:
Bahrain International Airport is at the centre of commercial aviation in the Gulf region.
Gulf Air:
The national airline of Bahrain offers integrated flight services throughout the Middle East, Asia, Europe and USA.
Bahrain by Road
The 25 kilometre King Fahad causeway, between Saudi Arabia and Bahrain, was opened in November 1986; and with it came an increase in local tourism.
Bahrain Locals and Frequent Visitors Share Their Travel Tips
Travel safely with prior travel planning.
Prepare yourself with our essential travel tips and visitor guides from locals, other travellers, travel guide writers and bloggers.
Bahrain Resources
Gulf Daily News:
Bahrain's finest English-language daily newspaper.
Travel Notes Online Guide to Travel
The Travel Notes Online Guide to Travel helps visitors plan their trip with country and city travel guides, local tourist information, reviewed web sites, and regular travel articles.

Join Michel on Meta-Travel.

Airlines and Airports.

Add a Business Listing - Add a Destination - Add a Place to Stay - Add URL.


Popular Hotels in Manama

Affiliates - Middle East Tourism - Middle East Websites.
If you find Travel Notes useful, please take a moment to like us on Facebook and share with your friends on social media.