Short URL: https://tnot.es/IR
Iran Travel and Tourism on Travel Notes

Find Iran Travel and Tourist Information with links to official travel and tourism websites and state resources for visitors to Iran.
About Iran
The Islamic Republic of Iran was previously a constitutional monarchy ruled by a shah; from 1906 to 1979.
Countries neighbouring Iran are: Iraq, Turkey, Armenia, Azerbaijan, Turkmenistan, Afghanistan and Pakistan.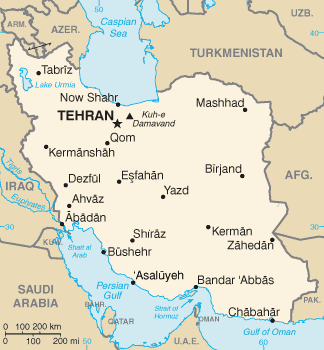 Much of the country is rugged terrain, subject to severe earthquake activity, while central Iran is predominately desert.
Persian carpets are still considered among the most valuable in the world, because of the considerable skill of the Iranian weavers.
The Persian Empire was founded by Cyrus the Great, the self-proclaimed king of Persia, in 550 BC. His tomb can still be seen at Pasargadae.
The capital of the Persian Empire, Persepolis, was situated in the dry mountainous region of south-western Iran.
Much of the architecture of the city has been preserved, due to the favourable climate and restoration work on the ruins by dedicated archaeologists.
The Persian Empire never managed to encompass Greece, but Alexander the Great took Persia in the 4th century BC.
After the death of Alexander the Great, in 323 BC, there were many struggles for control of Persia.
Iranian Government:
The official site of the Presidency of the Islamic Republic of Iran.
Iran Customs Regulations
You can't bring duty-free alcoholic beverages into Iran, but a laptop is ok; as long as it has no gambling and debauchery paraphernalia on the hard drive.
Weather in the Middle East:
Local weather forecasts for destinations around the Middle East.
Enter Iran:
Getting to Iran, and other information for visitors.
Iranian Culture:
Although sometimes referred to as Persian culture, the inhabitants of Iran have long called themselves Iranians, and this is their culture.
Iranian Cites:
Mashhad (mah-shahd), meaning place of martyrdom, is the capital and largest city in Khorasan province. It is also Iran's holiest city, located 850 kilometres north-east of Tehran. Find out more about Iranian cities.
Regional Iran:
Where to go in Iran. Learn more about the regions of Iran.

Add a Business Listing - Add a Destination Guide - Add a Place to Stay.



If you find Travel Notes useful, please take a moment to like us on Facebook and share with your friends on social media.
Middle East Index - Middle East Tourism - Middle East Websites.