Persian Tea in Tehran by Mehrshad Rajabi on Unsplash.
Travel Notes: Middle East - Iran Travel Notes - Updated 17 July, 2023.


Short URL: https://tnot.es/IR
Iran Travel and Tourism on Travel Notes

Find Iran Travel and Tourist Information with links to official travel and tourism websites and state resources for visitors to Iran.
About Iran
Iran is a country steeped in history and culture; a popular destination for travellers who are interested in exploring this fascinating part of the world.
Much of the country is rugged terrain, subject to severe earthquake activity, while central Iran is predominately desert.
Countries neighbouring Iran: Iraq, Turkey, Armenia, Azerbaijan, Turkmenistan, Afghanistan and Pakistan.
Map of Iran
Iran is bordered by Iraq to the west, Turkey, Armenia and Azerbaijan to the north-west, Turkmenistan to the north-east, Afghanistan to the east, and Pakistan to the south-east.
The country also has coastlines along the Caspian Sea and the Persian Gulf.
Iran, officially known as the Islamic Republic of Iran, is a country located in Western Asia.
The Islamic Republic of Iran
Iran is a complex and diverse country with various perspectives and aspects to explore.
The Islamic Republic of Iran was previously a constitutional monarchy ruled by a shah; from 1906 to 1979.
Culture and Society
Iran has a diverse and vibrant culture influenced by its long history, geography, and Islamic traditions.
Persian culture has had a profound impact on literature, poetry, music, art, and architecture.
The country is known for its rich traditions of poetry, notably the works of renowned poets such as Rumi, Hafez, and Ferdowsi.
Persian carpets, miniature paintings, calligraphy, and intricate tile work are some of the notable artistic expressions.
Iranian society is predominantly Muslim, with Shia Islam being the dominant branch, and Islam plays a significant role in shaping daily life, customs, and social norms.
Economy
Iran has a mixed economy, with a significant portion controlled by the state.
It possesses vast oil and gas reserves, making the energy sector a crucial component of the Iranian economy.
However, Iran has faced economic challenges due to international sanctions, limited foreign investment, and mismanagement.
The country has sought to diversify its economy by promoting non-oil sectors such as manufacturing, agriculture, and tourism.
Despite its challenges, Iran has a relatively well-educated population and a skilled workforce.
History
Iran has a rich and ancient history dating back thousands of years.
It was home to one of the world's earliest civilisations, the Elamite kingdom, followed by the rise of the Persian Empire under Cyrus the Great in the 6th century BC.
Iran has experienced numerous dynasties and ruling powers, including the Achaemenids, Parthians, Sassanids, and Safavids.
In the 20th century, Iran underwent significant political changes, including the Islamic Revolution in 1979 that led to the establishment of an Islamic republic.
Nuclear Program and International Relations
Iran's nuclear program has been a major point of international concern.
The country insists that its nuclear program is for peaceful purposes, such as energy production and medical research, but it has faced allegations from some countries that it has pursued nuclear weapons capability.
This has resulted in tensions with the international community, leading to sanctions and negotiations to curb Iran's nuclear activities.
The Joint Comprehensive Plan of Action (JCPOA), also known as the Iran nuclear deal, was signed in 2015 between Iran and several world powers but faced challenges and underwent changes in subsequent years.
Political System
Iran is an Islamic republic with an unique political system.
The Supreme Leader holds the highest authority in the country and is responsible for overseeing all major political and religious matters.
The President, elected by the people, is the head of government and manages the day-to-day affairs.
The Parliament, known as the Islamic Consultative Assembly, consists of elected representatives who create and pass legislation.
The Guardian Council, appointed by the Supreme Leader, vets candidates and has the power to reject legislation that contradicts Islamic principles.
Persian carpets are still considered among the most valuable in the world, because of the considerable skill of the Iranian weavers.
The Persian Empire was founded by Cyrus the Great, the self-proclaimed king of Persia, in 550 BC. His tomb can still be seen at Pasargadae.
The capital of the Persian Empire, Persepolis, was situated in the dry mountainous region of south-western Iran.
Much of the architecture of the city has been preserved, due to the favourable climate and restoration work on the ruins by dedicated archaeologists.
The Persian Empire never managed to encompass Greece, but Alexander the Great took Persia in the 4th century BC.
After the death of Alexander the Great, in 323 BC, there were many struggles for control of Persia.
It's important to check the latest Iran travel advisories, secure the necessary visas, and ensure you are aware of local customs and regulations before planning a trip to Iran.
Iran has much more to offer in terms of natural landscapes, historical sites, and cultural experiences.
Popular tourist destinations in Iran that you might find interesting when visiting the country.
Isfahan
Known for its stunning Islamic architecture, Isfahan is a must-visit city in Iran.
The UNESCO-listed Naghsh-e Jahan Square is a central hub featuring iconic landmarks like Imam Mosque, Sheikh Lotfollah Mosque, and Ali Qapu Palace.
The city's numerous bridges, such as Si-o-se-pol and Khaju Bridge, are also worth exploring.
Kashan
Located between Isfahan and Tehran, Kashan is a city with a rich history and beautiful traditional houses, such as Tabatabaei House and Borujerdi House.
The Fin Garden, a Persian garden that dates back to the 16th century, is an UNESCO World Heritage site and a peaceful retreat.
Kashan is also known for its rosewater production.
Kerman
Situated in south-eastern Iran, Kerman offers a glimpse into traditional Persian culture.
The city is home to the Ganjali Khan Complex, including a bazaar, bathhouse, and mosque.
Nearby attractions include the Rayen Citadel, Shazdeh Garden, and the Lut Desert, which is an UNESCO World Heritage site.
Shiraz
Renowned as the city of poets, Shiraz is famous for its beautiful gardens, poetic history, and ancient ruins.
Persepolis, an archaeological site of the ancient Persian Empire, is a major highlight.
Other attractions include Nasir al-Mulk Mosque (Pink Mosque), Eram Garden, and the tombs of renowned Persian poets Hafez and Saadi.
Tehran
The capital city of Iran, Tehran offers a blend of modernity and history.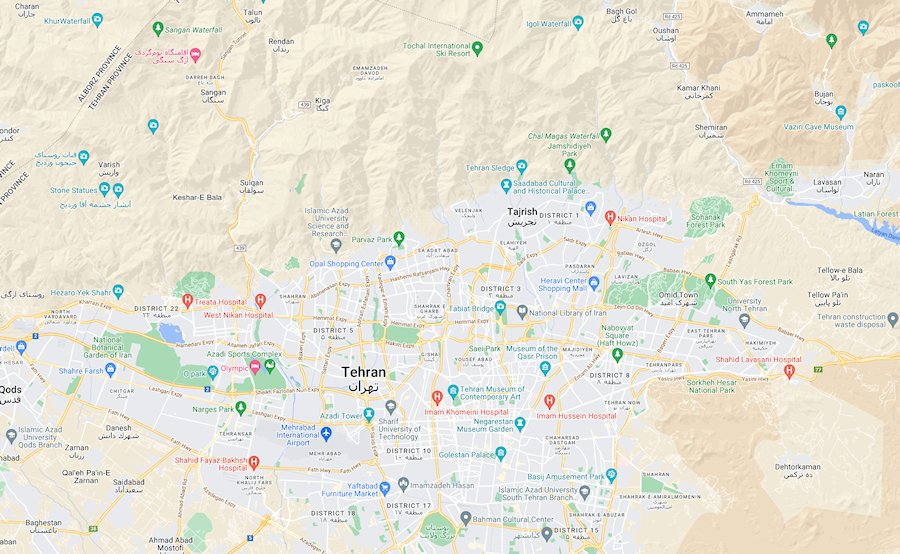 Map of Tehran.
It is home to numerous museums, including the National Museum of Iran, Golestan Palace, and the Iran National Jewels Museum (currently closed).
The Milad Tower provides panoramic views of the city, and you can also explore the bustling Grand Bazaar for shopping and experiencing local culture.
Yazd
Yazd is a desert city known for its unique architecture and traditional wind towers (badgirs).
It is also an UNESCO World Heritage site.
The Jame Mosque of Yazd, Towers of Silence, and the Yazd Atash Behram (Zoroastrian Fire Temple) are popular attractions.
The city is also famous for its narrow alleys and mud-brick houses.
Iran Customs Regulations
You can't bring duty-free alcoholic beverages into Iran, but a laptop is ok; as long as it has no gambling and debauchery paraphernalia on the hard drive.
Iranian Government
Visit the official website of the President of the Islamic Republic of Iran for the latest word from the Iranian Government.
Around Iran
Mashhad (mah-shahd), meaning place of martyrdom, is the capital and largest city in Khorasan province. It is also Iran's holiest city, located 850 kilometres north-east of Tehran. Find out more about Iranian cities.
Iranian Culture
Although sometimes referred to as Persian culture, the inhabitants of Iran have long called themselves Iranians, and this is their culture.
Iranian Regions
Where to go in Iran. Learn more about the regions of Iran.
Iran Tourism
Getting to Iran, and other information for visitors.
Iran on Travel Notes
Iranian Cities - Iranian Culture - Iranian Hotels - Iranian News - Iranian Regions - Iranian Tourism - Iranian Travel - Islam in Iran.
Iran Travel Guides - Iran Maps.
Weather in the Middle East:
Local weather forecasts for destinations around the Middle East.
Travel Notes Online Guide to Travel
Africa - Asia - Caribbean - Europe - Middle East - North America - Oceania - South America.

The Travel Notes Online Guide to Travel helps visitors plan their trip with country and city travel guides, local tourist information, reviewed web sites, and regular travel articles.

Iraq.
Travel and Tourism Guides on Travel Notes
If Travel Notes has helped you, please take a moment to like us on Facebook and share with your friends on social media.


Travel & Tourism With Industry Professionals.