Azerbaijan by Maanoj Ramchandani on Unsplash.
Travel Notes: Asia - Azerbaijan Travel Notes.
Short URL: https://tnot.es/AZ
Azerbaijan Travel and Tourism on Travel Notes

Escape the ordinary and venture into lesser-known wonders of Azerbaijan. From scenic villages to natural wonders, unveil the country's best-kept secrets.
About Azerbaijan
Azerbaijan is a popular tourist destination for travellers interested in exploring its rich cultural heritage, natural landscapes, and modern architecture.
Countries neighbouring Azerbaijan: Iran, Armenia, Georgia and Russia.
Map of Azerbaijan
Azerbaijan shares borders with Russia to the north, Georgia to the north-west, Armenia to the west and south-west, Iran to the south, and the Caspian Sea to the east.
The capital of Azerbaijan is Baku.
Azerbaijan is a country located in the South Caucasus region of Eurasia.
Azerbaijan was a former republic of the Union of Soviet Socialist Republics. Together with Armenia, and Georgia it forms a region known as Transcaucasia.
Azerbaijan is a fascinating country with an unique blend of history, culture, and modernity.
Although Azerbaijan borders Iran, the Azeris play their football in the European football zone that is controlled by UEFA; even though when you go to Azerbaijan, it doesn't feel like Europe at all.
It is a popular destination for tourists, offering a range of attractions from stunning natural landscapes to ancient historical sites.
Azerbaijan Economy
Azerbaijan has a mixed economy, with oil and gas production being the main sectors.
The country is one of the world's leading producers of oil and gas, and its economy has grown rapidly in recent years as a result.
Other important sectors include agriculture, manufacturing, and tourism.
Azerbaijan History
Azerbaijan has a long and complex history, with various empires and kingdoms ruling over the region at different times.
It was part of the Soviet Union for much of the 20th century.
President of The Republic of Azerbaijan:
The online home of the top office in government.
The least urbanised of the three Transcaucasian republics, Azerbaijan became an independent republic in 1991, after the collapse of the USSR.
Nagorno-Karabakh
Conflict flared in the Nagorno-Karabakh enclave of Azerbaijan, where most of the Armenian minority live, between Armenia and Azerbaijan in the late 1980s. Armenia gained control of the mountainous enclave in 1994 and 1995.
Azerbaijan is a beautiful country located in the South Caucasus region, known for its rich culture, history, and stunning natural landscapes.
Visit Azerbaijan
Azerbaijan is a great place to visit in any season.
The country has nine of the world's eleven climate zones and offers many different experiences to tourists.
Try to visit the northern regions of Kuba, Shaki and Zakataly.
The nature in these places is very beautiful and in Shaki you can visit the 18th century Shaki Khan's Palace; a World Heritage Monument.
Gabala
This scenic town is known for its natural beauty, with attractions like the Tufandag Winter-Summer Tourism Complex, the Nohur Lake, and the Gabala Shooting Club.
Gobustan National Park
This national park is home to more than 6,000 rock carvings and inscriptions, dating back to the Stone Age.
The site also features mud volcanoes and a museum that showcases the history and culture of the region.
Lankaran
This seaside city is located in the south of Azerbaijan and features a beautiful coastline, hot springs, and the Hirkan National Park, which is home to various plant and animal species.
Nakhchivan
The Nakhichevan Autonomous Republic is rich in historical and artistic architectural monuments.
Sheki
Sheki is one of the oldest towns in Azerbaijan. Being the capital of the Sheki khanate, Sheki played an important role in the development of the Azerbaijan culture.
Located in the northwest of Azerbaijan, Sheki is a picturesque town known for its traditional architecture and the Sheki Khan's Palace, a stunning example of 18th-century architecture.
Xinaliq
An ancient and remote Caucasian village high up in the mountains of Azerbaijan. While the village is largely untouched by tourism, there is a guest house there for those adventurous few who venture up into the mountains.
Tourism in Azerbaijan:
The Ministry of Culture and Tourism of Azerbaijan presents some of the historical monuments you should see on a visit to Azerbaijan.
These are just a few of the many beautiful places you can visit in Azerbaijan. The country is also known for its delicious cuisine, warm hospitality, and rich cultural traditions.
Visas for Visitors to Azerbaijan - Asan Visa:
Official e-Visa portal for visas to Azerbaijan carried out by the State Agency for Public Service and Social Innovations under the President of the Republic of Azerbaijan. The e-Visa is issued within three working days.
Azerbaijan Attractions
A perfect blend of ancient history and modern architecture, the capital of Azerbaijan is a port on the Caspian Sea, in close proximity to major oil fields.
The city was the seat of the Shirvan khans in the 12th century, then changed hands between the Persians and the Russians a couple of times.
Old Quarter
The old part of the city is of most interest to travellers.
The city's Old Town is an UNESCO World Heritage Site and features historical landmarks such as the Maiden Tower and the Palace of Shirvanshahs.
Stroll through the narrow streets of the large fortress of Icheri-Shekher, with its mosques and a minaret dating from 1078. The 17th century khan's palace is now a museum.
You can also visit the modern attractions like the Flame Towers, Baku Boulevard, and the Heydar Aliyev Center.
Map of Baku - The Capital of Azerbaijan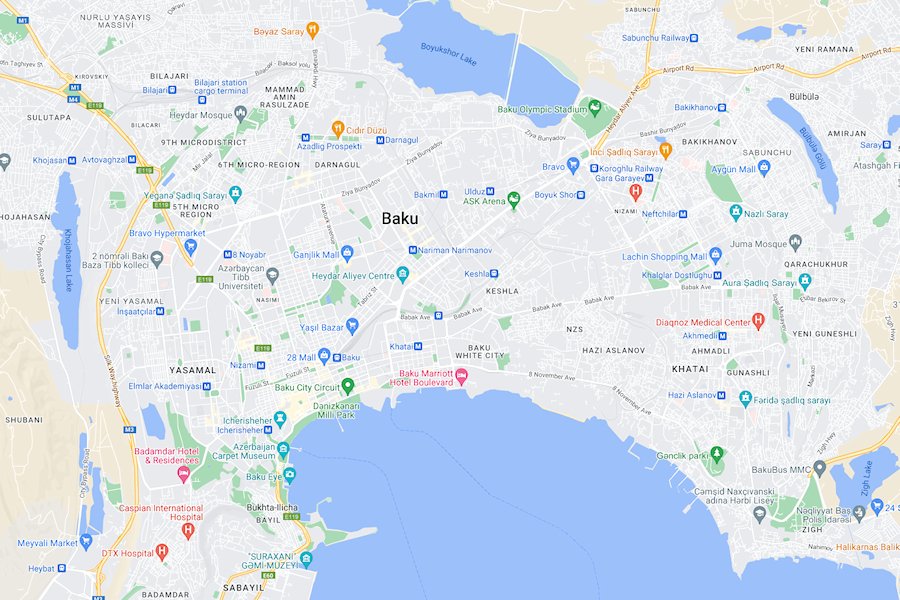 Budget Accommodation in Azerbaijan.
Flying to Baku - BAK
Airlines & Airports - Flights.
Azerbaijan Embassies Abroad
Embassy of Azerbaijan in Beijing:
Qijiayuan Diplomatic Compound, Villa No. 4-2, Beijing, 100600, P.R.China.
Embassy of Azerbaijan in Moscow:
Moscow 103009, Leontievsky Per. (Ul. Stanislavskovo) 16.
Embassy of Azerbaijan in Washington, DC:
2741 34th Street, NW, Washington, DC 20008.
Embassies in Azerbaijan
British Embassy in Baku:
45 Khagani Street, Baku.
Embassy of Italy in Baku:
Kichik Gala Street 44, Baku.
Royal Norwegian Embassy in Baku:
6-10 Vagif Mustafa-zade Kucesi, Baku.
Embassy of The United States of America in Baku:
83 Azadlig Prospect, Baku.
Where to Stay in Azerbaijan
Most people visiting Azerbaijan will be looking for Hotels in Baku, the capital.
Azerbaijan is a diverse country with a rich history and culture.
The official language of Azerbaijan is Azerbaijani; a Turkic language of the Uralic-Altaic family, but Russian and English are also widely spoken; although the use of Russian is in decline.
The majority of its population is ethnic Azerbaijani, but there are also significant minorities of Russians, Armenians, and other groups.
Azeris are traditionally Muslims and Shiite Islam is experiencing a revival.
The Georgian, Armenian, and Slavic minorities are more likely to be Orthodox Christians.
Azeri Culture
Azerbaijan is known for its rich cultural heritage, including traditional music, art, and literature.
It is also famous for its cuisine, which features a variety of dishes including pilaf, kebab, and dolma.
English-Azerbaijani Phrasebook:
This dictionary and phrasebook includes over 4,000 entries, plus an introduction to basic grammar and helpful phrasebook chapters covering subjects such as etiquette, the office, government, and food and drink.
World Class Azeris:
Interviews with Azeris who excel in art, music and science.
National Holidays in Azerbaijan
January 1 - New Year's Day.
January 20 - Day of the Martyrs.
March 8 - Women's Day.
March 21 - Novruz Bayrami.
May 9 - Victory in WW II Day.
May 28 - Republic Day.
June 15 - National Salvation Day.
June 26 - Army and Navy Day.
October 18 - National Independence Day.
November 12 - Constitution Day.
November 17 - Day of National Revival.
December 31 - Day of Solidarity of Azerbaijanis throughout the World.
Azerbaijan Travel Guides - Azerbaijan Maps.
Weather in Asia:
Local weather forecasts for destinations around Asia.
Travel Notes Online Guide to Travel
Africa - Asia - Caribbean - Europe - Middle East - North America - Oceania - South America.

The Travel Notes Online Guide to Travel helps visitors plan their trip with country and city travel guides, local tourist information, reviewed web sites, and regular travel articles.
Travel and Tourism Guides on Travel Notes
If Travel Notes has helped you, please take a moment to like us on Facebook and share with your friends on social media.


Travel & Tourism With Industry Professionals.

Bangladesh.