Armenia by Aram Grigoryan on Unsplash.
Travel Notes: Europe - Armenia Travel Notes.


Short URL: https://tnot.es/AM
Armenia Travel and Tourism on Travel Notes

Find Armenia Travel and Tourist Information with links to official travel and tourism websites and state resources for visitors to Armenia.
About Armenia
Armenia is a beautiful country located in the Caucasus region of Eurasia. It is known for its mountainous landscapes, ancient history, and rich culture.
Countries neighbouring Armenia: Turkey, Georgia, Azerbaijan and Iran.
Map of Armenia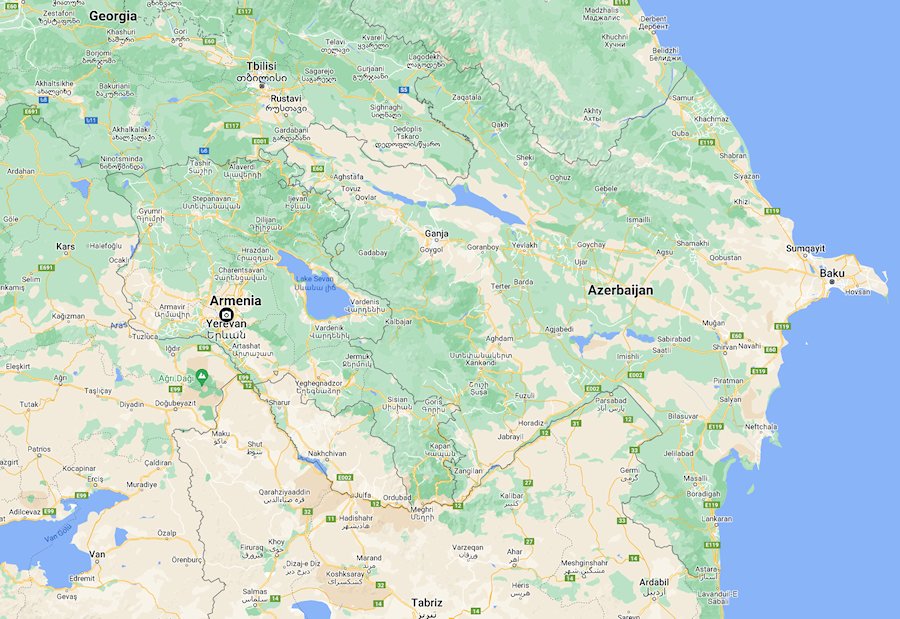 Armenia shares borders with Turkey to the west, Georgia to the north, Azerbaijan to the east, and Iran to the south.
The capital and largest city of Armenia is Yerevan.
Armenia is a landlocked country located in the South Caucasus region of Eurasia.
Armenia was a former republic of the Union of Soviet Socialist Republics. Together with Azerbaijan and Georgia it forms a region known as Transcaucasia.
Armenia's History and Culture
Armenia has a long and rich history that dates back to the ancient times, with many historical landmarks and cultural heritage sites still preserved in the country.
It was the first country to adopt Christianity as its state religion in 301 AD, and this has had a significant impact on its cultural and religious identity.
The Armenian people have a distinct culture and language that is closely related to the Indo-European family of languages.
The Armenian language has its own unique script, which is one of the oldest scripts still in use today.
Armenian Genocide
Foreign powers have treated Armenia brutally over the centuries.
Armenia has faced many challenges throughout its history, including invasions, wars, and genocide.
The Seljuk Turk invasion in the 11th century caused the first large-scale emigration of Armenians.
During the 19th and 20th centuries Armenians suffered further large scale massacres and oppression at the hands of Russian and Turkish governments.
In 1915, the Ottoman Empire carried out a genocide against the Armenian people, resulting in the deaths of over 1.5 million Armenians, and there is a large Diaspora. More Armenians live outside of the country than in it.
This event is still remembered and commemorated by Armenians around the world.
The Russians closed Armenian schools and ordered the confiscation of church property, while the Turks wanted to move Armenians to Mesopotamia.
Armenia Landscape
Armenia has a diverse landscape that includes high mountains, lush forests, and arid plains.
The country is known for its natural beauty, including the stunning Lake Sevan, which is one of the largest freshwater lakes in the world.
Armenia Today
Since the collapse of the Soviet Union, Armenia has remained on the verge of becoming either an economic crossroads or an isolated backwater.
Today, Armenia is a democratic republic with a developing economy.
It is known for its technology industry, particularly in the fields of artificial intelligence and software development.
Armenia also has a rich cultural heritage and a vibrant arts scene, with many festivals, museums, and galleries showcasing Armenian art and culture.
The Spirit of Armenia:
The Armenians have had their share of suffering, but events have failed to destroy the spirit of Armenia.
Helpful information for visitors to to Armenia.
Visit Armenia
Armenia is known for its rich history, stunning landscapes, and ancient monasteries.
If you are planning a trip to Armenia, here are some things to keep in mind.
Currency
The currency in Armenia is the Armenian dram (AMD).
It's best to exchange your currency for dram upon arrival, as it may be difficult to find places that accept foreign currency.
Language
Armenian is the official language of the country, but many people also speak Russian and English.
Safety
Armenia is a relatively safe country, but it's always a good idea to be aware of your surroundings and take precautions to keep yourself and your belongings safe.
Visa Requirements
Depending on your nationality, you may need a visa to enter Armenia.
You can check the requirements on the Armenian government's official website or consult with your local embassy or consulate.
Getting Around Armenia
The easiest way to get around Armenia is by taxi or private car.
Public transportation is available, but it may not be as reliable or frequent.
Hike Armenia
Created in 2015, and currently funded by the H. Hovnanian Family Foundation, Hike Armenia is a non-profit NGO committed to the promotion of Armenia as a hiking and ecotourism destination for international visitors and locals alike.
Places to Visit in Armenia
There are many amazing places to see in Armenia, including the capital city of Yerevan, the ancient monastery of Geghard, the stunning Lake Sevan, and the ancient temple of Garni.
Armenian men often hold hands or walk closely together - greeting each other with a kiss on each cheek.
If you shake hands with an Armenian don't expect to let go until the conversation is complete.
Men don't shake hands with the women (probably a courtesy, or sign of respect) and there is not very much public displays of affection between couples. Women in Yerevan do tend to dress in tight and somewhat revealing clothing.
Men - plan to wear pants at all times as shorts are not the norm for Armenians. Women - no shorts either unless you will be with a man. Many cat-calls and whistles may make you feel uncomfortable.
There are many places to shop in Yerevan but not in the outlying areas.
Be prepared for many Armenians to be smoking in restaurants, on the street, in cafes, the airport, everywhere.
There are many places to get your money exchanged.
Most citizens who completed school before the Armenians regained their independence in 1991 speak Russian and behave in a Soviet manner. Don't expect big smiles or hellos.
Be aware of the traffic at all times. Road rules are rarely followed and the police often pull taxis over to receive bribes.
Don't ask the police for directions unless you are willing to pay for their services. A good tip is 500 dram (about $1).
Food and travel are extremely inexpensive as are most hotels, unless you stay at a commercial location (The Marriott in Yerevan charges rates close to those they would in the US).
Summer is extremely hot but I have heard that the fall (end of September, October, and early November) is the best time to visit.
You will not be hungry - in the city there are many restaurants and coffee shops (try Armenian coffee if you like sweet espresso).
There is a lot of poverty and very underdeveloped places but the hospitality of most Armenians cannot be beat. Most of the architecture in Yerevan is Armenian-inspired and Republic Square is beautiful any time of the day.
In more rural areas the local homes are plain and some residents use old trailers as houses.
Visit the Vernizage on Saturday, in Yerevan, to bargain for souvenirs to take home. Some of the more popular are the stone, apricot, or walnut T-Cross (carved crosses), traditional flutes such as the duduk, pomegranate ceramics, mother earth spice serving containers, obsidian objects of all kinds, apricot wood carvings, and needlework.
Apricot wood is used because Armenia has many apricots (be sure not to drink water with apricots as it can cause some physical discomfort).
Yerevan has a water park called Water World that is a great place to cool off.
A small cafe called 'The Colour of Pomegranates' is an excellent taste of Armenian cuisine. This place is named after a movie by Parajonov - a famous Armenian film maker.
Armenians are very proud to be the first government to adopt Christianity (in 301 AD), to have many literary artists in it's past and present, and many are knowledgeable about their history.
The Armenian genocide has a museum and monument. This is a sensitive subject to Armenians.
Armenia Attractions
Map of Yerevan
Where to Stay in Armenia
Hotels in Yerevan:
A selection of places to stay in Yerevan.
Odzoun Guesthouse:
The Odzoun Guesthouse was built in 1971, but until recently remained closed after independence. Local inhabitants have since bought the premises and are currently renovating it.
Sissian Hotel:
The Sissian Hotel is an ideal choice for those interested in visiting the Siunik region of Armenia, or those interested in breaking up their journey to Nagorno Karabagh or Iran.
Sounk Motel:
Small, clean guesthouse located in charming Dilijan and conveniently situated close to Haghartsin and Goshavank. Excellent Armenian restaurant.
Tufenkian Heritage Hotels:
A network of luxurious properties in Armenia that combine great design, comfort and service; providing its guests with the richness of experiencing a revived Armenia.
Armenia Travel Guides - Armenia Maps.
Weather in Europe:
Local weather forecasts for destinations around Europe.
Armenia on Travel Notes
Armenian Art and History - Armenian Culture - Armenian Museums - Armenia Tourism - Armenia Tours - Yerevan.
Travel Notes Online Guide to Travel
Africa - Asia - Caribbean - Europe - Middle East - North America - Oceania - South America.

The Travel Notes Online Guide to Travel helps visitors plan their trip with country and city travel guides, local tourist information, reviewed web sites, and regular travel articles.
Travel and Tourism Guides on Travel Notes
If Travel Notes has helped you, please take a moment to like us on Facebook and share with your friends on social media.


Travel & Tourism With Industry Professionals.

Austria.