Armenian Art in The Park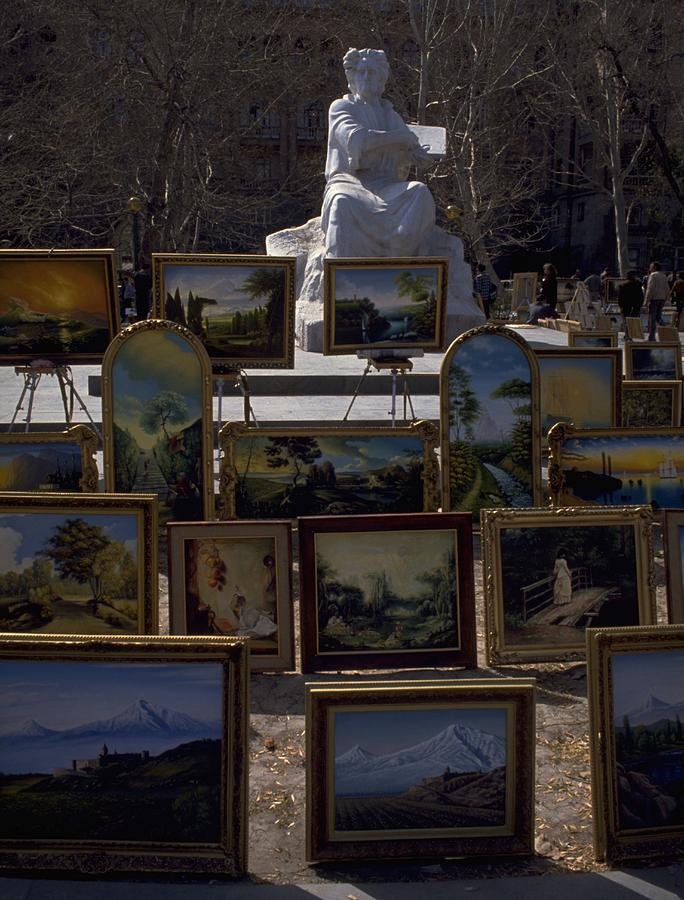 Travel Pics: Displaying Open-Air Art in Yerevan
On a photo walk in Armenia's capital, Yerevan, this beautiful display of art in the park caught my eye.
Yerevan is not an attractive city by any means, but some of its surroundings are; Armenia's ancient monasteries and the views across to Mount Ararat.
At weekends, much of Armenia's beauty is displayed through works of art by local artists in Saryan park; elegantly arranged around the statue of one of the country's most famous masters of colour on canvas.
Martiros Saryan (1880-1972) was a Russian-Armenian painter and founder of the Armenian national school of painting.
The site of Saryan's house in Yerevan was extended into a house-museum during the artist's lifetime.
Photo by Michel Guntern.
Location Scouting
Things to do on Location
Armenia Tourism:
Armenia travel and tourist information with links to official travel and tourism websites and local resources for visitors to Armenia.
Where to Stay in Yerevan, Armenia
Hotels in Yerevan, Armenia.
Travel Notes Online Guide to Travel

The Travel Notes Online Guide to Travel helps visitors plan their trip with country and city travel guides, local tourist information, reviewed web sites, and regular travel articles.
Museum-quality Travel Photography Prints can instantly transform your home or office into a spectacular location.
Browse our Collection of Travel Photos for more inspiring travel images featuring some wonderful travel destinations and find out more about the story behind the pictures.
Travel and Tourism Guides on Travel Notes
If our travel photography hits the sweet spot, please take a moment to like us on Facebook and share with your friends on social media.


Travel & Tourism With Industry Professionals.

Soviet Railway Emblem.