Short URL: https://tnot.es/IQ
Iraq Travel and Tourism on Travel Notes

Find Iraq Travel and Tourist Information with links to official travel and tourism websites and state resources for visitors to Iraq.
About Iraq
The historical name for the region is Mesopotamia, the land between two rivers (Tigris and Euphrates), and thought to be the cradle of civilisation.
Countries neighbouring Iraq are: Kuwait, Saudi Arabia, Jordan, Syria, Turkey and Iran.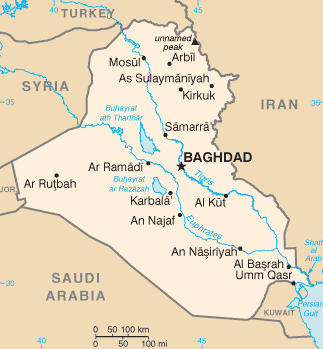 It is believed that land was cultivated here back in 4,000 BC, long before the glories of Babylonia, and Nebuchadnezzar II's famous Hanging Gardens.
Evidence of the historic Christian presence in Iraq can be seen through the Chaldani Church, in Mosul, northern Iraq. Some Christian minorities still exist in predominantly Muslim Iraq, such as the Chaldean and Syrian Catholics.
Modern Iraq's history begins with the last phase of Turkish rule:
Sultan Ali Reza Pasha deposed the last Mameluke ruler, Daud Pasha, in 1831, and the province of Iraq became subject to Turkish administration.
Britain and Germany rivalled each other for the commercial development of Mesopotamia during the latter part of the 19th century.
The British were interested in Iraq as a direct overland route to India, and established a steamship company for the navigation of the Tigris, to the port of Al Basrah, in 1861.
Germany, meanwhile, planned to construct a railway in the Middle East that would extend from Berlin to Baghdad.
During the First World War, British forces invaded Southern Mesopotamia to counter Turkey's allegiance with Germany, and pushed up to occupy Baghdad by March 1917.
All of Mesopotamia then became a British mandate in October 1918, after successful campaigns directed by Lawrence of Arabia.
When Iraq entered the League of Nations as a free and independent state, in 1932, the British mandate was formally terminated.
Following the termination of the British protectorate over the emirate of Kuwait, on June 25, 1960, Iraq claimed the area had been part of the Iraqi state at the time of its formation.
British forces entered Kuwait in July 1960, at the invitation of the ruler, and the UN Security Council declined the Iraqi request to order their withdrawal.
And of course history repeated itself on August 2nd 1990, when Saddam's Republican Army invaded Kuwait, with an allied Desert Storm to follow.
Gulf War Veterans:
Aiding Gulf War veterans in their pursuit for the truth.
George Bush Junior followed in his father's footsteps and, together with the British, sent in the troops to remove Saddam Hussein and the Ba'ath Party from power in 2003.
The Current Situation in Iraq:
News from the United Nations.
Weather in the Middle East:
Local weather forecasts for destinations around the Middle East.
Iraqi National Congress:
The main opposition group during Saddam Hussein's rule in Iraq; after America, Iran and Kuwait.
Iraqi News:
English-language online newspaper that covers a range of Iraqi issues, including business, politics, security, social issues, culture, entertainment and sport.
The Iraq Foundation:
A non-profit, non-governmental organisation working for democracy and human rights in Iraq. Plenty of news.
The best time to visit Iraq is in Spring and Winter. Travelling to Iraq in Summer is not recommended as temperatures soar to 48c.
Language
Most Iraqi people speak a little English and are exceptionally helpful, especially to foreigners.
Sightseeing
Iraq is full of ancient sites from the dawn of civilisation.
Fruit
Make sure to taste the different varieties of Iraqi dates as they are exceptionally delicious. Also citrus fruits like oranges, they taste exquisite.
Special Note:
Every visitor to Iraq is tested for AIDS and the fee for the test is around $50 per person.
IraqNet:
IraqNet aims to bring Iraqis scattered around the globe, to one place; to share ideas, discuss Iraqi concerns, meet old friends, make new ones, or just hang out.

Add a Business Listing - Add a Destination Guide - Add a Place to Stay.



If you find Travel Notes useful, please take a moment to like us on Facebook and share with your friends on social media.
Middle East Index - Middle East Tourism - Middle East Websites.