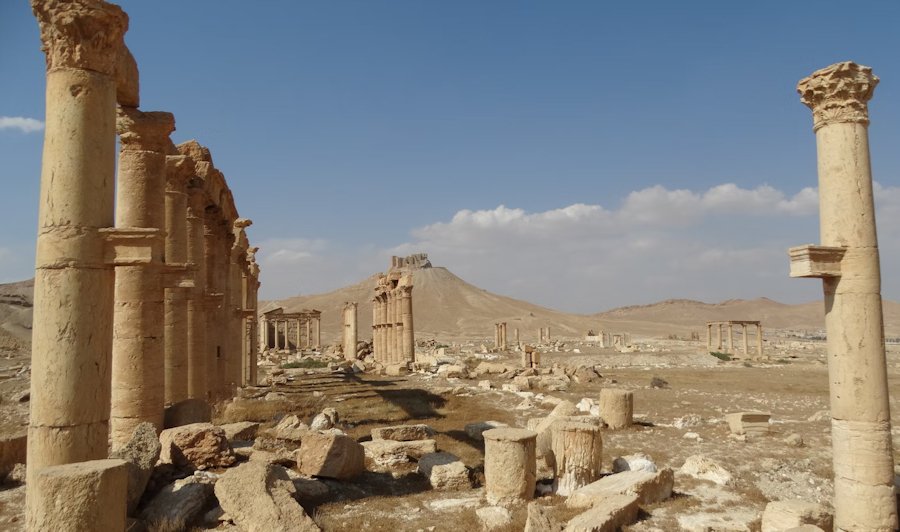 Palmyra, Syria by aladdin hammami on Unsplash.
Travel Notes: Middle East - Syria Travel Notes.
Short URL: https://tnot.es/SY
Syria Travel and Tourism on Travel Notes

Find Syria Travel and Tourist Information with links to official travel and tourism websites and state resources for visitors to Syria.
Syria is currently not a place you'd seriously want to travel to.
About Syria
The Syrian Arab Republic is watered by the Euphrates.
Map of Syria
Countries neighbouring Syria:
Turkey, Iraq, Jordan, Israel and Lebanon.
Syria - Syria Maps.
Weather in the Middle East:
Local weather forecasts for destinations around the Middle East.
The capital of Syria, is believed to be one of the world's oldest continuously inhabited cities.It was probably the capital of an ancient Egyptian city-state, and a long standing trading centre.
Being on the trade route, meant that Syria was also on the invasion corridor.
The Assyrians conquered Damascus in 732 BC, and they in turn were pushed aside by Macedonia's Alexander, 332-33 BC.
After Alexander the Great it was the turn of the Seleucids, before Pompey the Great stepped into the region for Rome.
Christianity came to Damascus during the first century AD, and then it became the seat of the caliphs and the centre of the Islamic world, when the Muslims moved in around 635.
The Seljuk Turks seized Damascus in 1076, and in less than 80 years it became a part of Egypt; under Saladin, sultan of Egypt and Syria.
Christians were massacred in 1860, and during World War I the Germans moved in to Syria, alongside the Turks, to direct operations against the Suez Canal.
Combined forces under Field Marshall Allenby and the soon to be King Faisal entered Damascus in 1918.
The French occupied the city under mandate, lost it again to the Germans during World War II, and finally the Allied forces retook Damascus in 1941.
In 1946 Damascus eventually became the capital of an Independent Syria.
Most travellers to Syria can obtain a Syrian visa, free of charge, upon arrival at the airport.
A passport list must be sent to a Syrian tour operator at least one week before the date of arrival. Visa requests can be sent to a Syrian tour operator by travel agents only and not directly by the visitor.
Travel Notes Online Guide to Travel
The Travel Notes Online Guide to Travel helps visitors plan their trip with country and city travel guides, local tourist information, reviewed web sites, and regular travel articles.

Join Michel on Meta-Travel.

Airlines and Airports.

Add a Business Listing - Add a Destination - Add a Place to Stay - Add URL.



Affiliates - Middle East Tourism - Middle East Websites.
If you find Travel Notes useful, please take a moment to like us on Facebook and share with your friends on social media.