Fasiledes, Ethiopia by Hunde Gemechu on Unsplash.
Travel Notes: Africa - Ethiopia Travel Notes - Updated 14 August, 2023.

Short URL: https://tnot.es/ET
Ethiopia Travel and Tourism on Travel Notes

Find Ethiopia Travel and Tourist Information with links to official travel and tourism websites and state resources for visitors to Ethiopia.
About Ethiopia
Rich in history, culture, and natural attractions visitors to Ethiopia have plenty of exciting tour destinations to choose from on their travels in the Horn of Africa.
Countries neighbouring Ethiopia: Sudan, Kenya, Somalia, Djibouti and Eritrea.
Map of Ethiopia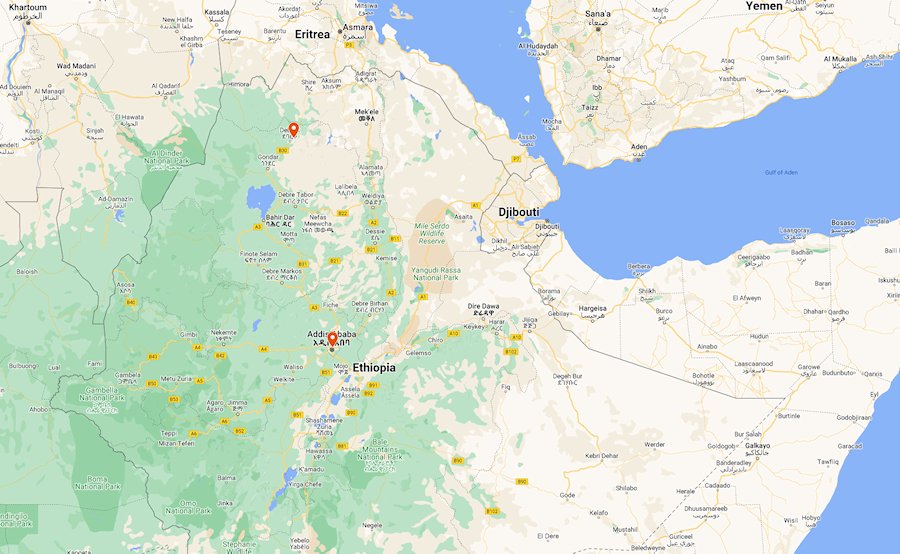 Ethiopia is bordered by Eritrea to the north, Sudan to the west, South Sudan to the south-west, Kenya to the south, Somalia to the east, and Djibouti to the north-east.
The capital of Ethiopia is Addis Ababa.
Ethiopia, a land-locked country in the north-eastern part of Africa, is a beautiful country with a rich cultural heritage; known for its unique food, coffee, and history.
Brief History
Ethiopia has a long and storied history, with evidence of human habitation in the region dating back over 3 million years.
The country was home to some of the earliest civilisations in Africa, including the Aksumite Kingdom, which was one of the world's most powerful empires during its time.
Ethiopia was formerly known as Abyssinia. See also Eritrea.
Ethiopia is also known for its role in the spread of Christianity and Islam in Africa, as well as its resistance to European colonisation.
Economy
The Ethiopian economy is largely agrarian, with the majority of the population engaged in subsistence farming.
Traditional agriculture and the raising of livestock are the main economic activities of Ethiopia, and trade by barter is still common in many local markets.
The country has been making strides in recent years to diversify its economy and attract foreign investment, particularly in the areas of manufacturing and tourism.
Geography
Ethiopia is home to several mountain ranges, including the Semien Mountains, which are an UNESCO World Heritage Site.
Ethiopia also has several large rivers running through it, including the Blue Nile, which originates in the country's highlands and is one of the primary sources of the Nile River.
Population
Ethiopia is the second-most populous country in Africa with a diverse range of ethnic groups and cultures within its borders.
Social Development
Ethiopia has made significant progress in terms of social development, with improvements in education, healthcare, and gender equality.
However, the country still faces several challenges, including poverty, food insecurity, and political instability.
When visiting Ethiopia, it is essential to respect the local customs and traditions.
It is also recommended to get vaccinated and take necessary precautions against diseases like malaria and yellow fever.
Place to Visit in Ethiopia
Addis Ababa
The capital city of Ethiopia is a melting pot of cultures.
Axum
An ancient city famous for its stelae and other historic monuments and ruins.
Bale Mountains
A pristine wilderness area featuring high-altitude moorland, grasslands, and forests.
Danakil Depression
One of the lowest and hottest places on earth with some of the most incredible landscapes.
Gondar
An historic city featuring castles and other impressive buildings from the era of the Ethiopian empire.
Harar
An UNESCO World Heritage Site known for its narrow alleyways and colourful markets.
Lake Tana
The largest lake in Ethiopia is the source of the Blue Nile.
Lalibela
An UNESCO World Heritage Site famous for its rock-hewn churches.
Omo Valley
A remote region home to many traditional ethnic groups, with unique cultures and traditions.
Simien Mountains National Park
Home to unique wildlife, including the Ethiopian wolf, gelada baboon, and Walia ibex.
The Rift Valley
A vast area of geological and cultural significance, known for its lakes, hot springs, and birdlife.
Ethiopia has secured substantial grants for the renovation of its road and rail network, but improvement will take time.
The Ethiopian Mapping Agency (EMA) was originally set up in 1954 as a small section within the Ministry of Education for preparing various maps for schools in Ethiopia.
Ethiopia by Road
A little over 4,000 kilometres of the roads are covered, while some 19,000 kilometres remain gravel and dry-weather roads.
The terrain makes overland travel difficult, and you will probably have to fly to some parts of the country.
A main road runs from Addis Ababa to Nairobi, Kenya.
Ethiopia by Rail
A railway line links Addis Ababa with Djibouti (about 780 kilometres), for freight and passenger traffic.
Railway enthusiasts who wish to travel by train from Addis Ababa to Dire Dawa or on to Djibouti should be prepared for delays and run down carriages.
Ethiopia by Air
The main international airport is in Addis Ababa.
Ethiopian Airlines:
From its hub at Addis Ababa, Ethiopian Airlines serves 42 international and 30 domestic stations.
Visas are required by all visitors to Ethiopia, except the nationals of Djibouti, Eritrea, Kenya and Sudan.
Ethiopia Sightseeing
Visa applications may be obtained at Ethiopia's diplomatic missions overseas.
However, nationals of 33 countries are now allowed to receive their tourist visas on arrival in Ethiopia at the regular charge.
The list includes Argentina, Austria, Belgium, Brazil, Canada, China, Denmark, Finland, France, Germany, Greece, Ireland, Israel, Italy, Japan, Republic of Korea, Kuwait, Luxembourg, Mexico, Netherlands, New Zealand, Norway, Poland, Portugal, Russian Federation, South Africa, Spain, Sweden, Switzerland, Taiwan, United Kingdom and United States.
The Embassy of Ethiopia in China is also accredited to Singapore, Australia, Malaysia and the Democratic People's Republic of Korea.
Embassy of Ethiopia in Sweden:
Ethiopian Embassy, Birger Jarlsgatan 39, Stockholm.
Embassy of Ethiopia in United Kingdom:
The Embassy of The Federal Democratic Republic of Ethiopia, in the United Kingdom, is located at 17 Princes Gate, London.
Embassy of Ethiopia in Washington DC:
3506 International Dr., NW Washington, D.C.
Embassy of Israel in Addis Ababa:
Higher 16, Kebele 22, House no. 283, Addis Ababa.
Founded in 1887, by Emperor Menelik II, by the site of a hot spring, Addis Ababa means new flower in Amharic.
When in the capital, visit the Emperor Menelik II Palace, Africa Hall, the octagon-shaped St. George Cathedral, and the National Archaeological Museum.
Map of Addis Ababa
With a population of more than two million people, Addis Ababa is not only the political capital but also the economic and social nerve-centre of Ethiopia.
Addis Ababa Chamber of Commerce:
As information is of critical importance to the success of business, the AACC provides its members with a broad range of business information, creating an environment in which business in Addis Ababa can develop and grow at a much faster pace.
Embassy of Canada to Ethiopia:
Old Airport Area, Nefas Silk Lafto Sub City
Kebeli 04, House No. 122
Addis Ababa, Ethiopia.
The Embassy of Canada in Addis Ababa also covers the country of Djibouti.
The secession of Eritrea in 1993 has left Ethiopia without a coastline, although you can always visit Lake T'ana in the north of the country; where the Blue Nile rises.
Explore the colourful churches on the islands.
The Blue Nile, known as the Abbai in Ethiopia, contributes a large part of the Nile's water when it joins the White Nile at Khartoum, in Sudan.
Here lies the Ark of the Covenant, or so it's claimed, in the Church of St. Mary of Zion.
The ancient kingdom of Aksum was founded after people from Sheba crossed the Red Sea in the 1st millennium BC and defeated the Hamites.
King Solomon and the Queen of Sheba were their ancestors.
Many people visit Ethiopia - or hope to do so one day - because of the remarkable manner in which ancient historical traditions have been preserved.
The heart of Ethiopia is a high tableland, known as the Ethiopian Plateau; covering more than half the total area of the country.
The plateau is split diagonally in a north-eastern to south-western direction by the Great Rift Valley.
Although the average elevation of the plateau is about 1,680m it is cut by many rivers and deep valleys, some of which are 600m below the level of the plateau.
The area is capped by mountains, the highest of which is Ras Dashen (4,620m). These heights and indentations occur in northern Ethiopia, in the region surrounding Lake T'ana (the lake in which the Blue Nile rises).
Situated in the Horn of Africa, Ethiopia boasts extraordinary natural features, a vast range of wildlife, and a captivating historical and cultural heritage.
Popular attractions include: the medieval castles of Gondar; the walled city of Harar; and Lalibela, a pilgrimage site known for its ancient monolithic churches, hewn into the area's steep rocky hillsides.
Ethiopia's stunning natural landscapes are another reason to visit; from the lush Simien Mountains to the sulphur vents of the Danakil Depression, the country's outstanding natural environment is unforgettable.
Bahir Dar, located on Lake Tana, is popular as a base from which to explore the fascinating monasteries situated on the numerous islands dotted around the lake, as well as the Blue Nile Falls, which are arguably the most spectacular falls in North Africa.
If you are looking for a place truly like no other, Ethiopia is that destination.
Ethiopian Cultural Heritage
Ethiopia has a magnificent cultural heritage, seven of these are included in the world cultural heritage list.
Major Tourist Attractions in Ethiopia
Simien National Park; the Rock-hewn churches of Lalibela; Castles of Gondar and other monuments of Gonder Style; Lower Valley of the Awash paleontological and prehistoric sites; Tiya pre-historical and archaeological sites in central Tigray; Axum historical and archaeological sites in central Tigray; Valley of the Omo, paleontological and prehistoric sites.

Visit Simien National Park With Ethiopian Adventures.
Ethiopia's Historic Route
Visit the historical cities of Axum, Gondar, Bahir Dar, Lalibela, the monastery of Debre Damo and the Simien National Park.
Harar and Dire Dawa
A railway line runs from Dire Dawa which is part of the line stretching from Addis Ababa to Djibouti; it was built at the beginning of the 20th century with the co-operation of the French government.
Omo Valley and Rift Valley Lakes
Located on the west bank of the river Omo and running next to the border with the Sudan, in the Caffa region, is the Omo National Park. The park is little-known, still wild and home to a large variety of animals.
Amharic is the official language in Ethiopia, although English, and Arabic are widely spoken.
Meskel Festival in Ethiopia - Celebration with Bonfire
Meskel is one of the most colourful festivals in Ethiopia.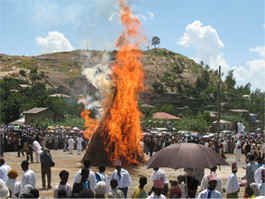 Usually celebrated in beautiful weather, at the end of the rainy season, Meskel has been celebrated in the same manner for more than 1,600 years; with plenty of dancing, feasting and the lighting of a massive bonfire - to commemorate the discovery of the true cross on which Jesus Christ was crucified.
If it's luxury you want, then there is a Hilton in the capital, Addis Ababa.
In the tourist class bracket, try the Hotel Ethiopia or the Wabi Shebelle.
The Ghion Hotels, around the country, are state-owned, but services in them can be sporadic.


Simien Lodge - The Highest Lodge in Africa.
Where to Stay in Addis Ababa
Hilton Addis Ababa
Hilton Addis Ababa: Menelik II Avenue, Addis Ababa, Ethiopia.
Located on a 6-hectare site in the heart of the city, Hilton Addis Ababa's architecture echoes that of the rock-hewn churches of Lalibela; recognised by UNESCO as a world heritage site.
Guests at the Hilton Addis Ababa enjoyed the stunning pool, fantastic bar and found its location good for shopping.
Sheraton Addis
Sheraton Addis: Taitu Street, Addis Ababa, Ethiopia.
Elegant guest rooms and an extraordinary selection of fine restaurants make the Sheraton Addis a real African indulgence. Set in mountainous countryside, the Sheraton Addis was the first hotel in Africa to join The Luxury Collection.
Guests at the Sheraton Addis Luxury Collection enjoyed the stunning pool, fantastic bar and superb dining.
With people from so many different ethnic groups, the food and drinks of Ethiopia are varied.
A typical dish is Wot, a hot spicy stew of meat or vegetables, seasoned with a blend of Berbere. It is often made with Doro (Chicken) and normally served with injera; the traditional spongy pancake made from a fermented teff flour batter.
In most good restaurants, or in the local coffee house, you will find delicious dishes that reflect the customs and the ingredients of the region.
In Addis Ababa, as in most of the larger cities, visitors will also find a wide range of restaurants that reflect the influences of other cuisines. All large hotels have international restaurants, but elsewhere in the city you can sample Chinese, Indian, Middle Eastern, Italian, French, Greek and other cuisines.
Ethiopia produces its own wines. Dukam and Gouder are fine reds, Axumite is sweeter and Crystals is a dry white wine.
Ethiopia's famous honey wine, or Tej, is found all over the country as is Tela, a local beer and Katikala, a distilled liquor.
Ethiopia Travel Guides - Ethiopia Maps.
Weather in Africa:
Local weather forecasts for destinations around Africa.
Travel Notes Online Guide to Travel
Africa - Asia - Caribbean - Europe - Middle East - North America - Oceania - South America.

The Travel Notes Online Guide to Travel helps visitors plan their trip with country and city travel guides, local tourist information, reviewed web sites, and regular travel articles.

Gabon.
Travel and Tourism with Industry Professionals
If Travel Notes has helped you, please take a moment to like us on Facebook and share with your friends on social media.


Travel & Tourism With Industry Professionals.