Malabo, Equatorial Guinea by Santi Vedrí on Unsplash.
Travel Notes: Africa - Equatorial Guinea Travel Notes.

Short URL: https://tnot.es/GQ
Equatorial Guinea Travel and Tourism on Travel Notes

Find Equatorial Guinea Travel and Tourist Information with links to official travel and tourism websites and state resources for visitors to Equatorial Guinea.
About Equatorial Guinea
Equatorial Guinea consists of a mainland segment - south of Cameroon and north of Gabon - along with the islands of Bioko and Annobon and the islets of Corisco, Elobey Grande, and Elobey Chico; in the Gulf of Guinea.
Map of Equatorial Guinea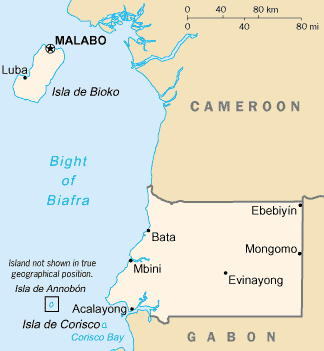 Countries neighbouring Equatorial Guinea:
Cameroon and Gabon.
Africa Travel Guides - Equatorial Guinea.
Weather in Africa:
Local weather forecasts for destinations around Africa.
The island of Fernando Po, present day Bioko Island, was sighted by the Portuguese navigator, Fernando Po, in 1471.
Portugal ceded the island to Spain in 1778, and then with the permission of the Spanish government, Great Britain maintained a naval station at Fernando Po and administered the island from 1827 until 1844.
Sixty years later Fernando Po and Rio Muni became known as the Spanish Territories of the Gulf of Guinea, or Spanish Guinea.
The territory gained independence as the republic of Equatorial Guinea on October 12, 1968.
All visitors to Equatorial Guinea require a visa, except nationals of the USA.
Travellers should obtain the latest information and details from their nearest Embassy of the Republic of Equatorial Guinea.
Embassies of the Republic of Equatorial Guinea
Embassy of Equatorial Guinea in Cameroon:
BP 277, Yaounde. Tel: (237) 21 08 04.
Embassy of Equatorial Guinea in France:
6 rue Alfred de Vigny, 75008 Paris.
Embassy of Equatorial Guinea in Nigeria:
P.O.Box 4126, Lagos. Tel: (234 1) 269 12 11.
Embassy of Equatorial Guinea in Washington, D.C:
1511 K Street, N.W., Suite 405, Washington DC.
Formerly Santa Isabel, on the north coast of Bioko Island, Malabo is the capital of Equatorial Guinea, even though the island lies closer to Cameroon.
The city was founded by the British as Clarencetown in 1827, and was used as a base for suppressing the slave trade.
The Spanish renamed it Santa Isabel, and made it the capital of Spanish Guinea. The present name of Malabo was ratified in 1973.
Travel Notes Online Guide to Travel
The Travel Notes Online Guide to Travel helps visitors plan their trip with country and city travel guides, local tourist information, reviewed web sites, and regular travel articles.

Join Michel on Meta-Travel.

Airlines and Airports.

Add a Business Listing - Add a Destination - Add a Place to Stay - Add URL.



Affiliates - Africa Tourism - Africa Travel Websites.
If you find Travel Notes useful, please take a moment to like us on Facebook and share with your friends on social media.