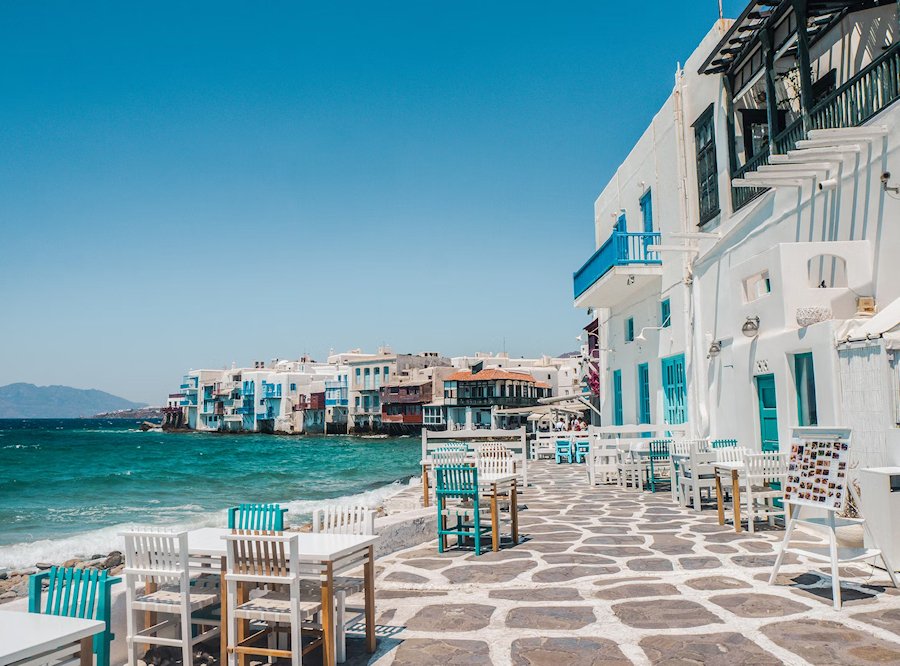 Mykonos, Greece by Johnny Africa on Unsplash.
Travel Notes: Europe: Greece - The Greek Islands.
Short URL: https://tnot.es/HE
Greek Islands Travel and Tourism on Travel Notes

Greece is home to a vast array of beautiful islands with crystal-clear waters, stunning beaches, and a rich cultural heritage.
Planning a trip to the Greek Islands can be overwhelming, given the large number of islands to choose from and the many things there are to see and do on them.
Map of The Greek Islands
Greece has some 6,000 islands and islets dotted around the Aegean and Ionian Seas, although only 227 are inhabited and just 78 of those have over 100 inhabitants.
Corfu is at its best in May.
Covered in flowers, the temperatures in Corfu are ideal at this time of year.
If you only come to Corfu once try to make it during late Spring.
The island is uncrowded and cheap to get to.
Pelekas
The beautiful village of Pelekas is located on the west coast of Corfu.
Pelekas is the village that has something for everyone. For more than 40 years it has been a favourite hideaway for independent holiday makers who return year after year.
A free minibus service operates throughout the day from three points in the village to both Kontogialos and Glyfada beaches.
When Greek island hopping, don't do more than four islands in ten days or you'll waste too much time checking in and out, waiting for transfers and getting oriented.
Cephalonia
The largest of the Ionian islands, Cephalonia is an island of contrasts where Roman and Byzantine ruins provide a pleasant tour away from the beaches.
Chios
Chios is one of the North-eastern Aegean Islands, between the islands of Samos and Lesvos.
The fifth largest island in Greece is only a few miles off the coast of Turkey.
Delos
Visit historical attractions on the uninhabited island, near Mykonos.
Evia
Evia is the second largest island in Greece and quite undiscovered by tourists.
The capital of the island is Halkida.
Northern Evia is known for its green forests, rivers, spa and ravines and also for its wonderful beaches with crystal-clear waters.
Ithaki
Ferries from Patra and Kefalonia dock at the island's capital, Vathi.
Kefalonia
Kefalonia is believed to have taken its name from the hero Cephalus. Perhaps the name of the inhabitants, Cephaloi, comes from the word 'cephales' which may refer to Kefalonia's mountains.
From its enchanting shores to its breathtaking natural mountains Kefalonia has a wild beauty which you will not find elsewhere; an island of surprises just waiting to be explored.
Fiscardo
Fiscardo is the picturesque and beautiful Greek harbour village on the Northern tip of Kefalonia, largest of the seven Ionian islands.
Of the approximate 365 villages on this large and diverse island, Fiscardo is unique in that it is the only village on Kefalonia that has so many of the original Venetian buildings intact and still in use.
Kos
Day trip excursions from Kos to Turkey and Rhodes means that you can do much more than sit on the beach all day.
Lesvos
Lesvos is the third largest of the islands in Greece behind Crete and Evia. The lush, green island of Lesvos, or Mytilini, is like no other Greek island.
Virtually unaffected by the mass tourism that has turned other islands into amusement parks, Lesvos is the perfect place to visit for people who want to experience the real Greece.
Mykonos
Probably the best known of the Cyclade Islands, Mykonos is trying to regain its respectable name after years of drug parties and gay visitors to its beaches.
Map of Mykonos
Paros
Paros offers great beaches, lively towns and ancient sites.
Rhodes
Rhodes, the beautiful sland of roses, has a unique physical scenery that does not cease to impress its visitors.
Also unique is its climate; with more sunny days than any other place in Europe.
With practically zero crime rate and friendly and hospitable people you'll be surprised how easy life in Rhodes can be.
The island of sun-worshippers is a mammoth eighteen hours by ferry from Athens. You can fly in 45 minutes, but we prefer to make an adventure of it; by sea.
Santorini
Santorini is the southernmost island of Cyclades; located between Ios and Anafi, 128 nautical miles from the port of Piraeus and 63 nautical miles from Crete.
Anteliz Santorini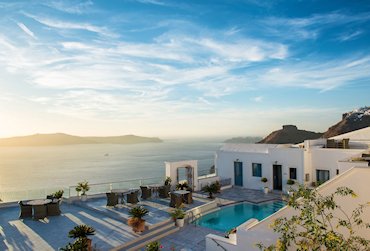 Anteliz Santorini: Fira, Santorini.
Set in a serene environment, amidst the lapis lazuli Cycladic sea and imposing lava rocks, this boutique Santorini hotel captures the essence of Theran design, culture and tradition.
Situated on the very top of the cliff ridge between Fira and Firostefani village, Anteliz overlooks Santorini's spectacular volcanic Caldera and the Aegean Sea.
Skopelos
Geographically Skopelos is an Aegean island situated in the central-north-west Aegean, east of Pelion and north of Evia.
Skopelos is said to be the greenest island in Greece; where the pines and thick forests meet the deep blue of the sea and the sky, to create an image of incomparable natural beauty.
Skopelos beaches are famous for their crystal clear blue-green waters, surrounded by countless pine trees.
Zakynthos (Zante)
If you've never been to Greece before then Zakynthos (Zante) - the sixth of the Ionian islands, west of the Coast of Ilias - is a good choice.
Situated in the Ionian sea south of Corfu and Kefalonia, Zakynthos is one of the most popular Greek Islands, offering beautiful beaches, spectacular landscapes, charming villages and a wide variety of resorts.
Although not as typically Greek or as scenic as some of the other islands, Zante offers better than average standards of food, service and accommodation.
Many people come here year after year, and the main reason they give is the friendliness of the local people.
Don't be afraid to travel on a flight-only basis. If you avoid the peak season you will have no problem finding accommodation.
Expect long delays at the airport. There isn't much in the way of seating or refreshments.
If you visit the shipwreck, wear sandals - the beach is actually sharp stones (often baking hot).
Visit Vassilikos to see the true 'Flower of the Levante'.
Avoid Laganas if you want a quiet night's sleep.
iFly is pioneering a new mode of inter-island travel that aims to revolutionize the concept of island-hopping in Greece with the Cycladic project.
Cyclandic Project
The Cycladic project operates scheduled flight services to a number of Greek island destinations previously connected only by ferry, helicopter, private plane, or via connecting commercial flights.
Crete, Milos, Mykonos, Naxos, Paros, Rhodes , Santorini and Syros.
Greek Ferries
There are over 500 ports in Greece offering more than 5,000 monthly boat and ferry departures around the Greek Islands.
Anek Lines
Established in 1967, Anonimi Naftiliaki Etairia Kritis SA (ANEK) is one of the largest passenger shipping companies in Greece.
Anek Lines operates domestic sailings around the Aegean Islands, between Piraeus and Crete (Chania, Heraklio and Rethimno) and international sailings from (Italy (Ancona, Bari and Venice) to Patras, Igoumenitsa and Corfu.
Blue Star Ferries
Blue Star Ferries is the biggest ferry company in Greece, serving more than 20 destinations from the Greek mainland.
Hellenic Seaways
Hellenic Seaways was created in 2005 following the consolidation of Minoan Flying Dolphins and its subsidiaries Hellas Flying Dolphins, Hellas Ferries, Saronikos Ferries and Sporades Ferries.
Minoan Lines
Minoan Lines was founded in 1972 in Heraklion, Crete.
Minoan sails to Heraklion from Piraeus and counts Ancona, Corfu, Igoumenitsa and Milos among its popular destinations.
The Cyclades Line serves Santorini, Syros, Tinos and Paros (from Syros).
People who have reacehed 60 years of age enjoy a 25% discount on their tickets.
Superfast Ferries
Founded in 1993, Superfast Ferries sails from Ancona and Bari to Patras, Igoumenitsa and Corfu.
Ventouris Ferries
Established in 1976, Ventouris Ferries operates regular sailings from Bari to Corfu and Igoumenitsa.
Also sails from Bari to Durres (Albania).
Greek Ferry Schedules
The Greek Travel Pages allows us to visualize available ferry connections in Greece and the Greek islands.
Search the Greek Ferry Schedules database for direct and indirect connections.
When thinking about sailing around the Greek Islands, try to avoid the high season swarm.
Sailing in Greece is fantastic on the shoulder seasons of May/June and September/October.
The weather is usually good, the seas are still warm and the marinas and docking are so much easier.
MG Yachts
One of the first yacht charter broker agencies in Greece, the company was originally founded by Mary Gogossis - under the name GM Yachting - in 1984.
In 2001, the company was rebranded as MG Yachts to provide sailing and motor yachts for charter (with or without crew).
Suggested sailing itineraries for the Cyclades, Saronic Gulf, Ionian Islands, Dodecanese, and the Sporades.
Sail Greece Yachts
Founded by Giannis Makridakis and Vassilis Patiniotis in 1986, Sail Greece Yachts has their main base at Pier 6 in Alimos Marina, Athens.
Greek Islands - Greek Island Maps.
Travel Notes Online Guide to Travel
Africa - Asia - Caribbean - Europe - Middle East - North America - Oceania - South America.

The Travel Notes Online Guide to Travel helps visitors plan their trip with country and city travel guides, local tourist information, reviewed web sites, and regular travel articles.
Travel and Tourism Guides on Travel Notes
If Travel Notes has helped you, please take a moment to like us on Facebook and share with your friends on social media.


Travel & Tourism With Industry Professionals.

Greenland.