Quick Links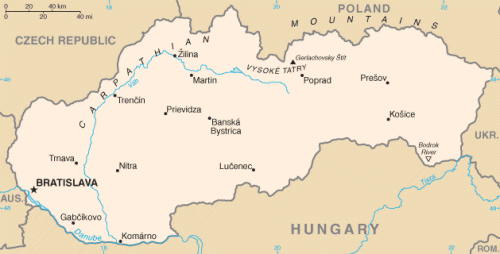 The capital of Slovakia is Bratislava.
The flag of Slovakia is three equal horizontal bands of white (top), blue, and red superimposed with the coat of arms of Slovakia (consisting of a red shield bordered in white and bearing a white Cross of Lorraine; surmounting three blue hills.
The coat of arms is centered vertically and offset slightly to the hoist side.
The dissolution of the Austro-Hungarian Empire at the close of World War I allowed the Slovaks to join the closely related Czechs to form Czechoslovakia.
Following the chaos of World War II, Czechoslovakia became a Communist nation within Soviet-ruled Eastern Europe.
Soviet influence collapsed in 1989 and Czechoslovakia once more became free. The Slovaks and the Czechs agreed to separate peacefully on 1st January, 1993.
Slovakia joined both NATO and the EU in the spring of 2004.
Geographically
Central Europe - south of Poland.
Administrative Divisions
8 regions:
(kraje, singular - kraj)
Banskobystricky kraj; Bratislavsky kraj; Kosicky kraj; Nitriansky kraj; Presovsky kraj; Trenciansky kraj; Trnavsky kraj; Zilinsky kraj.
Independence
1st January, 1993:
Czechoslovakia split into the Czech Republic and Slovakia.
National Holiday
Constitution Day: 1st September.

Add a Business Listing - Add a Destination Guide - Add a Place to Stay.



If you find Travel Notes useful, please take a moment to like us on Facebook and share with your friends on social media.
Europe Index - Europe Tourism - Europe Travel Websites.