Quick Links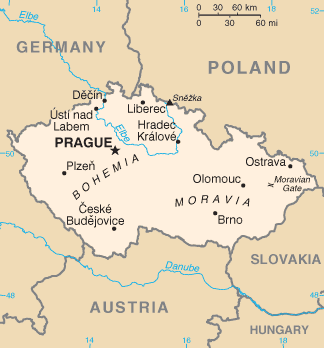 The capital of Czech Republic is Prague.
The flag of Czech Republic is two equal horizontal bands of white (top) and red with a blue isosceles triangle based on the hoist side (identical to the flag of the former Czechoslovakia).
Following the First World War, the closely related Czechs and Slovaks of the former Austro-Hungarian Empire merged to form Czechoslovakia.
During the interwar years, the new country's leaders were frequently preoccupied with meeting the demands of other ethnic minorities within the republic, most notably the Sudeten Germans and the Ruthenians (Ukrainians).
After World War II, a truncated Czechoslovakia fell within the Soviet sphere of influence.
In 1968, an invasion by Warsaw Pact troops ended the efforts of the country's leaders to liberalize Communist party rule and create 'socialism with a human face'. Anti-Soviet demonstrations the following year ushered in a period of harsh repression.
With the collapse of Soviet authority in 1989, Czechoslovakia regained its freedom through a peaceful 'Velvet Revolution'. On 1 January 1993, the country underwent a 'velvet divorce' into its two national components, the Czech Republic and Slovakia.
The Czech Republic joined NATO in 1999 and the European Union in 2004.
Geographically
Central Europe - between Germany, Poland, Slovakia, and Austria.
Administrative Divisions
1 capital city: (hlavni mesto) - Praha (Prague).
13 regions:
(kraje, singular - kraj)
Jihocesky Kraj; Jihomoravsky Kraj; Karlovarsky Kraj; Kralovehradecky Kraj; Liberecky Kraj; Moravskoslezsky Kraj; Olomoucky Kraj; Pardubicky Kraj; Plzensky Kraj; Stredocesky Kraj; Ustecky Kraj; Vysocina; Zlinsky Kraj.
Independence
1st January, 1993:
Czechoslovakia split into the Czech Republic and Slovakia.
National Holiday
Czech Founding Day: 28th October (1918).

Add a Business Listing - Add a Destination Guide - Add a Place to Stay.



If you find Travel Notes useful, please take a moment to like us on Facebook and share with your friends on social media.
Europe Index - Europe Tourism - Europe Travel Websites.