New Zealand's North and South islands are separated by the narrow Cook Strait.
Quick Links
Auckland, Blenheim, Canterbury, Christchurch, Dunedin, Getting Around New Zealand, Hawkes Bay, Marlborough Sounds, Picton, Queen Charlotte Track, Queenstown, Wellington.
Combining North and South Island:
An epic tour of New Zealand allows you to get up close and personal with New Zealand's deepest and darkest secrets, as well as encountering all the hottest must-sees. A once in a lifetime adventure not to be missed.
Auckland Art Gallery:
Auckland Art Gallery Toi o Tamaki is the home of the visual arts in New Zealand; with over 14,000 artworks.
Auckland Sights:
Known as the City of Sails, but there are many things to see away from the harbour too.
Auckland Tourism:
Auckland New Zealand is the official web site for leisure and business travellers to New Zealand's largest city.
Fullers Auckland:
Fullers is the leading ferry operator in Auckland; offering a range of ferry trips and tours around Auckland Harbour and the islands of the Hauraki Gulf.
The Downtown Ferry Terminal is located just behind the historic Ferry Building in Central Auckland, close to many cafes and restaurants.
Overlander Rail Service between Auckland and Wellington
The Overlander is a journey through the heart of the North Island travelling between Auckland, New Zealand's largest city and home of the Sky Tower, to Wellington, New Zealand's arts and culture capital - a great way to see the New Zealand countryside.
Auckland Transport
Getting around Auckland by bus and train; or discover the hidden treasures of the harbour with a voyage on one of Auckland's ferries.
The capital of New Zealand, sits on the edge of a spectacular harbour and is often likened to San Francisco because of its hilly streets and harbour views.
Wellington Transportation
Getting Around Wellington:
Wellington is a very compact city, with downtown only being 2 kilometres wide. Walking is one of the best ways to get around, while the transport infrastructure will enable you to go further afield with ease.
GO Wellington:
Provides bus services throughout the Wellington City area.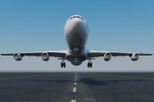 Wellington Airport Arrival Transfers.
Super Shuttle keeps fares rock-bottom by picking up or dropping off other air travellers en route, to or from the airport.
If you're planning to do a lot of sightseeing, a Day Pass gives you unlimited travel on any Stagecoach bus all day. You can visit Wellington Zoo, Mt Victoria Lookout or the South Coast Seal Walk with Stagecoach.
Wellington Visitors
Wellington is renowned for its compact size and one of the best and easiest ways to explore the city, is on foot.
Wellington Attractions:
Wellington has a huge range of attractions on offer. Home to Te Papa and New Zealand's Parliament, Wellington is renowned for its heritage and cultural attractions, with events and festivals all year round.
Explore Wellington's South Coast at dusk before driving up through Mount Victoria's Greenbelt for fantastic views of the city lights.
Visit nine different locations where twenty Lord of the Ring scenes were filmed; exploring Mount Victoria Greenbelt, Wellywood suburbs, Hobbit's surfing coastline and the gorgeous native forest park of Rivendell.
Heading South
On the southern shore of North Island, Wellington is the gateway to the south.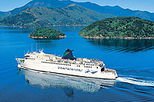 Wellington to Picton
InterIslander's Cook Strait Ferries offers daily ferry links between New Zealand's North and South Islands.
Cruise across in 3-hours, whilst travelling in comfort and style as you savour one of the world's most scenic ferry journeys.
South Island Sightseeing.
There really is so much to do for the adventurous traveller in New Zealand's South Island.
Millennium Art Gallery:
Marlborough's first public art gallery; located on Seymour Square, Blenheim.
Be There:
Christchurch and Canterbury events on-line - provided by Christchurch City Council Leisure, as part of its vision to promote healthy lifestyles.
Destination Canterbury:
Packed with information on activities, attractions and accommodation in Canterbury, New Zealand.
Christchurch city is not only a fantastic place to visit, but from here you can easily access the heart of the South Island.
About Christchurch:
Located on the east coast of the South Island, Christchurch - just like the rest of New Zealand - is a city of contrasts.
Internationally famed 'The Garden City', Christchurch's well-established expansive parks and public gardens owe much to the planning and foresight of the city's founding fathers.
Christchurch Art Gallery:
The Christchurch Art Gallery Te Puna o Waiwhetu is situated on the corner of Worcester Boulevard and Montreal Street, one block east towards Cathedral Square from the Botanical Gardens.
Christchurch Casino:
Choose to play from almost 500 gaming machines in the Valley of Treasures or Gallery of Gold. You can also learn any of the popular table games or relax in one of the restaurants and bars. Located at 30 Victoria Street.
Cathedral Square was a main bus loading point in Christchurch, and buses left regularly from Christchurch Airport for the Square. In addition, a tram route around central Christchurch visited the Cathedral, among several other popular tourist attractions.
The original Cathedral was badly damaged in the Christchurch earthquake in February 2011. The transitional cathedral is located at 234 Hereford Street.
Arts Centre - Christchurch:
Highlights include over 40 speciality shops, fine art galleries, world-class theatre, art house cinemas, bars, restaurants and cafes, a bustling weekend Art, Craft and Produce Market, and an array of festivals and special events throughout the year. Located on Worcester Boulevard, Christchurch.
Christchurch City Council:
An A-Z about living in Christchurch.
Christchurch International Airport: (CBD)
A public bus service (30-40 mins) operates to and from Christchurch City Centre at a cost of $5 per person. Door to door shuttles (20-30 mins) cost between $12 and $18 and a taxi (15-20 mins) is around $25.
Christchurch Tourism:
Christchurch continues to be the gateway to the wider Canterbury region and the spectacular experiences that visitor's can have within the South Island of New Zealand.
Christchurch Transportation
Interactive map of bus routes around Christchurch, with timetables.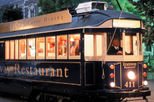 Christchurch Tramway:
A quality inner city tour experience that combines the heritage of the trams, attractions and historic buildings with the culture of the Garden City. The beautifully restored trams follow a 2.5 kilometre loop around central Christchurch taking in some of the most interesting sites.
There's even a Tramway Dinner Tour - where you can be treated to the finest service, cuisine and beverages New Zealand has to offer; as you watch Cathedral Square, Botanical Gardens and the River Avon pass by your window.
Visiting Dunedin:
Visitors to Dunedin often comment that there is so much more to see and do in the city and surrounding area than they had expected. This information will give you a good idea of what you 'must see' and 'must do' when you are in Dunedin.
This is one place in New Zealand where there seems to be more boats than people and with good reason. Queen Charlotte Sound with its fascinating maze of bays and inlets, its sheltered anchorage and excellent fishing is a boatie's paradise.
Picton:
Picton is the port of entry to the South Island. In the 1850's they even talked of making it New Zealand's capital. The locals are glad they didn't.
Picton Beachcomber Inn:
Situated in the heart of Picton, on the waterfront, within easy walking distance to shops, restaurants and the wharf, and the ferry terminal. Daily launch cruise, fishing trips, native bush walks and the Marlborough Wine Trail all in close proximity.
The Villa Backpackers Picton:
Hundred year-old character home with home-style hospitality, in Picton. Small and friendly with beautiful gardens, relaxing veranda, large private backyard, great music and all the facilities you expect from a good hostel.
Queen Charlotte Track:
The Queen Charlotte Track runs almost the entire length of New Zealand's Queen Charlotte Sound. It stretches from Ship Cove to Anakiwa; offering 71km of spectacular walking track as it passes through historic sites, secluded bays and lush coastal bush.
Sea Kayaking on The Sounds:
A fun and easy introduction to sea kayaking and the Marlborough Sounds. Experience the beauty of the Queen Charlotte Sound and learn about the wildlife and history of the area.
Any time's a good time to visit Queenstown.
The only thing that changes is the seasonal scenery and the activities on offer to the adrenaline junkies.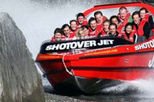 White Water Rafting and other Queenstown Activities.
Queenstown:
Surrounded by majestic mountains and nestled on the shores of crystal clear Lake Wakatipu, Queenstown is New Zealand's premier four season lake and alpine resort.
Queenstown Site:
Queenstown's only official Visitor Information Centre and part of the nationwide Tourism New Zealand and Goverment approved i-SITE Network.
Picton to Christchurch
The TranzCoastal (now known as the Coastal Pacific) runs between the delightful port of Picton and Christchurch; South Island's largest city.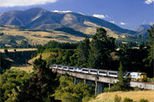 TranzCoastal Rail Tours.
This journey is a scenic feast of New Zealand, with the Kaikoura mountain ranges on one side of your train and the rugged Pacific Ocean coastline on the other.
The Coastal Pacific travels through 22 tunnels and crosses 175 bridges, one of them being New Zealand's only road-rail bridge.
Along the way this scenic train passes though the village of Kaikoura; where, if you're touring New Zealand, you can break your journey to take in the whale watching or swim with the dolphins.
Coastal Pacific - KiwiRail:
As a summer train, the Coastal Pacific operates daily between September and May.
Between Greymouth and Christchurch
From the Pacific Ocean to the Tasman Sea, the TranzAlpine train is a daily rail service operating coast to coast between Greymouth and Christchurch.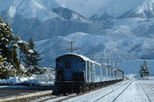 TranzAlpine Rail Tours.
The TranzAlpine rail is rated as one of the top scenic train journeys in the world.
Between Christchurch and Greymouth, the train crosses the patchwork farmlands of the Canterbury Plains, winds its way through the Waimakariri Gorge, crosses the spectacular Southern Alps, via the alpine village of Arthur's Pass and past beautiful Lake Brunner.
TranzAlpine - KiwiRail:
The TranzAlpine runs daily, except Christmas Day, departing Christchurch at 08:15 and returning at 18:31; stopping for an hour in Greymouth from 13:05 to 14:05.
New Zealand Travel Tips
The sheltered waters of the Sounds are a boatie's paradise, while others who prefer to explore the Sounds on foot will find many scenic walks. This area is also well known for many world famous wineries.
Well known to many New Zealand travellers is the 'Edwin Fox', the last surviving wooden sailing ship that brought settlers to New Zealand. This is sighted on the foreshore and is open 7 days a week.

By Picton Beachcomber Inn.
New Zealand News:
Find out what's making the news in New Zealand.

Add a Business Listing - Add a Destination Guide - Add a Place to Stay.



If you find Travel Notes useful, please take a moment to like us on Facebook and share with your friends on social media.
Oceania Index - Oceania Tourism - Oceania Travel Websites.