Quick Links
New Zealand Cities, New Zealand Hotels, New Zealand News, New Zealand Regions, New Zealand Tourism, New Zealand Tours.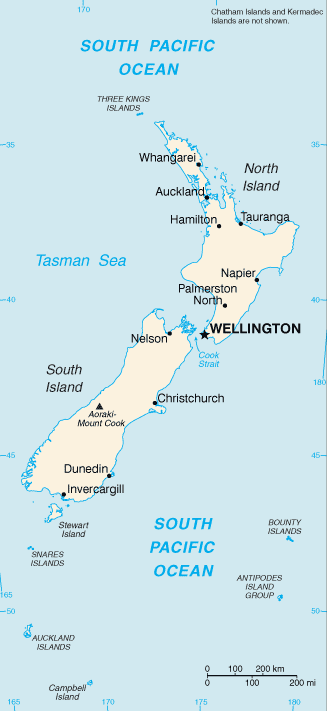 The capital of New Zealand is Wellington.

The flag of New Zealand is blue with the flag of the UK in the upper hoist-side quadrant with four red, five-pointed stars edged in white cantered in the outer half of the flag; representing the Southern Cross constellation.
The Polynesian Maori reached New Zealand in about A.D. 800.
In 1840, their chieftains entered into a compact with Britain, the Treaty of Waitangi, in which they ceded sovereignty to Queen Victoria while retaining territorial rights. In that same year, the British began the first organised colonial settlement.
A series of land wars, between 1843 and 1872, ended with the defeat of the native peoples.
The British colony of New Zealand became an independent dominion in 1907 and supported the UK militarily in both World Wars. New Zealand's full participation in a number of defence alliances lapsed by the 1980s.
In recent years, the government has sought to address longstanding Maori grievances.
Geographically
Oceania - islands in the South Pacific Ocean, southeast of Australia.
Administrative Divisions
1 territory:
Chatham Islands.
16 regions:
Auckland; Bay of Plenty; Canterbury; Gisborne; Hawke's Bay; Manawatu-Wanganui; Marlborough; Nelson; Northland; Otago; Southland; Taranaki; Tasman; Waikato; Wellington; West Coast.
Dependent Areas
Cook Islands, Niue and Tokelau.
Independence
26th September, 1907 (from UK).
National Holiday
Waitangi Day - 6th February.
The Treaty of Waitangi established British sovereignty over New Zealand in 1840.
ANZAC Day - 25th April.
Commemorated as the anniversary of the 1915 landing of troops of the Australian and New Zealand Army Corps; during World War I at Gallipoli, Turkey.

Add a Business Listing - Add a Destination Guide - Add a Place to Stay.



If you find Travel Notes useful, please take a moment to like us on Facebook and share with your friends on social media.
Oceania Index - Oceania Tourism - Oceania Travel Websites.