Getting around New Zealand, and other information for tourists.
New Zealand Your Way:
Create your own customised itinerary for travelling in New Zealand and budget in the currency of your choice. Complete New Zealand travel planning without the travel agent fees.
Getting to New Zealand
The easiest way to get to New Zealand is to fly from Sydney.
Airlines and Airports:
If you prefer to do it independently, then depending on where you're flying from, you may need to use various airlines to make your connections. This travel article points you to airlines and the three letter airport codes, with links to their websites.
Air New Zealand:
Before they take you to their home, they'd like to know where yours is. You'll then be flown to the server nearest you.
Cruising to New Zealand:
If the three-hour flight from Sydney is not adventurous enough for you, there's always the Regent Seven Seas ocean voyage from Barcelona.
A 'world cruise' aboard the Seven Seas Voyager is an all-inclusive, all-balcony suites experience; for 71 nights of pure luxury, with plenty of shore excursions available en route to Auckland.
Qantas is an Australian Airline, but they also fly to New Zealand.
Qantas Frequent Flyers:
Find out how to earn and redeem your points with Qantas.
Qantas Schedules:
View current timetable information for Qantas, QantasLink, Jetstar and codeshare flights.

Getting Around New Zealand
About New Zealand Rental Cars:
Family owned car hire company with depots throughout New Zealand offering quality rental cars, stationwagons, 4WDs and minibuses at competitive rates, outstanding personal service, ferry bookings.
Calculate the Distance:
A magnificent interactive map lets you draw a line between two cities in New Zealand and returns the driving distance.
New Zealand Maps:
Wises Maps offers the most comprehensive range of maps and guides in New Zealand.
New Zealand Transport:
New Zealand has a well-maintained road network and the main islands are linked by ferry and air services.

Travel By Coach
New Zealand Coach Tours.
From a one day excursion to a seven-day tour of the South Island, let someone else drive you around when you visit New Zealand.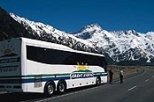 Abel Tasman Coachlines:
Coach operator providing the complete service to or from New Zealand's Abel Tasman National Park. All your transport needs within the Nelson region.
New Zealand Regions:
Find about more about New Zealand's North and South Islands.
Experience New Zealand:
How better to plan your New Zealand vacation than with a New Zealand travel agent who has personally travelled the length of the country to find the best ways to travel, the best places to stay, and the best things to do.
New Zealand Travel Tips
A ferry is the best way to travel between New Zealand's North and South Islands. The 83-kilometre journey between Wellington and Picton is regarded as one of the world's great scenic cruises. Advance bookings are recommended during peak season summer months (Dec - Mar).

By Sue.

Add a Business Listing - Add a Destination Guide - Add a Place to Stay.



If you find Travel Notes useful, please take a moment to like us on Facebook and share with your friends on social media.
Oceania Index - Oceania Tourism - Oceania Travel Websites.