Short URL: http://tnot.es/Asia
Travel Notes™ guides visitors around every country in Asia.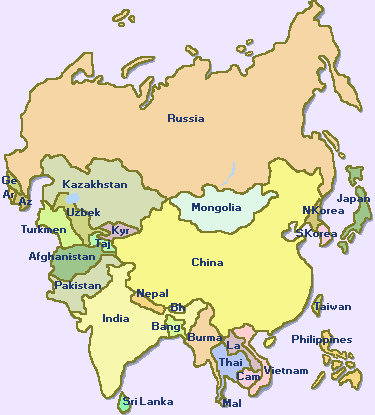 Free Maps for Personal Webpages
Quick Links
Asia Accommodation, Asian Culture, Asia Maps, Asia News, Asia Travel Guides, Asia Travel Tips, Map of Asia, Travel in Asia, Weather in Asia.
Travel in Asia:
Asia is a traveller's favourite; the overland route first mapped out in the pages of Lonely Planet. With a phrasebook in one hand and chopsticks in the other, budget travellers can go further for less.
Weather in Asia:
Local weather forecasts for destinations around Asia.
Travelling in Asia
Always carry a mix of small and large denomination US dollars, as well as travellers cheques, ATM cards and credit cards, and make sure you keep some of them separate in case of loss or theft.
Nomadic Gatherings Sample Chapters
Marimari:
Excellent travel information centre covering Hong Kong, Japan, Korea, Macau, Malaysia, New Zealand, Singapore, Taiwan, Thailand and Australia.
Travelfish:
An independent traveller and backpacker's travel guide and holiday planner for Cambodia, Laos and Thailand; researched by travellers, for travellers.
Visit Mekong:
Tourism in the Greater Mekong sub-region: Cambodia, Laos, Myanmar, Thailand, Vietnam and Yunnan (China).
Asian Arts Online:
Based in Santa Fe, New Mexico. Exhibitions, articles, and galleries dedicated to art of Asian origin. A must for any culture vulture.
Buddhism:
Wherever you go, there you are.
Hot, Sour, Salty Sweet:
A culinary journey through Southeast Asia, a photo essay, a journey down the Mekong river and an introduction to one of the world's great culinary regions. Staying in small villages wherever possible, the authors use village life as their point of reference.
Ascott Group:
The Ascott Group is Asia Pacific's largest serviced residence company. Its premier Ascott and Somerset serviced residence brands are dominant market leaders in the Asia Pacific.
South-East Asia:
They call themselves Resort Hotel but there's plenty of travel information to help travellers plan a visit to Thailand, Malaysia, Cambodia, Laos, Vietnam and Myanmar.
Afghanistan, Azerbaijan, Bangladesh, Bhutan, Brunei, Cambodia, China, Hong Kong, India, Indonesia, Japan, Kazakhstan, Kyrgyzstan, Laos, Malaysia, Maldives, Mongolia, Myanmar, Nepal, Pakistan, Philippines, Singapore, South Korea, Sri Lanka, Taiwan, Tajikistan, Thailand, Turkey, Uzbekistan, Vietnam.
Asia News Network:
Network of national daily newspapers published in Asian cities.
Asia Travel Guides - Asia Maps.

If you find Travel Notes useful, please take a moment to like us on Facebook and share with your friends on social media.