Contrary to popular belief that Florida beaches are meant for the rich and famous, there are beaches in Florida that are great for travellers on a budget.
Each Florida beach has its unique set of attractions, ambience and devoted visitors.
West Coast Beaches of Florida
The West Coast beaches of Florida are generally spread over the Tampa Bay area and around the Southwest region of Florida.
While Myers Beach, Marco Island and Naples (Paradise Coast) are the most popular coastal towns of the South-western region, the Tampa Bay area is known for its picturesque Clearwater Beach, St. Pete Beach and Madeira Beach.
Panhandle Beaches
The famous Emerald Coast, comprising Destin and Ft. Walton Beach, is categorised among the Panhandle Beaches.
Pensacola, known for its quiet and tranquil ambience, is one of the most popular destinations of this region. If you love dining, then don't forget to visit Panama City Beach - dubbed the seafood capital of the world.
East Coast Beaches of Florida
The best known beaches of Florida are situated along the Eastern coast of the state, particularly the Southeast.
Boca Raton, the fabulous and upscale Palm Beach, and Fort Lauderdale are all located in this region.
It's said that the socialising and nightlife opportunities of these beaches are as much a part of the attraction as the calm palm fringed beaches themselves.
Clearwater Beach Vacation:
A local family's Clearwater Beach experience in sunny Florida. Joe claims the beautiful beaches are the best in Florida with an ambiance like none other; including fabulous hotels, amazing resorts, phenomenal restaurants, and plenty of beach activities.
Sorted by date added or revisited; with the newer listings on the top.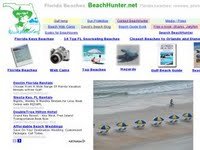 BeachHunter - Guide to Florida Beaches.
Regional Directory - Search The Web - Top Travel Blogs and Websites.

If you find Travel Notes useful, please take a moment to like us on Facebook and share with your friends on social media.