Major places of interest in Namibia.
Quick Links
Oranjemund, Walvis Bay, Windhoek.
Lodging, Regional Guide, Tourism, Wildlife.
Literally meaning at the mouth of the Orange, this is one of Namibia's most productive diamond areas; the precious stones are carried down by mother nature, from the river's source in the Lesotho highlands.
Namibia has the region's only deep-water port, about halfway down the coast, some 250 miles west of Windhoek. There are also port facilities further south, at Lüderitz.
The Namibian capital of Windhoek is a pleasant and compact city which can easily be explored on foot.
The capital of Namibia is located in the middle of the country, at about 1,645m above sea level. The surrounding hills help to protect it from the dry desert winds.
In the 19th century, a Nama leader prized the area from the Herero. The territory then became the capital of the German dependency of South-West Africa in 1892, and was captured by South African troops during World War I.
Many Germans remained in Windhoek, and thus the city still has a Germanic feel.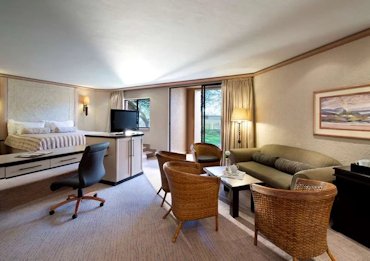 Windhoek Country Club Resort - Western Bypass, Windhoek, Namibia.
Unwind in the capital before or after your adventures in Namibia.

Guests liked the comfortable beds, large rooms, and stunning pool.
Regional Guides:
Further explore the varied regions of Namibia.
Bradt Guide to Namibia
An edited section of Bradt's Namibia Travel Guide by Chris McIntyre is available online. It's an older version of the current guide, with maps and hotel contact numbers omitted to encourage you to buy the book.

Add a Business Listing - Add a Destination Guide - Add a Place to Stay.



If you find Travel Notes useful, please take a moment to like us on Facebook and share with your friends on social media.
Africa Index - Africa Tourism - Africa Travel Websites.