Places to stay in Namibia: wildlife lodges, desert locations and cosy guest houses.
Add Your Website
If you own a hotel or tour company in Namibia, promote it on Travel Notes.
Add Accommodations - Add Tour Services
Travel Notes makes it easier for you to plan your visit to Namibia by giving you some suggestions of where to stay and listing a selection of tour operators available online.
Hotels in Namibia:
Find hotels in Namibia with special online rates.
The coastal town of Swakopmund is Namibia's premier resort.
Beach Lodge B&B Swakopmund:
The only B&B establishment directly on the beach.
Enjoy the magnificent view of the sea from each room, listen to the waves and smell the fresh sea breeze.

Avani Windhoek Hotel & Casino:
129 Independence Avenue, Windhoek, Namibia.
Located in Windhoek city centre, the Avani Windhoek Hotel & Casino is a stepping stone to Namibia; the gateway to Etshoa National Park and Namib Desert.
Kansimba Luxury Game Lodge:
Kansimba Game Lodge offers wonderful accommodation and meals, famous hospitality, and abundance of wildlife and birds, professional guides and trackers and breathtaking scenery.


Protea Hotel by Marriott Walvis Bay:
Corner of Sam Nujoma Avenue and 10th Road, Walvis Bay, Namibia.
Surrounded by oceans of shifting sands, the Walvis Bay Protea Hotel by Marriott is an ideal gateway to the unusual natural attractions of the infamous Skeleton Coast.
Secret Garden Guesthouse:
Situated in the heart of Old Swakopmund, all 7 double en-suite bedrooms face onto a secluded courtyard.
Breakfast is included and there is self-catering and barbecue facilities available. 15% discount for stay of longer than 5 days.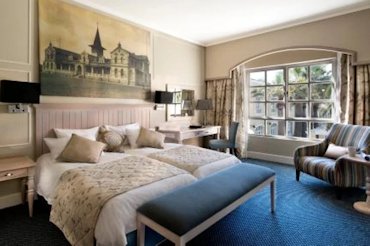 Swakopmund Hotel - Nr 2 Bahnhofstrasse, Swakopmund, Namibia.
Built in and around the impeccably restored old station building, the Swakopmund Hotel is a 4-star luxury hotel combining renowned hospitality with the first word in service and style.

Windhoek Country Club Resort - Western Bypass, Windhoek, Namibia.
Unwind in the capital before or after your adventures in Namibia. The 4 star Windhoek Country Club resort is the final word in luxury and entertainment in Namibia.
Exceptional service, luxury accommodation, state of the art conference facilities and a tranquil desert setting, have ensured that the hotel maintains its premier position in the Namibian tourism industry.
Safaris in Africa

Add a Business Listing - Add a Destination Guide - Add a Place to Stay.



If you find Travel Notes useful, please take a moment to like us on Facebook and share with your friends on social media.
Africa Index - Africa Tourism - Africa Travel Websites.