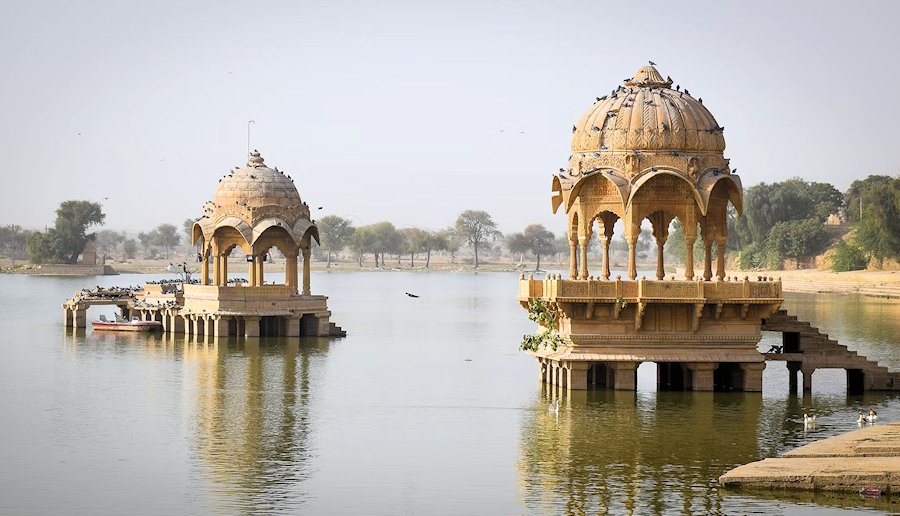 Jaisalmer, Rajasthan by Sergio Capuzzimati on Unsplash.
Travel Notes: Asia: India - Rajasthan - Updated 04 August, 2023.


Short URL: https://tnot.es/Rajasthan

Known as 'The Land of Kings', Rajasthan is the largest state in the Republic of India.
About Rajasthan
When we visit Rajasthan today one might be tempted to call it the 'Land of Travellers'.
Rajasthan is a popular tourist destination in India, known for its rich history, colourful culture, and impressive architecture.
The state has many tourist attractions, including historic forts and palaces, vibrant markets, and scenic landscapes.
Map of Rajasthan, India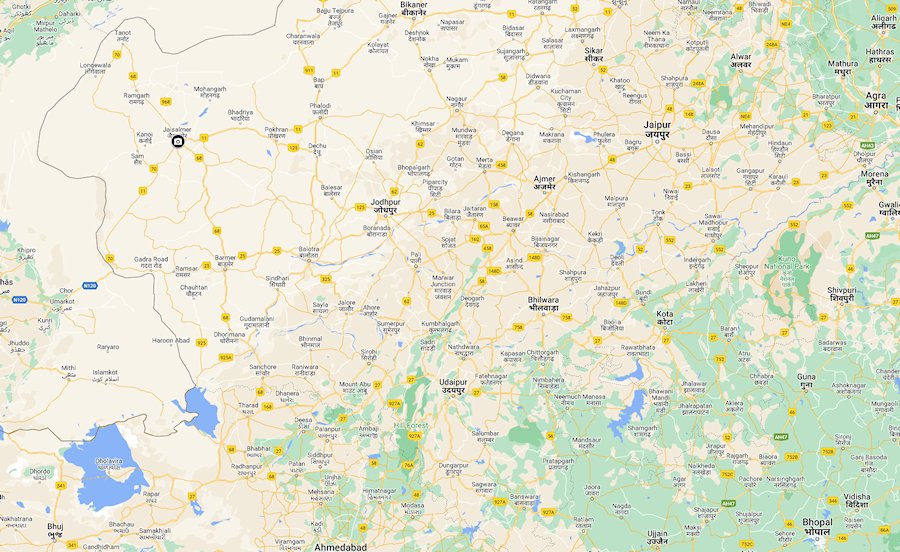 Popular tourist destinations in Rajasthan include Jaipur, Jodhpur, Udaipur, Jaisalmer, and the Ranthambore National Park.
Visitors to Rajasthan can enjoy camel safaris in the desert, explore ancient forts and palaces, shop for handmade textiles and jewellery, and sample delicious Rajasthani cuisine.
Rajasthan is a state located in the north-western part of India.
The state shares its borders with Pakistan to the west, Gujarat to the southwest, Madhya Pradesh to the southeast, Uttar Pradesh and Haryana to the northeast, and Punjab to the north.
Cuisine
The cuisine of Rajasthan is known for its rich flavours and spicy dishes.
Dal Bati Churma, Gatte ki Sabzi, and Laal Maas are some of the traditional dishes that are popular in the region.
Handicrafts and Markets
The state is also famous for its handicrafts, including block printing, pottery, textiles, and jewellry.
Cities like Jaipur and Jodhpur are known for their bustling markets where you can find a wide range of traditional Rajasthani handicrafts.
Land of Kings
Rajasthan is known for its rich history, vibrant culture, and architectural wonders. It is often referred to as the 'Land of Kings' due to its glorious past and the numerous kingdoms and dynasties that ruled over the region.
The state was home to the Rajputana dynasty and witnessed the rise and fall of several powerful Rajput clans.
Majestic Forts and Palaces
One of the major attractions of Rajasthan is its majestic forts and palaces.
The state is dotted with magnificent structures that showcase the architectural brilliance of the bygone era.
Some of the notable forts and palaces include the Amer Fort and Jaigarh Fort in Jaipur, Mehrangarh Fort in Jodhpur, City Palace in Udaipur, and Junagarh Fort in Bikaner.
Travel and Tourism
Rajasthan offers a blend of history, culture, architecture, and natural beauty; making it a popular destination for tourists from all over the world.eople and the vibrant atmosphere across the land make visiting Rajasthan an unforgettable experience for visitors.
Vibrant Festivals and Fairs
Apart from forts and palaces, Rajasthan is also famous for its vibrant festivals and fairs.
The state comes alive with colours, music, and dance during festivals like Diwali, Holi, Teej, and Pushkar Camel Fair.
The Pushkar Camel Fair, held annually in Pushkar, is one of the largest livestock fairs in the world, attracting visitors from far and wide.
Wildlife and Desert Landscapes
Rajasthan is also known for its rich wildlife and desert landscapes.
The Ranthambore National Park and Sariska Tiger Reserve are popular destinations for wildlife enthusiasts, offering the opportunity to spot tigers, leopards, deer, and various bird species.
The Thar Desert, also known as the Great Indian Desert, covers a significant portion of the state and provides an unique experience with its sand dunes, camel safaris, and desert camping.
To explore Rajasthan like a raja, there are several options available for visitors to experience the state's rich heritage and opulent lifestyle.
Palace Hotels
One option could be to stay at one of the many luxurious palace hotels in the state.
These hotels were once the residences of Rajasthan royalty and offer a glimpse into the opulent lifestyle of the rajas.
Some popular palace hotels include the Lake Palace in Udaipur, the Rambagh Palace in Jaipur, and the Umaid Bhawan Palace in Jodhpur.
Taj Lake Palace in Udaipur
Taj Lake Palace: Lake Pichola, Udaipur.
The palace hotel has a princely-inspired décor, with wooden lattice and araish work ceilings, and views over the placid waters of Lake Pichola.
Built in 1746 with locally sourced marble, the Taj Lake Palace is a grand palace hotel located on the Jag Niwas Island in Lake Pichola, Udaipur.
Taj Rambagh Palace in Jaipur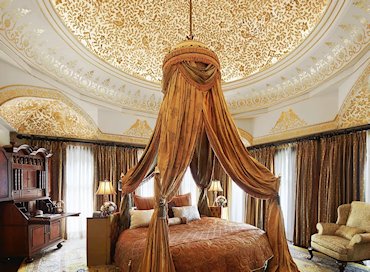 Taj Rambagh Palace: Bhawani Singh Road, Jaipur.
Originally built in 1835, Rambagh Palace is renowned for its beautiful Indian architecture, a rich living history, and elaborate Mughal Gardens.
Located five miles outside the walls of the city of Jaipur, the Taj Rambagh Palace is a luxurious 5-star hotel that was formerly the residence of Maharaja Sawai Man Singh II and his queen, Maharani Gayatri Devi.
Umaid Bhawan Palace in Jodhpur
Umaid Bhawan Palace: Palace Road, Jodhpur.
Built between 1928 and 1943, one of the world's largest private residences is made of golden-yellow sandstone and is a symbol of Jodhpur's heritage and culture.
Perched on Chittar Hill, the highest point in Jodhpur, Umaid Bhawan Palace inspires with exotic views of the historical Blue City, vast sand dunes, and intimidating Mehrangarh Fort.
Palace on Wheels
Travel like a king in the Palace on Wheels.
Introduced in 1982, Palace on Wheels marked the beginning of royal train journeys in India.
Built in the style of the salon coaches of the former maharajahs, the train is a microcosm of the opulence and romance of a bygone era of Rajput princes.
The seven nights and eight day regal journey through beautiful Rajasthan begins in Delhi and takes you through the princely destinations of Jaipur, Sawai Madhopur, Chittorgarh , Udaipur, Jaisalmer, Jodhpur, Bharatpur, and Agra.
Private Tours
To truly explore Rajasthan like a raja, it may be beneficial to hire a private guide or take part in a private tour.
This will allow for a more personalised experience and the opportunity to learn about the state's history and culture from a knowledgeable local.
Visit The Forts and Palaces
A more budget option could be to visit some of the many historic forts and palaces in Rajasthan and use your imagination.
These forts and palaces offer a glimpse into the state's rich history and are often well-preserved.
Some popular forts and palaces include the Amber Fort in Jaipur, the Mehrangarh Fort in Jodhpur, and the City Palace in Udaipur.
Jaipur (The Pink City), and Mount Abu (the only hill station in the desert) are among the main attractions of Rajasthan.
Other popular places to visit in Rajasthan are Jodhpur (The Blue City), Jaisalmer (The Golden City), and Udaipur (India's Lake City).
If you're lucky enough to spend more time in Rajasthan then consider venturing to Alwar, Ajmer Pushkar, Bikaner, Bundi, Bharatpur, Chittorgarh, Kota, Mandawa, Ranthambhor National Park, Ranthambore Fort (near Sawai Madhopur), Shekhawati, and Virat Nagar.
Some of the traditional Rajasthan Fairs and Festivals that attract many tourists to the region are the Pushkar Camel Fair (November), Desert Festival (February in Jaisalmer), Elephant estival (festival of Holi in Jaipur) and Camel Festival (January in Bikaner).
Best Time to Visit Rajasthan
The climate of Rajasthan can be divided into four seasons: Summer (April to June), Monsoon (July to September), Post-Monsoon (October to November) and Winter (December to March).
Where to Stay in Rajasthan
Rajasthan is often portrayed as one vast open-air museum, with its relics so well preserved that it delights even the most sceptical traveller.
Each city in Rajasthan has its own unique charm and attractions, and the state as a whole offers a glimpse into India's rich history and cultural heritage.
Experience the charm of Rajasthan's exotic destinations with refined lodging and cuisine at budgeted prices.
With headquarters in Jaipur, the Rajasthan Tourism Development Corporation is fully owned by the Government of Rajasthan.
Ajmer
Located near Pushkar, Ajmer is home to the revered Ajmer Sharif Dargah, the tomb of Sufi saint Khwaja Moinuddin Chishti.
It is a popular pilgrimage site and attracts devotees from various religions.
Jaipur
The capital city of Rajasthan is famous for its magnificent palaces like the Hawa Mahal and Jal Mahal, the City Palace, and the Amer Fort.
Don't miss exploring the bustling local markets and trying traditional Rajasthani cuisine.
Jaisalmer
This desert city is famous for its golden sand dunes and the majestic Jaisalmer Fort.
Explore the narrow lanes of the old town, visit the intricately carved havelis (merchant mansions) like Patwon Ki Haveli, and experience a camel safari in the Thar Desert.
Jodhpur
Known as the 'Blue City' for its blue-coloured houses, Jodhpur is dominated by the impressive Mehrangarh Fort.
The city also offers attractions like Jaswant Thada, Umaid Bhawan Palace, and the bustling Sardar Market.
Pushkar
Considered one of the holiest cities in India, Pushkar is famous for its sacred Pushkar Lake and the Brahma Temple.
The city is also known for its vibrant annual camel fair, which attracts a large number of tourists.
Udaipur
Known as the 'City of Lakes' and often regarded as one of the most romantic cities in India, Udaipur offers stunning views of Lake Pichola and is famous for its exquisite palaces such as the City Palace and Lake Palace.
The Jag Mandir and Jag Niwas Island are also popular attractions.
Rajput heritage lives on in the forts, temples and palaces built by the Rajput rulers.
The British government used the name Rajputana to cover it's dependencies in the region; 18 princely states, two chiefships and the British district of Ajmer-Merwara.
The British-given name remained in official use until its replacement by Rajasthan, in the constitution of 1949.
People of Rajasthan
The Rajputs, who were the rulers of most of the erstwhile princely states of Rajasthan, form a major group of residents of Rajasthan.
Rajasthan is home to some of the best Indian national parks and wildlife sanctuaries.
Ranthambore National Park, Sariska Tiger Reserve, Bharatpur Bird Sanctuary, Desert National Park, Mount Abu Wildlife Sanctuary, Tal Chappar Blackbuck Sanctuary, and Darrah Wildlife Sanctuary are prime destinations for wildlife tourism in the state of Rajasthan.
Ranthambore National Park is considered to be one of the best places in India to see royal Bengal tigers in their natural habitat, along with leopards, deer, and various bird species.
The Indian state of Rajasthan is divided into 33 districts for administrative purposes.
Ajmer
Surrounded by the Aravalli Mountains, Ajmer, also known as Ajaymeru, was the city once ruled by Prithviraj Chauhan.
Ajmer is connected to Delhi, Agra, Jaipur, Ahmedabad, Udaipur, Abu Road and Jodhpur by regular trains. Two of the best trains of the Indian Railways, Pink City Express and Shatabdi Express connect Ajmer to Delhi and Jaipur.
Alwar
Alwar, among the Rajput principalities, was the closest to imperial Delhi.
A blend of Rajput and Mughal architecture, the City Palace of Alwar dates back to the 18th Century.
Banswara
Banswara was formerly a princely state ruled by the Maharavals.
As there is no railway station in Banswara you'll need to catch a bus from Ratlam Junction (80km away). Udaipur (160km) is the nearest airport.
Baran
The District of Baran was carved out of Kota District on 10th April, 1991.
Located 72km from Kota city, Baran is well-connected to all the major towns in Rajasthan by road. Baran station is situated on the Kota-Bina section of Indian Railways.
Most of the things to see in Baran district are quite a way from Baran city itself that you may wonder if it's worth the trouble.
Barmer
Barmer is the second largest district of Rajasthan.
Bharatpur
Bharatpur was founded by Maharaja Suraj Mal, in 1733.
Tourist attractions in Bharatpur include The Palace and The Iron Fort.
The Keoladeo National Park Bird Sanctuary, a former duck-hunting reserve of the Maharajas, was inscribed on the UNESCO World Heritage List in 1985. Located just 2km south-east of Bharatpur, the site is one of the major wintering areas for large numbers of aquatic birds from Afghanistan, Turkmenistan, China and Siberia.
Bhilwara
Located on the on Jaipur - Mumbai railway line Bhilwara is an industrial town, famous in India for its textile industry.
Bikaner
Bikaner, situated in the middle of the Thar desert, is famous for its Camel Festival, held in January.
Bikaner tourist attractions include Junagarh Fort (1593), Ganga Golden Jubilee Museum, and the Lakshmi Nath Temple, one of the oldest temples of Bikaner.
Bundi
Home to magnificent palaces and imposing forts, Bundi has witnessed great battles and legendary tales of valour.
Chitrashala Palace and Taragath Fort are the main tourist attractions; then head to Raniji ki Baori, just south of Chogan Gate.
Chittorgarh
Chittorgarh is famous for its imposing fort, a witness to some of the bloodiest battles in history.
Chittorgarh (is the epitome of Rajput pride, romance and spirit. It reverberates with history of heroism and sacrifice, which is evident as it echoes with the tales sung by the Bards of Rajasthan.
Churu
Churu, the headquarters of the largest desert district, is a part of the frescoland of Shekhawati.
Bidasar, Chapper, Rajaldesar, Rajgarh, Ratangarh, Ratannagar, Sardarshahar, Sujangarh and Tarangar are other major towns in the district.
Dausa
Dausa is situated in the eastern part of Rajasthan.
Situated on National Highway 11, 55 m east of Jaipur, Dausa is an ancient town of archaeological importance.
Dholpur
Dholpur is situated in the eastern part of Rajasthan.
Dholpur's tourist attractions include the Machkund temple, Shergarh Fort, and Talab Shahi Lake.
Nature lovers will also enjoy the National Chambal Sanctuary; a 400km protected stretch of the river.
There's also the Van Vihar Wildlife and Ramsagar Lake Sanctuaries to be savoured.
Where to Stay in Dholpur
Raj Niwas Palace Hotel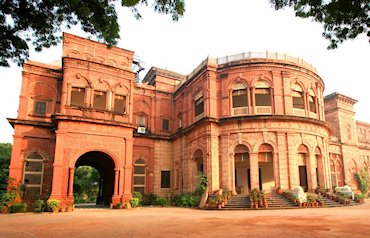 Raj Niwas Palace Hotel: Dholpur, Rajasthan.
Once home to generations of Indian Royalty, this red sand stone palace still reflects the magnificence of the Rajasthani architecture of that era.
The enchanting Raj Niwas Palace Heritage Hotel in Dholpur exudes ancient heritage and premium opulence in a contemporary style.
Dungarpur
Dungarpur is located in the southern part of Rajasthan.
Where to Stay in Dungarpur
Udai Bilas Palace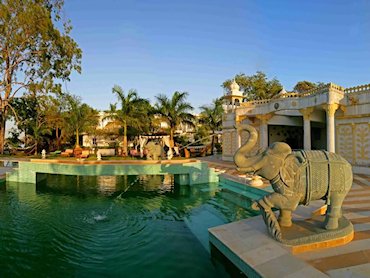 Udai Bilas Palace: Dungarpur, Rajasthan.
Nestled in idyllic splendour, with the blue waters of Gaibsagar lake on one side and a cove of private reserve forest on the other, Udai Bilas Palace is the embodiment of an old world charm of princely India.
Hanumangarh
Carved out of Sri Ganganagar district, Hanumangarh became the 31st district of Rajasthan on 12th July, 1994.
The ancient fort, situated on the bank of river Ghaggar, was built in year 295; by Bhupat, the son of king Bhati of Jaisalmer.
Jaipur
The famous Pink City of Jaipur is the state capital of Rajasthan.
It's not often that a City Palace gets put in the shade but in Jaipur, the Hawa Mahal does just that.
Jaisalmer
Jaisalmer district, a part of the Great Indian Thar Desert, is sandy, dry and scorched. The fort and town of Jaisalmer was founded in 1156, by Maharawal Jaisal.
Jaisalmar Tourism
Jaisalmer may be remote but it's well worth making the effort to visit this desert fortress; once an important centre, on the ancient camel trade routes.
When in town, be sure to visit Jaisalmar's Desert Cultural Centre; after photographing the Jaisalmer Fort. Those with time should also consider a camel safari.
Jalore
Jalore is located in the South West of Rajasthan.
The main attractions in Jalore are the Jalore Fort, Topkhana, and Sire Mandir Temple.
Sundha Mata Temple is 105km from Jalore, or 35km Bhinmal.
Jhalawar
Jhalawar lies in the south-eastern region of Rajasthan, at the edge of Malwa Plateau.
Jhalawar is a unique combination of legends and folklore, of rocky terrain on one side and dense forests and rivers on the other.
Jhunjhunu
Jhunjhunu is famous for providing considerable representation to Indian defence forces.
Jhunjhunu is connected by regular express trains from Delhi and Jaipur
Jodhpur
Jodhpur, one of the largest Rajasthan districts, is centrally located in the western part of Rajasthan.
The main tourist attractions in Jodhpur are Mehrangarh Fort, Jaswant Thada, and Umaid Bhawan Palace.
Karauli
Karauli was the part of Matsya kingdom that was ruled by the Meenas after the 11th century.
Visitors to Karauli are offered three tourist routes: historical tourism; spiritual tourism; and eco tourism.
Where to Stay in Karauli
Bhanwar Vilas Palace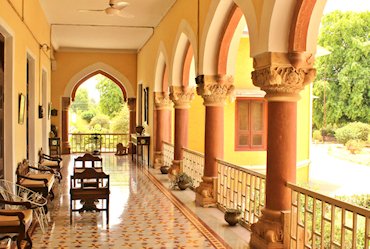 Bhanwar Vilas Palace: Karauli, Rajasthan.
Built as a royal residence by Maharaja Ganesh Pal Deo Bhadur, in 1938, the colonial-style palace is a member of the Indian Heritage Hotels Association.
Bhanwar Vilas Palace is a series of delightful discoveries, from the first awe-inspiring glimpse of its magnificent façade standing out against the ancient town of Karauli, to an exploration of its edgy decor blend of Oriental and Art Deco forms.
Kota
Kota was once a hallmark of the Rajput gallantry and culture.
Surprisingly unexplored, the Kota region of Rajasthan offers tourists a number of fortresses and palaces to visit; as well as beautiful gardens and waterways.
Nagaur
Nagaur district is the land of fairs as they are not only cattle markets but in real terms a way of life.
Tourist attractions in Nagaur district include Nagaur Fort, Khinvsar Fort (42km from Nagaur), Kuchaman Fort (one of the oldest forts if Rajasthan) and plenty of temples.
Pali
The Great Aravali hills link Pali district with Ajmer, Rajsamand, Udaipur and Sirohi Districts.
People from all over India travel to Pali to visit Ranakpur, Jawai Dam, Parshuram Mahadev Temple and Jadan Ashram.
Pratapgarh
Carved out of Chittorgarh, Udaipur and Banswara districts, Pratapgarh became the 33rd district of Rajasthan on 26th January, 2008.
No railways run through Pratapgarh: Mandsaur is 32km away and Chittorgarh is 110km.
Daily bus services connects Pratapgarh with Banswara, Chittorgarh, Dungarpur, Jaipur, Jodhpur, Rajsamand, and Udaipur in Rajasthan. Buses also run to Mandsaur (for rail connections) Ratlam and Delhi.
Rajsamand
Rajsamand is rich in history, religion, culture and mining industries.
Rajsamand places of tourist interest are Kumbhalgarh (the second most important citadel of Mewar after Chittorgarh), Haldi Ghati (the yellow vale), and Chetak Tomb (2km west of Haldi Ghati).
Sawai Madhopur
Sawai Madhopur is home to Ranthambhore National Park and the Ranthambhore Tiger Reserve.
The history of Sawai Madhopur revolves around the Ramthambhor fort. Other popular tourist attractions are the Ranthambhor Ganesh Temple and Amareshwar Mahadeo Temple; on the way to Ranthambhor National Park.
Sikar
Sikar is an historical city and district head quarter of Sikar district.
There are number of places of touristic interest in Sikar, Laxmangarh (30km from Sikar), Fatehpur (52km from Sikar), and Ramgarh (74km from Sikar).
Khatushyamji Temple is located 65km from Sikar and 80km. from Jaipur.
Sirohi
Mount Abu, the highest peak in the Aravalli Range of Rajasthan, is located in Sirohi district.
Visitors to the district can view a number of Sirohi Temples.
The Pavapuri Tirth Dham temple is 22km from Sirohi, on the Kandla Highway.
Sri Ganganagar
Sri Ganganagar is the northern-most city of Rajasthan; located where the Satluj Waters enters the state.
Places of interest for Sri Ganganagar visitors might include Gurudwara Sri BudhaJohar Shahab, Baror, Shivpuri Kagad, Fort of Anoopgarh, Suratgarh and Jaitsar Farms, Shivpur Head, Suratgarh Super Critical Thermal Power Station, Sri Jagdamba Anand Vidhalaya, and Hindumalkot Border.
Tonk
Located near the right bank of the Banas River, the town of Tonk is about 100km by road from Jaipur.
Tonk has a number of pilgrimage sights and other tourist attritions but no railway line.
Udaipur
Once the capital of Mewar, Udaipur was founded by Rana Udai Singh after the fall of Chittor to Akbar in 1568.

Map of Udaipur.
The Lakes are Udaipur's main tourist attraction; Pichola Lake, in the heart of the city, is the oldest and one of the largest lakes of Udaipur.
No trip to Udaipur would be complete without visiting the city's glorious palaces and gardens.
Visitors to Udaipur can also visit the City Palace Museum and Jagdish Temple, located in the City Palace complex of Udaipur.
Udaipur Experiences
The state is divided into the land of Marwar, the Thar Desert, the lakes of Udaipur and the forests of Ranthambhore.
The forts, palaces, sand dunes, camels and the multi-coloured turbans all add up to make Rajasthan an irresistible travel destination.
Rajasthan Travel Guides - Maharajas.
Travel Notes Online Guide to Travel
Africa - Asia - Caribbean - Europe - Middle East - North America - Oceania - South America.

The Travel Notes Online Guide to Travel helps visitors plan their trip with country and city travel guides, local tourist information, reviewed web sites, and regular travel articles.

Indonesia.
Travel and Tourism Guides on Travel Notes
If Travel Notes has helped you, please take a moment to like us on Facebook and share with your friends on social media.


Travel & Tourism With Industry Professionals.