Plaza de Ponchos in Otavalo, Ecuador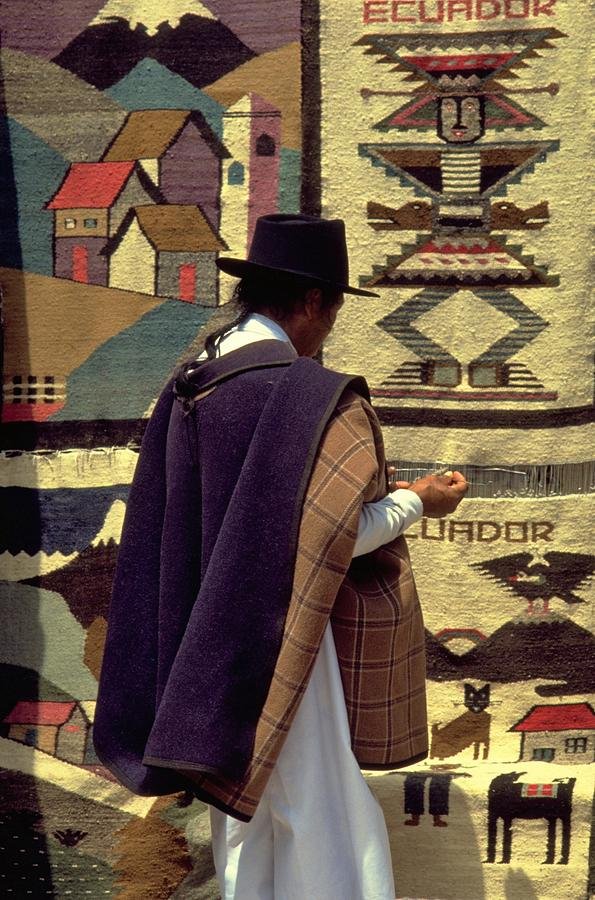 Ecuadorian Artisans Display Their Creations in Otavalo
Famous for its alpaca wool textiles, the Plaza de Ponchos in Otavalo is one of the largest Indian markets in Ecuador.
A weaver in the traditional costume of Otavaleno men - white pants, poncho, and black felt hat - proudly displays his Ecuadorian textile art.
Otavalo was originally a market town for the region's farming communities, but with the growth of tourism, the Saturday market now supplies foreign tourists with handicraft souvenirs of their visit to Ecuador.
Photo by Michel Guntern.
Location Scouting
Things to do on Location
Ecuador Tourism:
Ecuador travel and tourist information with links to official travel and tourism websites and local resources for visitors to Ecuador.
Where to Stay in Otavalo, Ecuador
Hotels in Otavalo, Ecuador.
Travel Notes Online Guide to Travel

The Travel Notes Online Guide to Travel helps visitors plan their trip with country and city travel guides, local tourist information, reviewed web sites, and regular travel articles.
Museum-quality Travel Photography Prints can instantly transform your home or office into a spectacular location.
Browse our Collection of Travel Photos for more inspiring travel images featuring some wonderful travel destinations and find out more about the story behind the pictures.
Travel and Tourism Guides on Travel Notes
If our travel photography hits the sweet spot, please take a moment to like us on Facebook and share with your friends on social media.


Travel & Tourism With Industry Professionals.

Stonehenge National Heritage.