Guatemalan Mayans, Markets and Volcanoes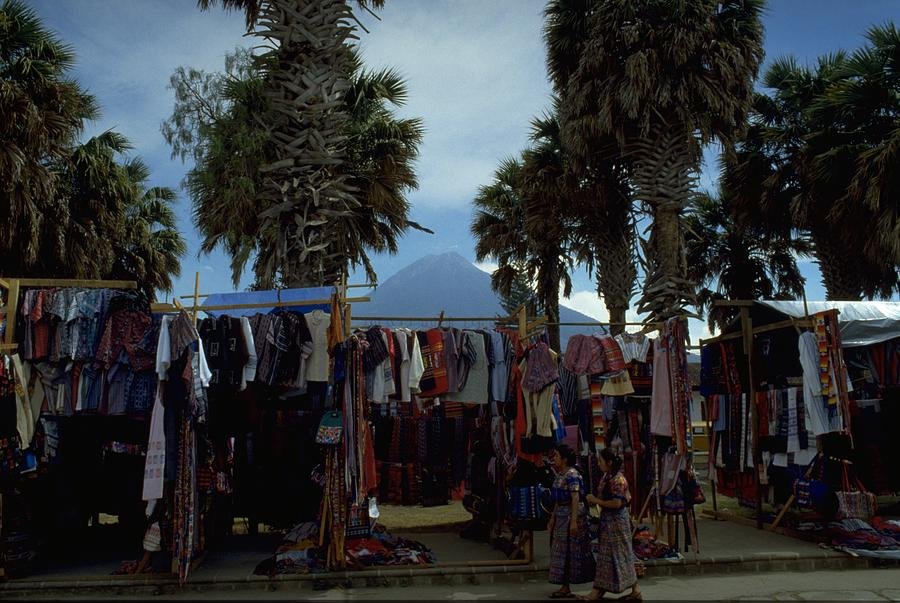 Travel Pics: What Makes Guatemala So Special?
Guatemala is a country of volcanoes, Mayans and colourful markets.
This picture of two Mayan women strolling through an Indian market, with volcan San Pedro in the background, is a good representation of many a traveller's favourite destination in Central America.
Framed by three volcanoes, Aldous Huxley described Lake Atitlan as 'the most beautiful lake in the world'.
The tourist village of Panajachel is situated on the northern coast of the lake.
Another famous market town in Guatemala is Chichicastenango.
Mayan Tikal and colonial Antigua are also very popular with foreign tourists.
Photo by Michel Guntern.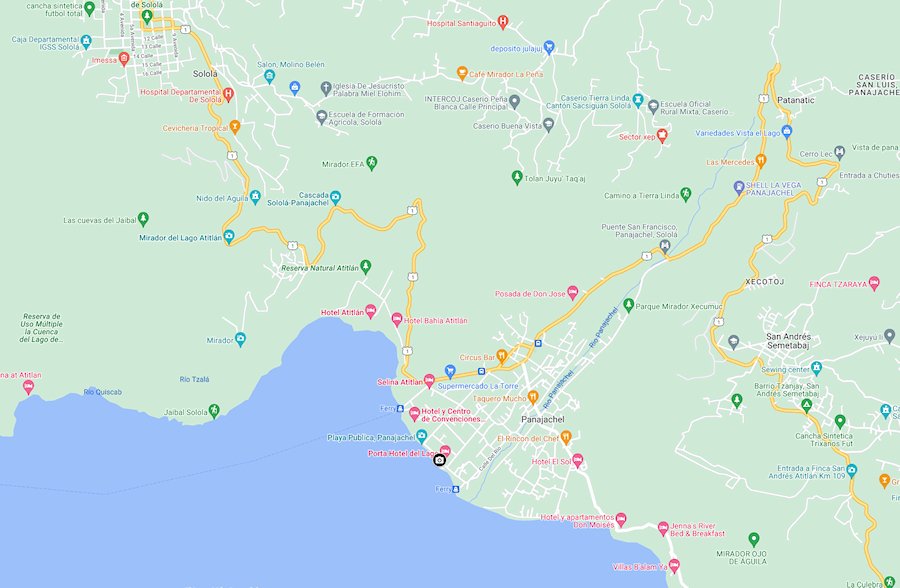 Location Scouting
Panajachel is a town located in the western highlands of Guatemala, situated on the north-eastern shore of Lake Atitlán.
It is one of the most popular tourist destinations in the country, known for its stunning natural beauty and indigenous Mayan culture.
Lake Atitlán, on which Panajachel is situated, is often referred to as one of the most beautiful lakes in the world.
Surrounded by three majestic volcanoes - Tolimán, San Pedro, and Atitlán - the lake offers breathtaking panoramic views.
The town of Panajachel serves as a gateway for travellers exploring the lake and its surrounding villages.
The town's accessibility, charming atmosphere, and stunning lake views make Panajachel a favourite among both domestic and international visitors.
Whether you're seeking relaxation, adventure, or cultural experiences, Panajachel and Lake Atitlán offer a memorable experience in the heart of Guatemala's highlands.
Calle de los Arboles (Tree Street)
This tranquil street is named for its beautiful trees that provide shade and a serene atmosphere.
It's a great place to take a leisurely stroll and enjoy the surroundings.
Cultural Experiences
Panajachel and its neighboring villages provide a chance to experience and learn about the rich Mayan culture, traditions, and history.
You can witness traditional weaving, visit local markets, and attend colourful festivals.
Lake Atitlán
The main attraction of the area, this deep blue lake is not only visually captivating but also offers various recreational activities such as boat tours, swimming, kayaking, and fishing.
Mayan Villages
From Panajachel, you can easily visit several traditional Mayan villages that dot the shores of Lake Atitlán.
Each village has its unique charm, culture, and handicrafts.
Some popular ones include Santiago Atitlán, San Juan la Laguna, and Santa Catarina Palopó.
Nature and Adventure Activities
The surrounding region offers opportunities for hiking, nature walks, and even volcano climbing (San Pedro Volcano).
Adventurers will find plenty of outdoor activities to indulge in.
Nightlife
Panajachel has a vibrant nightlife scene with various bars and restaurants offering entertainment and live music, making it a great place to unwind after a day of exploration.
Santander Street
This is Panajachel's main street, lined with numerous shops, markets, restaurants, and hotels.
It's a bustling area where visitors can purchase local handicrafts, textiles, and souvenirs.
Things to do on Location
Guatemala Tourism:
Guatemala is a fascinating country in Central America with a rich history and plenty to see; from ancient Mayan ruins to colonial towns and natural wonders.
Where to Stay in Panajachel, Guatemala
Hotels in Panajachel, Guatemala.
Travel Notes Online Guide to Travel

The Travel Notes Online Guide to Travel helps visitors plan their trip with country and city travel guides, local tourist information, reviewed web sites, and regular travel articles.
Museum-quality Travel Photography Prints can instantly transform your home or office into a spectacular location.
Browse our Collection of Travel Photos for more inspiring travel images featuring some wonderful travel destinations and find out more about the story behind the pictures.
Travel and Tourism Guides on Travel Notes
If our travel photography hits the sweet spot, please take a moment to like us on Facebook and share with your friends on social media.


Travel & Tourism With Industry Professionals.

Bangkok Floating Market.