A View of New Zealand's Mount Cook to Stop The Car For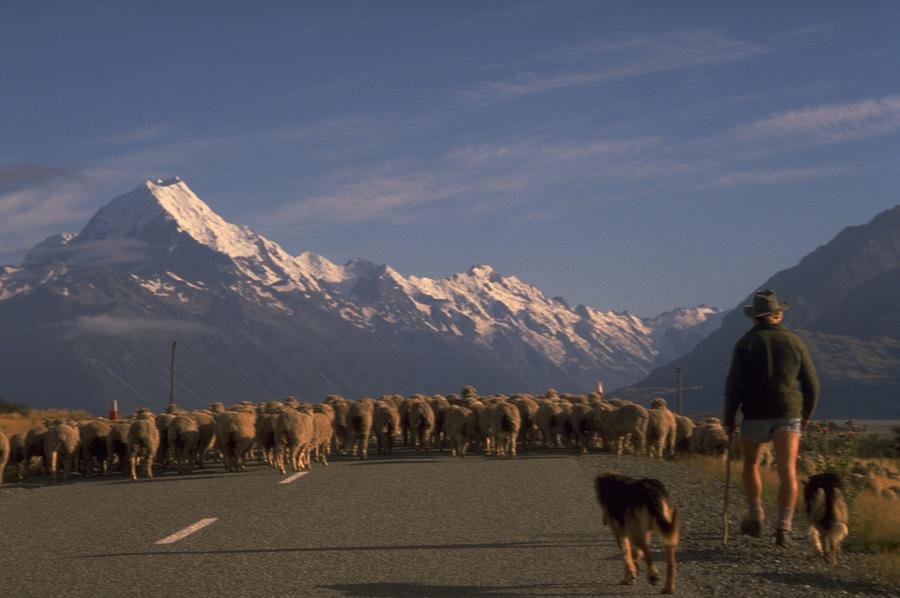 Travel Pics: Shepherd With Dogs Walking Sheep Towards Mt Cook
Located in the centre of New Zealand's South Island, Mount Cook (Aoraki) is New Zealand's highest peak.
For many, an image of New Zealand might include the snow-capped mountain of Mt Cook, or sheep.
And they wouldn't be far wrong.
One might have to be really lucky to be presented with a picture of both in the same frame though.
While hitch-hiking through the Mackenzie region, I couldn't believe the scene in front of me when our car was held up by sheep on the road to Mt Cook.
The once in a lifetime view just cried out to be framed.
Photo by Michel Guntern.
Location Scouting
Things to do on Location
New Zealand Tourism:
New Zealand travel and tourist information with links to official travel and tourism websites and local resources for visitors to New Zealand.
Where to Stay in Twizel, New Zealand
Hotels in Twizel, New Zealand.
Travel Notes Online Guide to Travel

The Travel Notes Online Guide to Travel helps visitors plan their trip with country and city travel guides, local tourist information, reviewed web sites, and regular travel articles.
Museum-quality Travel Photography Prints can instantly transform your home or office into a spectacular location.
Browse our Collection of Travel Photos for more inspiring travel images featuring some wonderful travel destinations and find out more about the story behind the pictures.
Travel and Tourism Guides on Travel Notes
If our travel photography hits the sweet spot, please take a moment to like us on Facebook and share with your friends on social media.


Travel & Tourism With Industry Professionals.

Champagne Sunset.