There was a time when UK city breaks meant taking the train to London, or maybe a ferry across to Paris. Then came cheap flights and online hotel bookings.
It's no longer just beach holidays for the masses that provide great travel deals. Now culture vultures can fly to just about any city in the world for a long weekend and not need a second mortgage.
Short, romantic trips to Paris, Rome or Venice soon become mini adventures across time zones to New York, Bangkok, Singapore or Tokyo.
Inspire yourself further with a look at our City Guides.
Sorted by date added or revisited; with the newer listings on the top.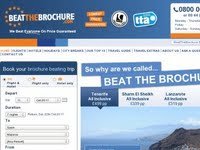 Beat The Brochure - Cheap Holidays from UK Departures.
Regional Directory - Search The Web - Top Travel Blogs and Websites.

If you find Travel Notes useful, please take a moment to like us on Facebook and share with your friends on social media.