If holidays to you mean getting away from it all for some fun in the sun, with the sea lapping at the sand, then you're probably looking for beach holidays.
The idea of a beach holiday has come a long way from a weekend outing to the seaside.
While beach holidays in Spain and Greece have always been popular with the Brits, Egypt and Turkey offers something a little more adventurous.
Not all beaches are sandy though but there are still plenty of people who are quite comfortable frying naked on the rocks in Croatia.
Long Haul Beach Holidays
For those who don't mind spending half a day flying, the beach holiday options are endless: The Caribbean, India, Maldives; even South Africa, Australia, or an island in the Pacific.
With over 18,000km of coastline, you may even fancy getting off the Great Wall and lying down on a beach in China.
China's most popular beach resorts are (from north to south) Beidaihe, Qingdao, Putuo Island, Xiamen, Beihai, and Sanya - the Oriental Hawaii.
Leave Your Wallet at Home
Some beach resorts don't even want holidaymakers to worry about money and offer all-inclusive holidays to their customers.
Sorted by date added or revisited; with the newer listings on the top.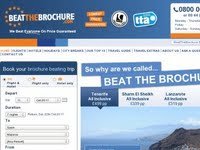 Beat The Brochure - Cheap Holidays from UK Departures.
Regional Directory - Search The Web - Top Travel Blogs and Websites.

If you find Travel Notes useful, please take a moment to like us on Facebook and share with your friends on social media.