Short URL: https://tnot.es/MW
Malawi Travel and Tourism on Travel Notes

Find Malawi Travel and Tourist Information with links to official travel and tourism websites and state resources for visitors to Malawi.
About Malawi
Malawi was formerly known as the British Protectorate of Nyasaland.
Countries neighbouring Malawi are: Zambia, Tanzania and Mozambique.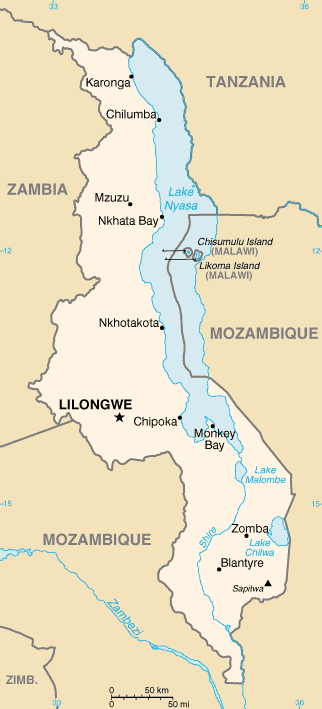 Lake Malawi, also known as Lake Nyasa, is the third largest lake in Africa; formed in a deep trough of the East African Rift Valley that runs through Malawi, from north to south.
In 1859, David Livingstone - born in Blantyre, Scotland - became the first European to reach the shores of Lake Malawi; although it was probably sighted by the Portuguese in the 17th century.
From the southern end of the lake, the River Shire flows out to join the Zambezi in Mozambique, which in turn empties into the Indian Ocean through many mouths.
Weather in Africa:
Local weather forecasts for destinations around Africa.
Lilongwe has been the capital of Malawi since 1975. The previous capital was Zomba.
Situated in Central Malawi, the capital has little of interest to travellers. Most people prefer to head for Lake Nyasa.
Hotels in Malawi:
Find hotels in Malawi with special online rates.
Hotels in Lilongwe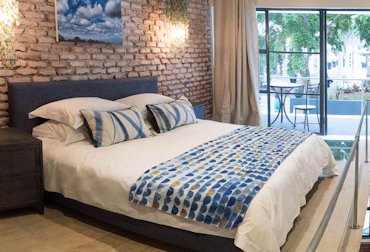 Latitude 13 - 43/60 Mphonongo Road, Lilongwe, Malawi.
Latitude Hotels is a unique African lifestyle hospitality brand based in urban environments across the continent. With just nine boutique bedrooms, attention to detail is guaranteed at this unexpected oasis in Lilongwe.

Guests rated Latitude 13 as superb; especially for its great location, wonderful staff and fine food.
Blantyre, named after the birthplace of David Livingstone, was founded by Scottish missionaries, in 1876.
It is the largest city in Malawi, and the transport hub for travel to Zimbabwe; through the Tete corridor of Mozambique.
During the civil war, in Mozambique, lorries would drive between Malawi and Zimbabwe in convoys; escorted by the Zimbabwean army.
For a small payment to one of the lorry drivers, this was an exciting journey for travellers.
After the demise of Air Malawi, the Government of Malawi - together with Ethiopian Airlines - introduced a new national carrier Malawian Airlines; initially to serve the Blantyre–Lilongwe domestic route.
International routes include flights to Dar es Salaam (Tanzania), Harare (Zimbabwe), Johannesburg (South Africa), Lusaka (Zambia) and a few destinations in Mozambique.
Visit Malawi:
The official tourism website of Malawi.
Malawi Department of Tourism,
Off Convention Drive, Private Bag 326, Lilongwe, Malawi.
The official language of Malawi is English, although the national language is Chichewa.
A number of other Bantu languages are also spoken around Malawi.

Add a Business Listing - Add a Destination Guide - Add a Place to Stay.



If you find Travel Notes useful, please take a moment to like us on Facebook and share with your friends on social media.
Africa Index - Africa Tourism - Africa Travel Websites.