Short URL: https://tnot.es/MU
Mauritius is an island in the Indian Ocean, approximately 2,400 kilometres off the south-east coast of Africa; east of Madagascar.
Quick Links
Mauritius Travel and Tourist Information with links to official travel and tourism websites and state resources for visitors to Mauritius.
Around Mauritius, Getting to Mauritius, Maps, Mauritius Background, Mauritius Hotels, Mauritius Tourism, People of Mauritius, Port Louis.
The 1,865 square kilometre island is of volcanic origin, with coral reefs surrounding most of the coast except the south.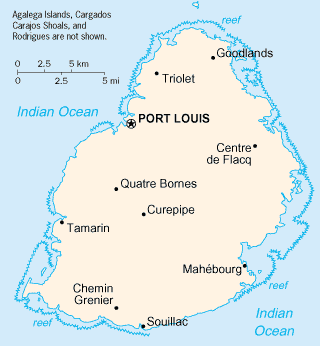 Weather in Africa:
Local weather forecasts for destinations around Africa.
Most of the population are Indo-Mauritians, with those of mixed European and African blood known as Creoles.
The official language of Mauritius is English, although French and Creole, a French patois, are also spoken.
The Dutch settled on the island in 1598, and named it Mauritius, in honour of their ruler, Prince Maurice de Nassau; although the island was probably visited by Arab traders before the 10th century.
The Dutch settlers deserted the island in 1710, and were replaced by the French who renamed it Ile de France.
When the British took control during the Napoleonic wars, the name reverted to Mauritius and Indian contract labourers were introduced, to make up for the demise of slavery in the British Empire.
Mauritius gained independence from Britain on 12 March, 1968; with republic status arriving in 1992.
History of Mauritius:
A brief history provided by the Government of Mauritius.
Mauritius Tourist:
Where else can you find the exhilarating mix of Indian, Chinese, French, Creole, and English people with smiles for each other as well as for you... asks the Mauritius tourist promotion.
Visa Requirements For Mauritius
A visitor's visa is normally granted for one month, but can be renewed for a further period upon request.
The capital of Mauritius is located on the north-west coast of the island.
Port Louis was founded by the French, around 1735, and developed as a deep-water port for ships travelling between Europe and Asia.
The port's importance declined after the Suez Canal was opened, in 1869.
Airlines and Airports:
Mauritius is served by the Sir Sewoosagar Ramgoolam International Airport, named after the former Prime Minister who is acknowledged as the Father of the Nation, about one hour from Port Louis.
Air Mauritius:
Get the route network, destinations, schedules and reservations from the official Air Mauritius site.
Mauritius celebrates a variety of festivals that represent the diverse cultures of the islands.
Mauritius Festivals:
The main festivals and religious events celebrated in Mauritius are Cavadee, Chinese Spring Festival, Christmas, Divali, Easter, Eid-ul-Fitr, Ganesh Chathurti, Holi, Maha Shivaratree, Pere Laval Pilgrimage and Ugadi.
Hotels in Mauritius:
Find hotels in Mauritius with special online rates.
Resort Hotels

La Pirogue - Royal Road, Wolmar, Flic-en-Flac, Mauritius.
This elegant resort made up of authentic and comfortable Mauritian bungalows is situated within the scenic countryside of Flic en Flac.

Guests at the Mauritius resort of La Pirogue rated the excellent service, stunning pool and tasty breakfast.



St. Regis Mauritius Resort - Le Morne Peninsula, Le Morne, Mauritius.
On the south-western side of the island, the soft white sands of Le Morne Beach and its turquoise lagoon create a magical setting for this five star luxury resort's 172 guest rooms and suites; with breathtaking views over the Indian Ocean.

Guests at the St. Regis Mauritius Resort raved about its great location, superb dining and wonderful views.
Africa Index - Africa Tourism - Africa Travel Websites.

If you find Travel Notes useful, please take a moment to like us on Facebook and share with your friends on social media.