Short URL: https://tnot.es/ZNZ
Zanzibar Travel and Tourism on Travel Notes

Find Zanzibar Travel and Tourist Information with links to official travel and tourism websites and state resources for visitors to Zanzibar.
About Zanzibar
Zanzibar is an archipelago made up of Unguja and Pemba Islands, and several islets.
Zanzibar is located in the Indian Ocean, about 25 miles from the Tanzanian coast, and south of the Equator.
Zanzibar Island, known locally as Unguja, is 60 miles long and 20 miles wide; occupying a total area of approximately 650 square miles.
The island is characterised by beautiful sandy beaches with fringing coral reefs, and the magic of historic Stone Town - said to be the only functioning ancient town in East Africa.
Stone Town, an old city and the cultural heart of Zanzibar, has changed little in the last 200 years.
It is a place of winding alleys, bustling bazaars, mosques and grand Arab houses; whose original owners vied with each other over the extravagance of their dwellings. This one-upmanship is particularly reflected in the brass-studded, carved, wooden doors - there are more than 500 different examples of this handiwork.
You can spend many idle hours and days just wandering through the fascinating labyrinth of narrow streets and alleyways in Stone Town.
It is also home to many grand Arab houses, which were built in the 19th century - when Zanzibar was one of the most important trading centres in the Indian Ocean.
Key attractions in Stone Town include the Old Dispensary, Livingstone's House, the Peace Memorial Museum, the Palace Museum, the Arab Fort and the House of Wonders (which translates from its local name, Bait el Jaib).
The Old Fort - Ngome Kongwe in Swahili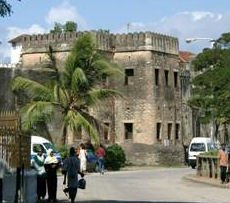 The 18th century fortress was built on the site of Portuguese chapel, by Omani Arabs.
An open air amphitheatre is home to evening film screenings and the Mambo Club serves as the main live stage.
House of Wonders - Beit el-Ajaib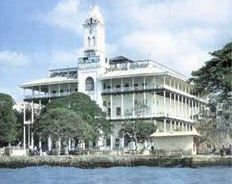 Built in 1883, by sultan Barghash, and bombarded by the British Fleet in 1886, Beit el-Ajaib became the first building in Zanzibar with electricity and a lift.
The House of Wonders is now the National Museum of Zanzibar and venue for the photography and Zanzibari painters exhibitions.
Peace Memorial Museum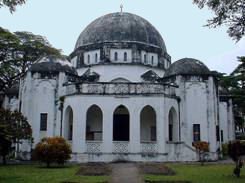 With its distinctive dome, arabesque windows and white washed walls, the museum looks like a mosque or a basilica church.
Located at the southern end of Stone Town, the museum's annex has a small library and natural history sections including a skeleton of a dodo.
The museum also serves as a venue for the Children's Panorama workshops and exhibition.
Zanzibar is the largest coral island off the coast of Africa; an island paradise in the Indian Ocean, some 20 miles off the coast of Tanzania.
As well as Zanzibar, Tanzania boasts many smaller islands which are just a short trip from Stone Town, including Prison (Changu Island), Chapwani, Chumbe and Bawe Islands.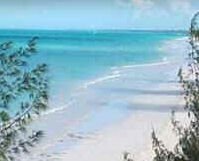 Regular ferries operate between Dar es-Salaam, Zanzibar and Pemba.
Credit

Jefferson Mbaga of Travel Zanzibar & Safaris.
Zanzibar and other islands, off the east coast of Africa, were initially controlled by Arab traders, the Portuguese, and then Omani sultans.
Most people visiting Zanzibar stay in a number of locations in order to get a real feel for the place. A few nights in Stone Town is an essential element of a good trip though.
Mafia Island
Mafia is a wonderful little island at the centre of the largest marine park in East Africa. It is a real sleepy backwater, a remnant of the old Swahili coast and the place to visit for a reminder of how Zanzibar was thirty years ago.
Pemba Island
The island of Pemba is a remote, untouched paradise of clove plantations, traditional villages, broad sandy beaches and superb marine life. This is the place to come if you are into hiking, sailing, fishing and especially diving.
Stone Town
The transport hub and general centre of activity on the islands, Stone Town is a fascinating historic city and a designated UNESCO World Heritage Site.
The largest town on Zanzibar Island, the port of Zanzibar is situated on the south-western coast.
Vasco da Gama visited the island in 1499, when it was already an important trading centre between Africa, the Middle East, and India.
Arabs from Oman ousted the Portuguese in 1698, but didn't begin to develop the island until the mid-19th century. It was made a British protectorate in 1890, and merged with Tanganyika to form Tanzania in 1964.
Zanzibar Commission for Tourism:
Zanzibar's mission for tourism development is 'to be the most exotic, diverse island destination in the Indian Ocean region'.

Add a Business Listing - Add a Destination Guide - Add a Place to Stay.



If you find Travel Notes useful, please take a moment to like us on Facebook and share with your friends on social media.
Africa Index - Africa Tourism - Africa Travel Websites.