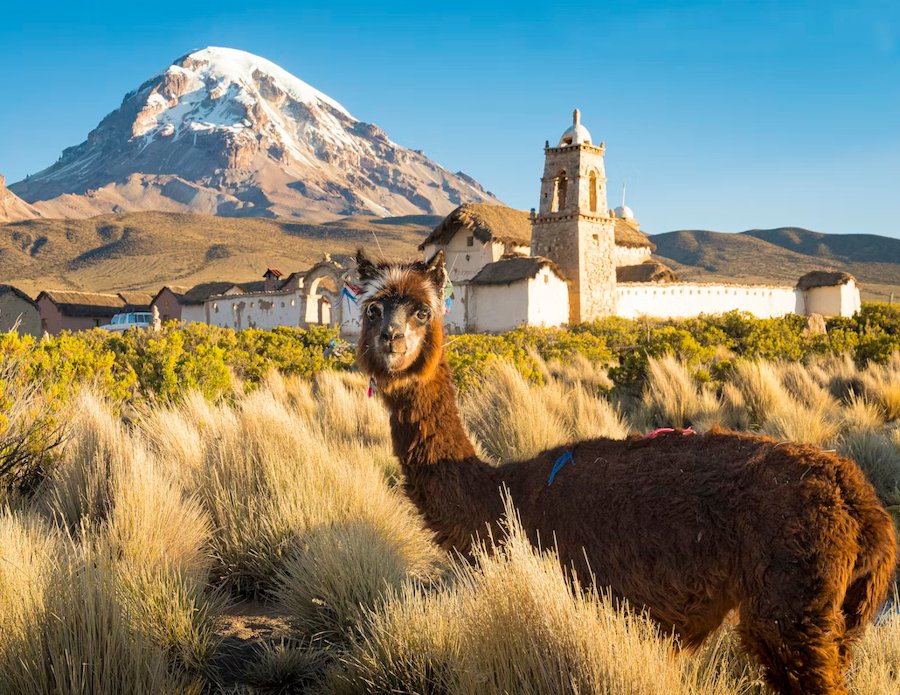 Alpaca in front of Nevado Sajama, Bolivia by Alain Bonnardeaux on Unsplash.
Travel Notes: Latin America - Bolivia Travel Notes.
Short URL: https://tnot.es/BO
Bolivia Travel and Tourism on Travel Notes

Find Bolivia Travel and Tourist Information with links to official travel and tourism websites and state resources for visitors to Bolivia.
About Bolivia
Bolivia and Paraguay are the only landlocked countries in South America. For Bolivia, the nearest seaport is Arica, in Chile.
Bolivia is a beautiful country in South America, known for its rich history, vibrant culture, and stunning landscapes; from Lake Titicaca to the Uyuni Salt Flats.
Countries neighbouring Bolivia: Peru, Brazil, Paraguay, Argentina and Chile.
Map of Bolivia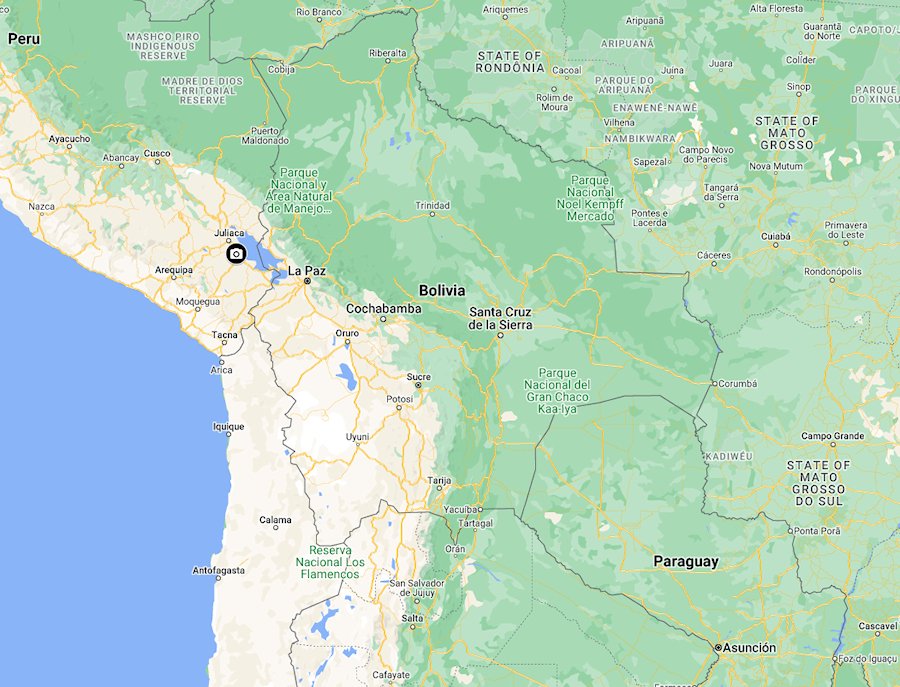 Brazil is bordered by Brazil to the north and east, Peru to the west, Chile to the south-west, Argentina to the south, and Paraguay to the south-east.
Tha capital of Bolivia is La Paz.
A landlocked country, Bolivia is located in the heart of South America, between the Andes and the Amazon.
Bolivian Cultural Heritage
Bolivia has a rich cultural heritage, with a mix of indigenous and colonial influences.
The country is known for its traditional clothing, music, dance, and food.
One of Bolivia's most famous cultural events is the Carnival of Oruro, which is held in the city of Oruro each year and is considered one of the largest and most impressive carnivals in the world.
Bolivian Sightseeing
Bolivia is home to many archaeological sites, including Tiwanaku, which is believed to have been a major pre-Columbian civilization.
The country is also known for its natural beauty, including Lake Titicaca, which is the highest navigable lake in the world, and the Salar de Uyuni, which is the world's largest salt flat.
Economy
Economically, Bolivia is one of the poorest countries in South America, but it has a wealth of natural resources, including oil, gas, minerals, and agricultural land.
The country has made significant progress in recent years, particularly in reducing poverty and improving access to healthcare and education. However, Bolivia still faces many challenges, including political instability, corruption, and social inequality.
Geography
The country has a diverse geography, including the Andes mountain range, the Amazon basin, and the Chaco region.
Language
The official languages of Bolivia are Spanish, Quechua, and Aymara, with Spanish being the most widely spoken.
Bolivia is a landlocked country in South America that boasts incredible natural beauty, unique cultural heritage, and a fascinating history.
Planning a Trip to Bolivia
Bolivia is an unique and fascinating destination that offers a range of experiences for travellers with a variety of interests.
Some things to think about when planning a visit to Bolivia.
Go on a Jungle Adventure
Bolivia is home to vast swaths of Amazon rainforest, where you can explore the jungle, spot wildlife, and learn about traditional indigenous cultures.
Explore the Salt Flats
Bolivia's Salar de Uyuni is the world's largest salt flat, covering over 10,000 square kilometres.
Located in the south-west of Bolivia, this breathtakingly beautiful landscape is popular with photographers and adventurers alike.
Bolivia Excursions
Sail on Lake Titicaca
Lake Titicaca, on the border between Bolivia and Peru, is the highest navigable lake in the world.
It's surrounded by stunning scenery and is home to numerous indigenous communities that have lived on the lake for centuries.
See the Ruins of Tiwanaku
The ancient ruins of Tiwanaku are located just outside La Paz and are a testament to the advanced civilization that once inhabited this part of the world.
Try Local Cuisine
Bolivia has a rich culinary tradition that draws on both indigenous and Spanish influences.
Be sure to try dishes like salteñas (empanadas filled with meat, vegetables, and spices), pique a lo macho (a spicy beef dish), and api (a warm, sweet corn drink).
Visit La Paz
La Paz is the highest capital city in the world and a hub of indigenous culture.
It's home to the famous Witches' Market, where you can find all sorts of traditional remedies and spiritual items.
La Paz, located in the west of the country, is the administrative capital of Bolivia and the highest large city in the world (3,625 m above sea level).
Map of La Paz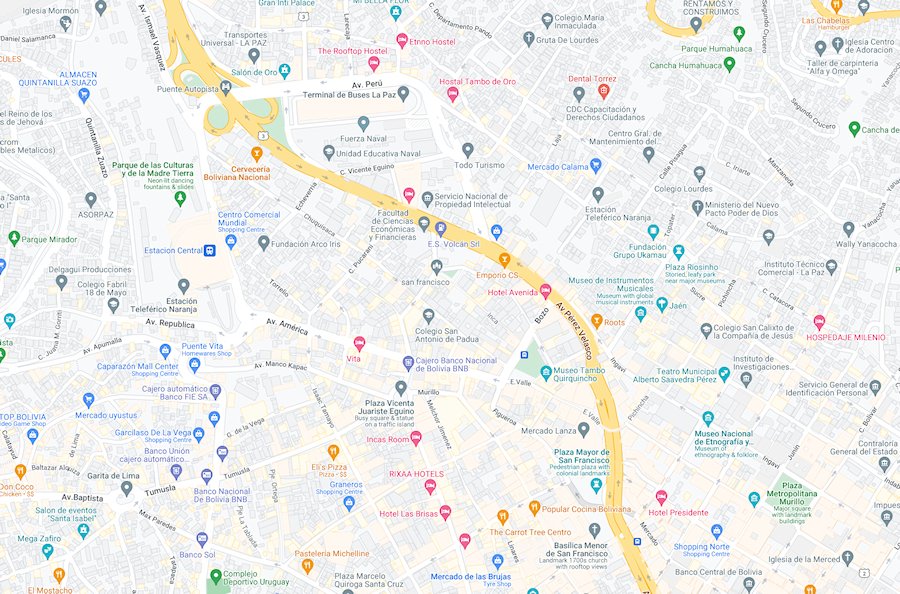 Connections to Peru are very good, by way of Lake Titicaca.
La Paz was founded by the Spanish in 1548, and thrived on its strategic location between the Bolivian silver mines and the ocean.
Although Sucre is the official capital of Bolivia, government office has been held in La Paz since 1898.
The National Museum, and the presidential palace are also in La Paz, and a 12,000 capacity cathedral was completed here in1933.
Downhill Mountain Biking in Bolivia
Ride down the 'World's Most Dangerous Road' experiencing gravity-assisted mountain biking with Gravity Bolivia, Death Road specialists since 1988. Spectacular rides of up to 40 miles of continuous downhill riding around La Paz. Closed during rainy season: 1st December to 1st February.
The only reason to travel to Cochabamba is to transit between La Paz and Sucre.
The capital of Bolivia, almost in name only, is in the south of the country; south-east of La Paz; where government business is carried out.
The supreme court is located in Sucre as is San Francisco Xavier University; one of the oldest higher education establishments in South America.
Founded as Chuquisaca in 1538, the city was renamed in honour of the first Bolivian president, Antonio Jose de Sucre, in 1840.
You'll probably pass through Santa Cruz if you're heading for Brazil or Argentina.
Potosi is one of the highest communities in the world, and the place to go to if you want to visit Bolivian tin mines.
It gets mighty cold up here, so wrap up warm.
Bolivia Travel Guides - Bolivia Maps.
Weather in South America:
Local weather forecasts for destinations around Latin America.
Travel Notes Online Guide to Travel
Africa - Asia - Caribbean - Europe - Middle East - North America - Oceania - South America.

The Travel Notes Online Guide to Travel helps visitors plan their trip with country and city travel guides, local tourist information, reviewed web sites, and regular travel articles.
Travel and Tourism Guides on Travel Notes
If Travel Notes has helped you, please take a moment to like us on Facebook and share with your friends on social media.


Travel & Tourism With Industry Professionals.

Brazil.