Manhattan, New York City by Florian Wehde on Unsplash.
Travel Notes: North America - United States - New York Travel Notes: New York City - Updated 17 July, 2023.
Short URL: https://tnot.es/NYC
New York City Travel and Tourism on Travel Notes

Find New York City Travel and Tourist Information with links to official travel and tourism websites and city resources for visitors to New York City.
About New York City
New York City is a tribute to life, but head upstate when you need to get away from it.
Map of New York City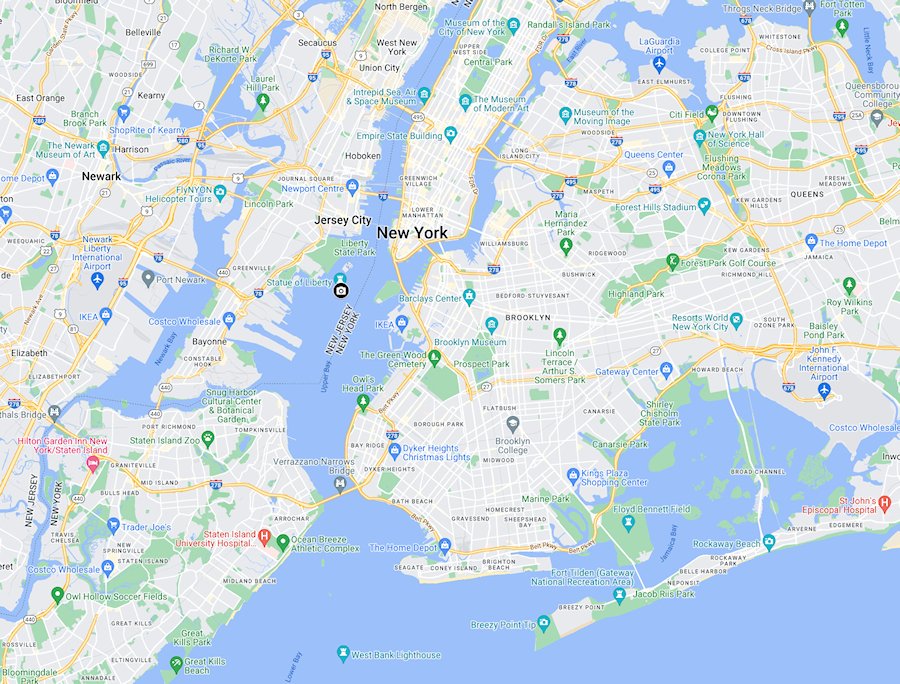 New York City, often referred to as NYC or simply New York, is one of the most iconic and populous cities in the United States.
Located in the state of New York, New York City is situated on the northeastern coast of the country.
Arts and Entertainment
New York City is a global hub for arts and entertainmen and home to numerous world-class museums like the Metropolitan Museum of Art, Museum of Modern Art (MoMA), and the Guggenheim Museum.
Broadway theater district is renowned for its live performances, while Lincoln Center is a major venue for music, opera, and dance.
Boroughs
New York City is divided into five boroughs: Manhattan, Brooklyn, Queens, the Bronx, and Staten Island.
Each borough has its own unique character, attractions, and neighbourhoods.
Cuisine
New York City offers a diverse culinary scene, with a wide range of international cuisines available throughout the city.
From street food vendors to Michelin-starred restaurants, there is something to satisfy every palate.
Culture and Diversity
New York City is a melting pot of cultures from around the world.
It is incredibly diverse, with residents from various ethnic backgrounds and a multitude of languages spoken.
This cultural richness is reflected in New York's cuisine, arts, festivals, and neighbourhoods.
Education
New York City boasts several prestigious universities and colleges, including Columbia University, New York University (NYU), and The City University of New York (CUNY).; attracting students from around the world, who come to pursue higher education.
Events and Festivals
New York City hosts numerous events and festivals throughout the year.
Some of the most famous ones include the New Year's Eve Ball Drop in Times Square, Macy's Thanksgiving Day Parade, Tribeca Film Festival, and the Puerto Rican Day Parade.
Finance and Business
Wall Street, located in Lower Manhattan, is synonymous with the world of finance and is home to the New York Stock Exchange.
The city hosts many global corporations and has a thriving business ecosystem, making it a major centre for commerce and entrepreneurship.
Landmarks
New York City is famous for its landmarks.
Some of the most well-known include the Statue of Liberty, Times Square, Central Park, Empire State Building, Brooklyn Bridge, Wall Street, and the United Nations Headquarters.
Sports
New York City is home to several professional sports teams, such as the New York Yankees (baseball), New York Knicks (basketball), New York Giants (American football), New York Rangers (hockey), and New York City FC (soccer).
Transportation
New York City has an extensive public transportation system, including the subway, buses, and taxis.
Walking is also a practical way to get around many neighborhoods, especially in Manhattan.
New York City offers a vibrant and dynamic atmosphere, with endless opportunities for entertainment, cultural experiences, and career growth. It has a rich history and continues to be a global leader in various fields, making it an exciting destination for visitors and residents alike.
Walking Around New York City
Don't keep looking up when strolling around Manhattan, or they'll know you're a tourist. Sightseeing is a part of the New York experience and the greatest sensation is on the streets.
Walking around you'll get to feel New York in your veins. Stay long enough in Upper Manhattan and you'll find yourself nipping out to the salad bar at two in the morning and think nothing of it that everything's still fresh.
No other city has such a diversity of people and cultures as New York City. Within the boundaries of its five boroughs lies a microcosm of the whole world.
Visitors can move along the bustling sidewalks of Chinatown, visit the Greek tavernas of Astoria, the Old World Russian restaurants and clubs of Brighton Beach, the Italian communities of Little Italy and Arthur Avenue, the sari shops of Little India in Jackson Heights, and so much more.
Visiting New York City can be an exhilarating experience.
Remember to plan your trip according to your interests and allocate enough time to fully experience the city's attractions.
New York City is constantly changing, so be open to unexpected discoveries and embrace the energy of this vibrant metropolis.
Broadway Shows
Catch a Broadway show in the Theater District.
From musicals to plays, there's a wide range of performances to choose from.
You can buy tickets in advance or try for same-day discounted tickets at the TKTS booth in Times Square.
Brooklyn Bridge
Take a stroll across the iconic Brooklyn Bridge, offering stunning views of the Manhattan skyline and the East River.
Once in Brooklyn, explore neighborhoods like DUMBO (Down Under the Manhattan Bridge Overpass) known for its trendy shops, cafes, and art galleries.
Central Park
Escape the city's hustle and bustle by exploring Central Park, an oasis of green in the heart of Manhattan.
Take a leisurely walk, rent a bike, or enjoy a picnic.
Don't miss popular attractions like Bethesda Terrace, the Central Park Zoo, or the famous Bow Bridge.
Cultural Neighborhoods
Explore the diverse neighborhoods of New York City.
Visit Chinatown for authentic Asian cuisine and shopping; Little Italy for Italian delicacies,;or Harlem for its rich history and vibrant music scene.
Each neighborhood offers its own unique charm and cultural experiences.
Food and Dining
Indulge in New York City's diverse culinary scene.
From food trucks to Michelin-starred restaurants, there's something for every taste.
Don't miss trying New York-style pizza, bagels, street food, and international cuisines from around the world.
High Line
Walk along the High Line, a unique elevated park built on a historic freight rail line.
It stretches through Manhattan's West Side, offering beautiful views, gardens, art installations, and a chance to experience the city from a different perspective.
Museum Hopping
New York City is home to some of the world's most renowned museums.
Be sure to visit the Metropolitan Museum of Art (the Met), which houses a vast collection spanning thousands of years.
The Museum of Modern Art (MoMA) and the Guggenheim Museum are also worth exploring for art enthusiasts.
New York City Attractions
Statue of Liberty and Ellis Island
Take a ferry ride to Liberty Island and visit the Statue of Liberty, an enduring symbol of freedom and opportunity.
Explore the museum and admire panoramic views of the city skyline.
Nearby, you can also visit Ellis Island, where millions of immigrants were processed upon arrival in the United States.
The 9/11 Memorial and Museum
Pay your respects at the 9/11 Memorial, located at the World Trade Center site.
The memorial features two reflecting pools built in the footprints of the Twin Towers. The museum provides a comprehensive tribute to the events of September 11th, 2001.
Times Square
Marvel at the vibrant billboards, bustling crowds, and iconic atmosphere in the heart of Manhattan.
Times Square is more than a must-see, it's a can't miss; especially at night when the lights are dazzling.
Where to Stay in New York City
Make a reservation at one of many New York City hotels and get your fill of the Big Apple, from Times Square to Central Park.
Cheap Hotels in New York City
New York is very popular with tourists and backpackers and good value rooms go quickly.
The savvy budget traveller can get a really good deal when they visit New York, by booking online before they travel.
Luxury Hotels in New York City
Trump International Hotel and Tower:
As you enter your suite, you'll be taken aback by views of the New York skyline and Central Park. In fact, you may forget you're also just steps from Lincoln Center, Fifth Avenue and the most spectacular restaurants in the world.
New York City Tours and Sightseeing
Ellis Island
Ellis Island was once the processing centre for the millions of Europeans who sailed to New York to begin a new life.
Empire State Building
The Empire State Building is still the symbol of Manhattan for many. The outdoor viewing platform is on the 86th floor.
Metropolitan Museum
Walk up Fifth Avenue and and you'll find the Metropolitan Museum on the eastern side of Central Park.
Over three million works of art covering every period except contemporary.
Museum Mile
The Museum Mile is a whole collection of museums along Fifth Avenue from the Metropolitan on 82nd St. to El Museo del Barrio at 103rd Street; including the Guggenheim, the International Center of Photography and the Jewish Museum among others.
Museum of Modern Art
The Museum of Modern Art (MoMA), on 53rd St., off 5th Avenue in Midtown, has the largest collection of 20th- century art in the world.
Natural History Museum
The American Museum of Natural History is located at 200 Central Park West.
Since its founding in 1869, the Museum has advanced its global mission to discover, interpret, and disseminate information about human cultures, the natural world, and the universe through a wide-ranging program of scientific research, education, and exhibition.
Statue of Liberty
The Statue of Liberty 'Enlightening the World' was a gift of friendship from the people of France to the United States and is recognized as an universal symbol of freedom and democracy.
The Statue of Liberty was dedicated on 28th October, 1886; and designated as a National Monument in 1924.
Ferries leave Battery Park for Liberty and Ellis Islands every half an hour. Go early to beat the crowds.
New York City Travel Guides - New York Maps.
New York City Weather:
Weather video and 7-day forecast for New York City.
Travel Notes Online Guide to Travel
Africa - Asia - Caribbean - Europe - Middle East - North America - Oceania - South America.

The Travel Notes Online Guide to Travel helps visitors plan their trip with country and city travel guides, local tourist information, reviewed web sites, and regular travel articles.

North Carolina.
Travel and Tourism Guides on Travel Notes
If Travel Notes has helped you, please take a moment to like us on Facebook and share with your friends on social media.


Travel & Tourism With Industry Professionals.