Bedroom by Kenny Eliason on Unsplash.
Travel Notes: Travel Directory Listings: Travel in General: Accommodation: Bed and Breakfasts: Eureka Springs.

With the entire town of Eureka Springs on the National Register of Historic Places, it's no wonder that Eureka Springs is one of the most popular tourist destinations in Arkansas.
Eureka Springs:
Well before the first pioneers reached Arkansas, the Eureka Springs area was considered sacred ground by Native American tribes; who believed it to be a Great Healing Spring.
5 Ojo Inn Bed and Breakfast
5 Ojo Inn Bed and Breakfast: 5 Ojo Street, Eureka Springs, Arkansas.
This Eureka Springs Bed and Breakfast is situated on the highest peak in the city limits on Eureka Springs' historic loop. The large wooded lot is complete with gardens, trails and wildlife.
The multi award-winning 5 Ojo Inn features nine guest rooms between their teo authentic Victorian homes and two cosy cottages, with each antique-filled room at the inn having its own distinctive decor.
Angel at Rose Hall
Angel at Rose Hall: 46 Hillside Avenue, Eureka Springs, Arkansas.
A blend of Victorian elegance and warm hospitality makes this a wonderful place for your Eureka Springs getaway, honeymoon or anniversary.
As well as being a romantic bed and breakfast, The Angel at Rose Hall can host your wedding or vow renewals in their stately parlor or charming gazebo; weather permitting.
Arsenic and Old Lace Inn
Arsenic and Old Lace Inn: 60 Hillside Avenue, Eureka Springs, Arkansas.
Nestled on a wooded hillside in the Historic District, this Queen Anne Victorian style Bed and Breakfast offers luxurious rooms and suites, peaceful views of the hills and beautiful gardens.
Located in the beautiful Ozarks of Eureka Springs, the Arsenic and Old Lace mansion features five unique luxury suites for your comfort and privacy.
Bridgeford House
Bridgeford House: 263 Spring Street, Eureka Springs, Arkansas.
Built by Captain John Bridgeford and his wife Mary after the Civil War, experience the Victorian delight this luxury inn combines with southern hospitality and Victorian charm.
Bridgeford House is also one of the exclusive properties that is toured by Eureka Springs' unique walking ghost tours.
Evening Shade Inn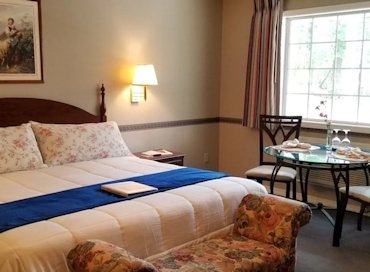 Evening Shade Inn: 3079 East Van Buren, Eureka Springs, Arkansas.
Combining luxury, privacy, seclusion and convenience the Inn offers luxury suites and private honeymoon cottages nestled among ten acres of majestic trees.
All the rooms at Evening Shade Inn are luxurious, private, and spacious. Guests can enjoy a complimentary, gourmet breakfast delivered to their door in a picnic basket.
Rock Cottage Gardens
Rock Cottage Gardens: 10 Eugenia Street, Eureka Springs, Arkansas.
Extensive renovations have transormed the cottages into the elegant and inviting spaces which they are today.
The rough-hewn rock exteriors help make Rock Cottage Gardens unique and unlike anything else in Eureka Springs. A gourmet breakfast is served each morning in the dining room.

Add Your Travel Listing to Travel Twip.
Travel Notes Online Guide to Travel
The Travel Notes Online Guide to Travel helps visitors plan their trip with country and city travel guides, local tourist information, reviewed web sites, and regular travel articles.

Join Michel on Meta-Travel.

Airlines and Airports.

Add a Business Listing - Add a Destination - Add a Place to Stay - Add URL.


If you find Travel Notes useful, please take a moment to like us on Facebook and share with your friends on social media.