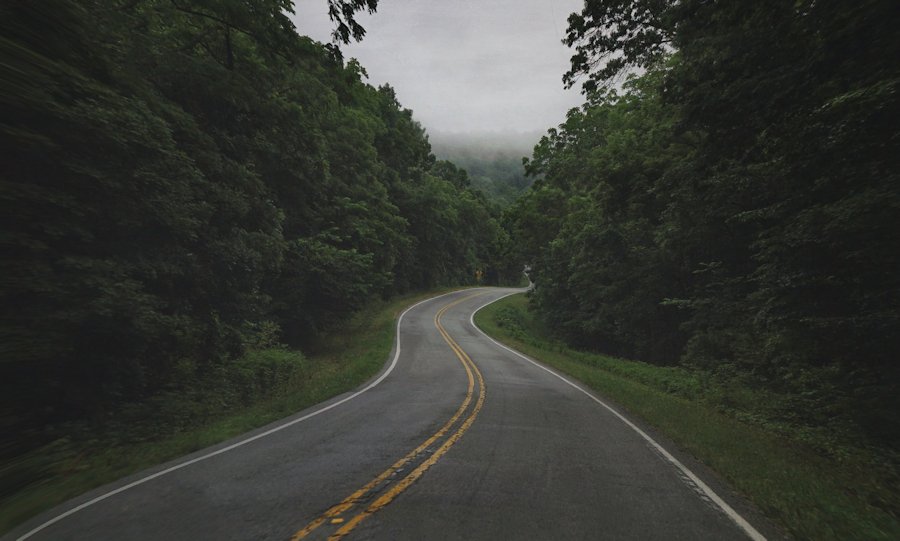 Winding through the Ozarks by Spencer Imbrock on Unsplash.
Travel Notes: North America - United States - Arkansas - Eureka Springs - Updated 17 July, 2023.

Eureka Springs, Arkansas

Eureka Springs is located in the Ozark Mountains of northwest Arkansas, just nine miles from the Missouri state line.
Eureka Springs sits in Carroll County and while Berryville (ten miles away) is the county seat, both communities have courthouses.
With the entire town of Eureka Springs on the National Register of Historic Places, it's no wonder that Eureka Springs is one of the most popular tourist destinations in Arkansas.
History of Eureka Springs
Well before the first pioneers reached Arkansas though, the Eureka Springs area was considered sacred ground by Native American tribes; who believed it to be a Great Healing Spring.
So venerated were the waters of Eureka, warring tribes could not fight at the springs. For hundreds of years, the area now known as Basin Spring provided a peaceful gathering place for visiting tribes.
Victorian-age travellers were so convinced of the magical cures of the spring in the hills that Eureka Springs soon became a flourishing city, spa, and tourist destination.
Visiting Eureka Springs
50 miles from Northwest Arkansas Regional Airport (XNA), Eureka Springs lies at the headwaters of Leatherwood Creek (a tributary of the White River); in the western district of Carroll County, approximately 1,400 feet above sea level.
As the city holds a large number of unique events throughout the year, visitors to Eureka Springs can expect to meet a pot-pourri of artists, bikers, hippies, local residents, preachers, and even UFO enthusiasts.
Eureka Springs plays host to annual motorcycle rallies and meets, bringing in bikers from around the world. The town also hosts several auto shows featuring different automobile styles.
Eureka Springs also boasts an annual UFO conference and a twice yearly Diversity Weekend (Diversity Pride and Eureka Pride).
Blues, jazz, folk, and classical music are all celebrated with a weekend dedicated to a particular genre each year. And there's also a well-attended poetry festival in Eureka Springs annually (The Lucidity Ozark Poetry Retreat).
Eureka Springs Visitors Bureau:
As well as list of what's coming up on the front page, the Eureka Springs Advertising & Promotions Commission also offer a free visitor guide to Eureka Springs.
Map of Eureka Springs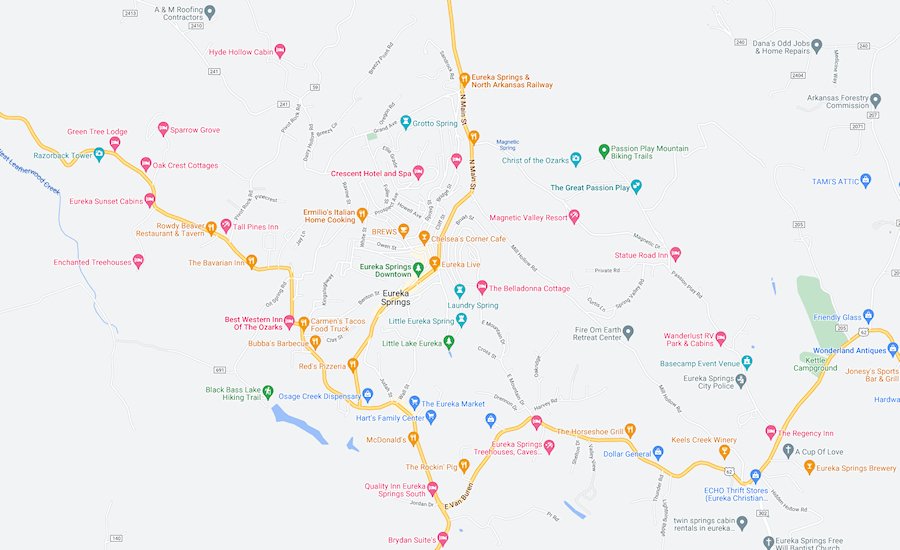 Where to Stay in Eureka Springs.
The most popular tourist attractions in Eureka Springs are the downtown Historic District, historic hotels, the trolley system, Great Passion Play, and Thorncrown Chapel.
Great Passion Play
Performed in a stunning 4,100 seat panoramic outdoor amphitheatre, The Great Passion Play features state-of-the art sound and lighting effects and original music in a dramatic two-hour presentation of the last week in the incarnation of Jesus of Nazareth.
Historic District
Eureka Springs was the first Historic District in Arkansas placed on the National Register of Historic Places in 1970.
At the time of this designation, the entire city limits of about two square miles were named as the Historic District.
In 2005, a second nomination was approved by the National Park Service, establishing Eureka Springs as Nationally Significant district on the National Register of Historic Places - the only one in Arkansas.
Thorncrown Chapel:
Nestled in a woodland setting, Thorncrown Chapel rises forty-eight feet into the Ozark sky. This magnificent wooden structure contains 425 windows and over 6,000 square feet of glass. It sits atop over 100 tons of native stone and collared flagstone. The chapel's simple design and majestic beauty combine to make it what critics have called 'one of the finest religious spaces of modern times'. It's also a popular place for weddings.
Doing Business in Eureka Springs
Even though it's an historical town, Eureka Springs still has plenty of room to grow, and numerous opportunities for seasonal and year-round businesses.
The Greater Eureka Springs Chamber of Commerce operates a Visitor Information Centre located at 516 Village Circle Drive on US Highway 62 East (2000 block of East Van Buren) in the Pine Mountain Village Shopping Centre.
Living in Eureka Springs
Although Eureka Springs is a popular area for retirement, many retirees choose the planned community of Holiday Island.
City of Eureka Springs:
Eureka Springs is a great place to visit and a wonderful place to live.
The Lovely County Citizen:
Encompassing what is now northwest Arkansas and a chunk of northeast Oklahoma, Lovely County (1827-1828) was named after William Lewis Lovely, the government agent for the Osage and eventually the Cherokee. The Citizen provides news, information and commentary for Eureka Springs citizens and visitors.
Travel Notes Online Guide to Travel
Africa - Asia - Caribbean - Europe - Middle East - North America - Oceania - South America.

The Travel Notes Online Guide to Travel helps visitors plan their trip with country and city travel guides, local tourist information, reviewed web sites, and regular travel articles.

California.
Travel and Tourism Guides on Travel Notes
If Travel Notes has helped you, please take a moment to like us on Facebook and share with your friends on social media.


Travel & Tourism With Industry Professionals.