Îles du Salut, Cayenne, French Guiana by Flow Flo on Unsplash.
Travel Notes: Latin America - French Guiana Travel Notes - Updated 24 May, 2023.

Short URL: https://tnot.es/GF
French Guiana Travel and Tourism on Travel Notes

Find French Guiana Travel and Tourist Information with links to official travel and tourism websites and state resources for visitors to French Guiana.
About French Guiana
French Guiana, an overseas department of France located in South America, is an unique destination with a mix of South American and French influences.
Map of France
Located on the north-eastern coast of South America, between Suriname and Brazil, French Guiana is the oldest of the overseas possessions of France and the only remaining French territory on the American mainland.
French Guiana - French Guiana Maps.
Weather in South America:
Local weather forecasts for destinations around Latin America.
If you've travelled around South America speaking Spanish and Portuguese, it's nice to sip a Kronenbourg and speak a little French for a change.
Overseas Departments of France.
French Guiana is an overseas department and region of France, located in South America.
It is situated on the north-eastern coast of the continent, bordered by Brazil to the south and east, Suriname to the west, and the Atlantic Ocean to the north.
Cultural Heritage
French Guiana has a rich cultural heritage, with influences from its indigenous Amerindian, African, and European populations.
Some of the region's cultural highlights include the Carnaval de Cayenne, which is celebrated every year in February, and the Hmong New Year Festival, which is held in November.
Currency
French Guiana uses the Euro as its currency, and French is the official language.
Economy
The economy of French Guiana is heavily dependent on the European Space Agency's (ESA) Guiana Space Centre, which is located in Kourou.
The Space Centre is responsible for launching satellites into space, and it employs a significant number of local residents.
Other important sectors in the region include fishing, agriculture, and tourism.
Population
French Guiana covers an area of about 83,000 square kilometres and has a population of around 300,000 people.
Rainforests
French Guiana is known for its dense rainforests, which cover about 90% of its land area.
French Guiana is also home to a diverse range of flora and fauna, including several endangered species such as the jaguar, giant otter, and harpy eagle.
Social Challenges
French Guiana is faced with a number of social and economic challenges, including high levels of poverty, crime, and inequality.
The region has struggled with issues related to illegal immigration and drug trafficking, and efforts are underway to address these issues through increased security measures and social programs.
French Guiana is known for its rich biodiversity, diverse cultures, and tropical rainforests.
Planning a Visit to French Guiana
Best Time to Visit
The best time to visit French Guiana is during the dry season, which runs from June to November.
During this time, the weather is usually sunny, and there are fewer mosquitoes and other insects.
Getting There
French Guiana's main airport is Cayenne - Félix Eboué Airport (CAY), which is located about 13 km south-west of the capital city, Cayenne.
You can fly to CAY from Paris or other French cities, as well as from some Caribbean countries and Brazil.
Language
French is the official language of French Guiana, although there are many other languages spoken there, including Creole, Portuguese, and various indigenous languages.
Places to Visit
Some popular places to visit in French Guiana include the Guiana Space Centre, which is used for space launches and can be visited by the public, and the Devil's Island, which was a former penal colony and is now a tourist attraction.
The Kaw Nature Reserve and the Guiana Amazonian Park are also popular destinations for nature lovers.
Safety
French Guiana is generally safe for visitors, but as with any place, it's important to take precautions to avoid theft and other crime.
It's also important to be aware of the risks of mosquito-borne illnesses like Zika, dengue fever, and chikungunya.
Visa and Entry Requirements
As French Guiana is a French overseas territory, visitors must comply with the same visa requirements as for mainland France.
If you are a citizen of the European Union, Switzerland, Norway, Iceland, or Liechtenstein, you do not need a visa to enter French Guiana.
Citizens of some other countries may need a visa, so it's best to check with the French embassy or consulate in your country.
The capital of French Guiana is on Cayenne Island, at the mouth of the Cayenne River.
The harbour is too shallow for large ships, although there is boat service to other coastal points in French Guiana.
The French established their first settlement at Cayenne in the early 17th century.
The Dutch occupied it a couple of time in the 1660s, with the French acquiring permanent control early in the 18th century.
Where to Stay in Cayenne
Hôtel Amazonia
Hôtel Amazonia: 28 Av. General de Gaulle, Cayenne.
Located on Avenue du General de Gaulle, this central Cayenne hotel has a restaurant, outdoor swimming pool, a bar and shared lounge.
Guests at l'hôtel Amazonia Cayenne can even enjoy breakfast by the pool.
Not to be confused with the Mercure Cayenne Royal Amazonia hotel at 45, Rue de l'Ara Bleu.
The French established a penal colony here in the 1850s, with nearby Devil's Island another notorious penal colony.
Devil's Island, off the steamy coast of French Guiana, is famous for being infamous.
Cruise liners stop by where once the prison ships landed their cargoes of hardened criminals. A must-see on the South American tourist circuit.
Papillon
Henri Charriere was a Frenchman, convicted in 1931 of a murder he did not commit. Sentenced to life imprisonment, he spent 12 years in the penal colony of French Guiana.
After eight unsuccessful attempts to escape, he finally got away to Venezuela. More than 20 years later, when he was 60, Charriere wrote this story.
Kourou is in the northeast of French Guiana.
The third largest city in the French overseas region, Kourou offers stunning contrasts between the old and new.
Rockets roar into space, bearing roughly half the world's commercial satellites, from the same South American coastal rainforest where convicts once did time on infamous Devil's Island.
European Space Agency
The European Space Agency operates a satellite launching facility at Kourou, from where the Ariane rocket was first launched in 1983.
Arianespace provides latest launch news from the Guiana Space Centre, also known as the Spaceport.
Its strategic location near the Equator provides optimum operating conditions for commercial launches.
Access to the Spaceport is strictly controlled.
Where to Stay in Kourou
Hotel Mercure Kourou Ariatel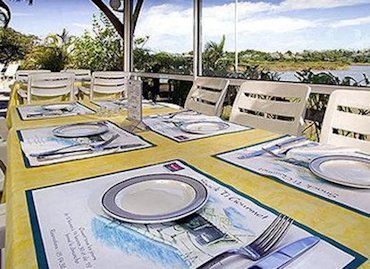 Hotel Mercure Kourou Ariatel: Avenue de St Exupéry, Kourou, French Guiana.
Situated on the outskirts of Kourou, on the edge of the Bois Diable lake, on four acres of private grounds.
The hotel Mercure Ariatel provides all the facilities of a business hotel in a leisure environment.
Tourism in French Guiana
French Guiana receives over 50,000 tourists a year.
Travel Notes Online Guide to Travel
Africa - Asia - Caribbean - Europe - Middle East - North America - Oceania - South America.

The Travel Notes Online Guide to Travel helps visitors plan their trip with country and city travel guides, local tourist information, reviewed web sites, and regular travel articles.


Airlines and Airports.
Travel and Tourism Guides on Travel Notes
If Travel Notes has helped you, please take a moment to like us on Facebook and share with your friends on social media.


Increase Bookings & Reach More Customers.