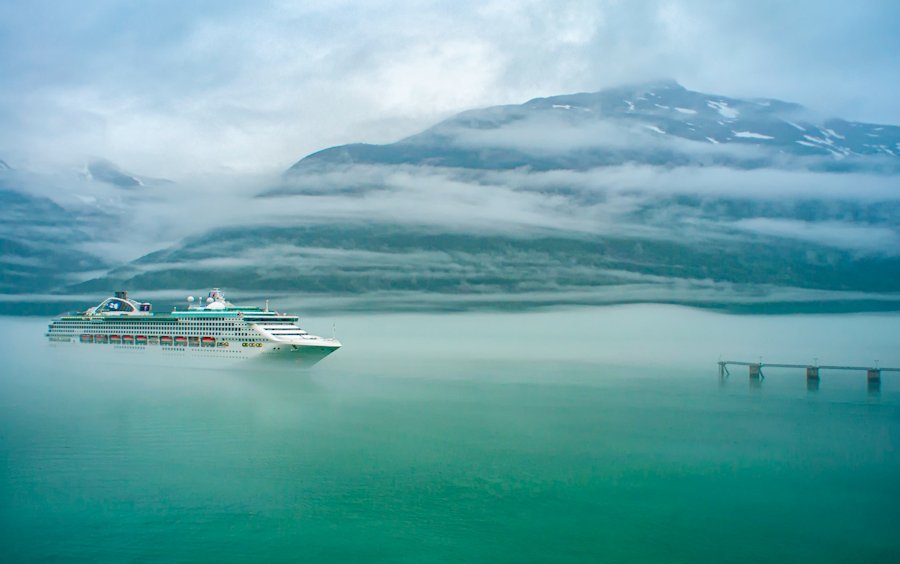 Cruising the Inner Passage by Robert Thiemann on Unsplash.
Travel Notes: North America - United States - Alaska - Alaska Cruising - Updated 04 August, 2023.


Alaska is a seasonal, as opposed to year round, cruise vacation.
When planning a cruise in Alaska, there are a few key things to consider.
Map of Glacier Bay
Cruising in Alaska is a fantastic way to experience the breathtaking natural beauty and wildlife of the region.
Alaska offers stunning landscapes, glaciers, fjords, and a variety of wildlife, making it a popular destination for cruise vacations.
During your Alaska cruise, you can expect to witness incredible sights such as massive glaciers calving into the ocean, marine wildlife like whales and seals, and picturesque coastal towns.
The onboard experience often includes amenities like onboard lectures about the region's wildlife and history, delicious cuisine featuring local seafood, and entertainment options tailored to the destination.
Remember to check the latest travel advisories and guidelines from health authorities and the cruise line you choose, as travel protocols may vary.
Cruise Lines
There are several cruise lines that offer Alaska itineraries, each with its own style and amenities.
Some popular cruise lines operating in Alaska include Princess Cruises, Holland America Line, Celebrity Cruises, and Royal Caribbean.
Research the offerings of each cruise line to find one that suits your preferences and budget.
Cruise Routes
Alaska cruises typically depart from cities such as Seattle, Vancouver, or Anchorage.
Popular routes include the Inside Passage, which runs along the southeastern coast of Alaska and offers spectacular views of glaciers and fjords.
Another option is the Gulf of Alaska route, which extends further north to destinations like Seward or Whittier and often includes visits to Hubbard Glacier or Glacier Bay National Park.
Duration
Alaska cruises typically range from 7 to 14 days, although shorter and longer itineraries are available.
Consider how much time you have available for your vacation and choose a cruise duration that fits your schedule.
Excursions and Ports of Call
Alaska cruises often include stops at various ports along the route, providing opportunities for shore excursions.
These excursions can range from wildlife viewing and glacier hiking to cultural tours and outdoor adventures like dog sledding or kayaking.
Research the ports of call on your chosen itinerary to see which activities interest you the most.
Weather and Packing
Alaska's weather can be unpredictable, so it's important to pack layers and be prepared for varying conditions.
Even during the summer months, temperatures can range from chilly to mild, so bring a mix of warm clothing and waterproof gear.
Don't forget essentials like binoculars, comfortable walking shoes, and a camera to capture the stunning scenery.
Alaska Cruising Season
Alaska cruising season generally runs from May through September, although some smaller ships start going out in April.
Nonetheless, May and September are considered the best seasons, plus you can get lower brochure rates and the greatest discounts during these months.
I particularly like going on my Alaska cruise in May, before the crowds arrive.
I have noticed that the locals are generally 'friendlier' during that time, because later during the season they are more than ready to see the tourist go home.
However, it is also a fact that in the Inside Passage ports, May is one of the driest months in the season. But later on, in September, is best to have less clogging of ports and better visualisation during the cruise.
You will find that the warmest months are June, July, and August. During these months you will need to bring along some outerwear.
June 21st is the longest day of the year, with daylight lasting virtually all night.
June tends to be drier than July and August.
In April you may encounter freezing rain and other vestiges of winter. If you are considering travelling before the Alaska cruise season (before May), keep in mind that some tourist shops don't open until Memorial Day (last Monday of May).
Your Alaska cruise is an experience you will never forget. Planning it out well and getting the best prices is a must to enjoy your Alaska cruise to the fullest.
Find an Alaska Cruise:
A number of cruise lines visit Alaska. Find the one that offers the best Alaska cruise for you.
By Marleny.
Alaska Excursions
Alaska Ports of Call - Alaska Travel Guides.
Travel Notes Online Guide to Travel
Africa - Asia - Caribbean - Europe - Middle East - North America - Oceania - South America.

The Travel Notes Online Guide to Travel helps visitors plan their trip with country and city travel guides, local tourist information, reviewed web sites, and regular travel articles.

Arizona.
Travel and Tourism Guides on Travel Notes
If Travel Notes has helped you, please take a moment to like us on Facebook and share with your friends on social media.


Travel & Tourism With Industry Professionals.