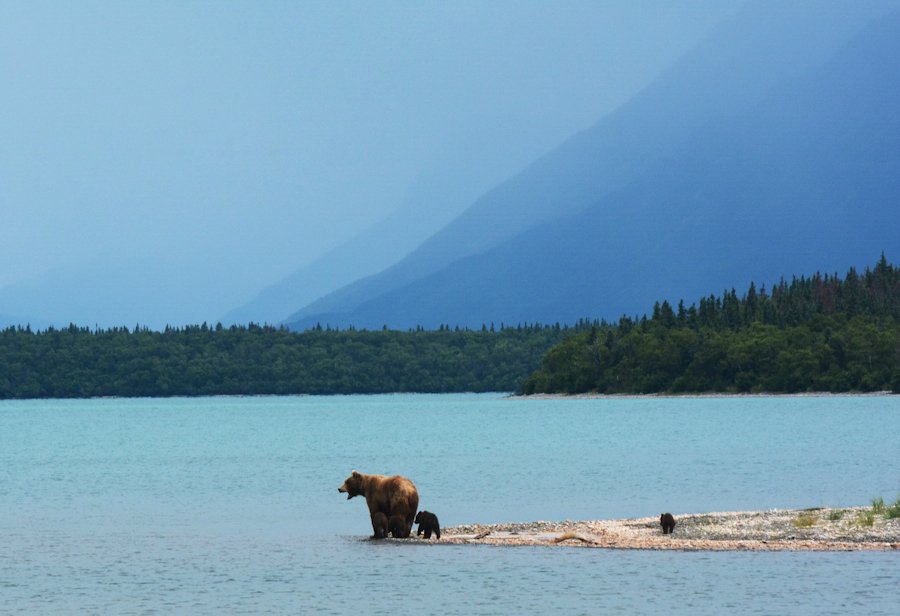 Alaska by Paxson Woelber on Unsplash.
Travel Notes: North America - United States - Alaska Travel Notes.


Short URL: https://tnot.es/usAK
Alaska Travel and Tourism on Travel Notes

Find Alaska Travel and Tourist Information with links to official travel and tourism websites and state resources for visitors to Alaska.
About Alaska
Sometimes called the Last Frontier, Alaska really is on the boundary of the edge; where superlatives abound.
The state capital of Alaska is Juneau.
About Alaska - Alaska Cruising - Alaska Weather:
Find out more about Alaska before you travel there.
Alaska gets its name from the Aleut word for mainland.
Countries neighbouring Alaska are: Canada and Russia.
The northernmost, and largest, of the United States reaches into the Arctic Ocean and is separated from Russia by the Bering Strait.
The Yukon is Alaska's major river, and one of the longest on the North American continent.
The first Europeans to Alaska were the Russians in 1741. When the survivors of the expedition returned home with otter skins the following year, they sparked off an exploitation of the fur trade. Winters are extremely cold in Russia too.
The Russians held on to the area until it looked like the British might attack from Canada. The decline in fur profits was also a factor in the sale of the land to the United States in 1867, for the bargain price of $7.2 million.
The Klondike gold rush in the 1890's doubled the population and brought capital to the state.
In 1900, at the peak of production, more than $22 million worth of gold was panned in the region.
When production ceased in 1966, $220 million worth of gold was more than a good return on investment.
State of Alaska Online:
The government's official reference for the state of Alaska.
Map of Alaska
Alaska Travel Guides - Alaska Maps.
Alaska's Mount McKinley, Denali, is the highest point in North America (6,194 m.).
Alaska Airlines:
In December 2016, Virgin America was acquired by Alaska Airlines to create the West Coast's premier airline. The two airlines were granted a single operating certificate by the FAA in 2018 and now operate as a single airline under the Alaska brand.
Alaska Ferries:
Alaska's Inter-Island Ferry Authority; providing daily passenger/vehicle transportation around Alaska's Rainforest Islands.
Alaska Marine Highway System:
The fastest way to find the perfect voyage along the Inside Passage, Southeast Alaska, Gulf of Alaska, and Southwest/Aleutian Chain routes.
Alaska Railroad:
The charm and scenic appeal of this great and vast land is amplified through panoramic windows and underscored by historical narratives of lifelong Alaskan conductors and tour guides.
Alaska's Road Weather Conditions:
The Alaska Department of Transportation and Public Facilities is developing a state-wide Road Weather Information System.
Alaska Scenic Byways:
The State of Alaska's information page on the scenic byways within the state.
Alaska Sea Adventures:
Enjoy a one of a kind cruise that combines gourmet dining and a sublime touch of wilderness on a custom adventure voyage through Alaska's remote Inside Passage.
Alaska SeaLife Center:
The Alaska SeaLife Center is located at Milepost 0 of the Seward Highway in Seward, Alaska, just 125 miles from Anchorage.
Cruising in Alaska:
Alaska cruising season generally runs from May through September, although some smaller ships start going out in April.
Travel Alaska:
An excellent showcase for this unique State, by the Alaska Tourism Marketing Council.
Out and About in Alaska
Places to visit in Alaska.
Anchorage
Alaska's largest city lies between the Knik and Turnagain arms of Cook Inlet and the rugged Chugach Mountains.
Anchorage, Alaska:
Surrounded by all the beauty and activities of Alaska, Anchorage offers a unique blend of spectacular scenery, Russian and Native heritage, Alaskan adventure and big city amenities.
Anchorage Visitors:
Request your Anchorage Visitors Guide online.
Anchorage Walking Tour:
Downtown Anchorage is easy to walk, with a grid of numbered and lettered streets, wide sidewalks, and plenty of parks and paths.
Accommodation in Anchorage
Juneau
The capital of Alaska is not Anchorage or Fairbanks, but Juneau.
Fishing Charters:
If you're interested in fishing from Juneau, tell Auke Bay Sport fishing and Sightseeing Charters what you want to do and they'll make every effort to meet your needs.
Juneau Web:
Large directory connecting south-east Alaska's electronic community.
Accommodation in Juneau
Juneau Floatplane Tours
Wings Airways in Juneau, Alaska, offers two flight-seeing tours: Glacier Flight-seeing tour and Taku Glacier Wilderness Lodge.
Alaska Municipalities
Historic McCarthy-Kennecott is an early 1900 Alaskan Frontier town. Unlike most Ghost towns this area, in the centre of the USA's largest National Park, is largely intact.
McCarthy Lodge:
More than just a place to stay, you will hopefully discover a little of the rich history and uniqueness that is McCarthy-Kennecott.
Alaska Dog Mushers Association:
What is it that drives these men and women who drive the dogs?
Iditarod:
The Iditarod Dog Sled Race is run to commemorate the historic serum run of 1925, when diphtheria threatened the small town of Nome. It is unlike any other event in the world. A race over 1,150 miles of the most extreme and beautiful terrain known to man: across mountain ranges, frozen rivers, dense forests, desolate tundra and windswept coastline.
Klondike Gold Rush National Historic Park:
This park celebrates the Klondike Gold Rush of 1897-98 through 15 restored buildings within the Skagway Historic District. The park also administers the Chilkoot Trail and a small portion of the White Pass Trail.
Kodiak Brown Bear
For most people, Kodiak's identity is inexorably linked with its most famous resident, the Kodiak brown bear. The Kodiak National Wildlife Refuge was established in 1941 to protect this unique population. Approximately 3,000 bears live in the archipelago, with many additional coastal brown bears inhabiting the Katmai Coast.
Native Heritage Center:
Since time immemorial, Alaska Natives have been sustained by the guiding light of tradition. The Alaska Native Heritage Center is Alaska's premiere interactive cultural destination; a gathering place that celebrates, perpetuates and share Alaska Native cultures.
Peoples of Alaska
These cultures are represented by four groups: the Aleut, the most maritime-adapted of all North Pacific peoples; Eskimos, whose earliest culture in this region dates from 8,000 years ago; Athapaskans, a forest-dwelling culture of hunters and trappers; and Northwest Coast Indians, represented by the Tlingit.
White Pass and Yukon Railroad:
Against all odds this iron trail was born of the 1898 Klondike Gold Rush and built through some of the North's most ruggedly beautiful terrain. Now a comfortable journey on board this railroad runs from Skagway, Alaska to Carcross, Yukon.
Travel Notes Online Guide to Travel
The Travel Notes Online Guide to Travel helps visitors plan their trip with country and city travel guides, local tourist information, reviewed web sites, and regular travel articles.

Join Michel on Meta-Travel.

Airlines and Airports.

Add a Business Listing - Add a Destination - Add a Place to Stay - Add URL.



Affiliates - North America Tourism - North America Websites.
If you find Travel Notes useful, please take a moment to like us on Facebook and share with your friends on social media.