Fishers Island Sound, Rhode Island by Rusty Watson on Unsplash.
Travel Notes: North America - United States - Rhode Island Travel Notes - Updated 17 July, 2023.

Short URL: https://tnot.es/usRI
Rhode Island Travel and Tourism on Travel Notes

Find Rhode Island Travel and Tourist Information with links to official travel and tourism websites and state resources for visitors to Rhode Island.
About Rhode Island
Also known as the Plantation State, Rhode Island uses the term 'Ocean State' to promote tourism.
The state capital of Rhode Island and Providence Plantations is the city of Providence.
Map of Rhode Island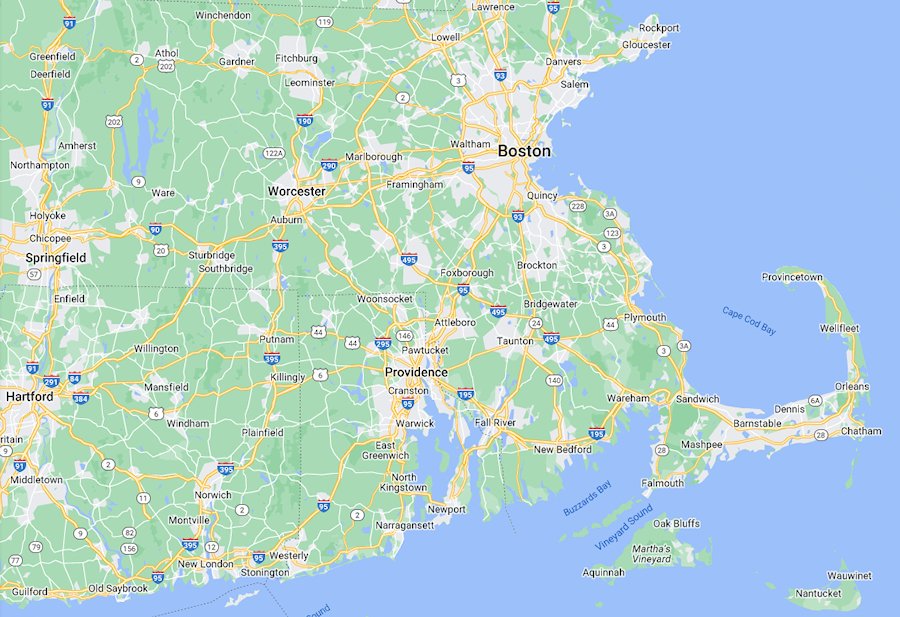 States neighbouring Rhode Island: Connecticut and Massachusetts.
Roger Williams was forced out of Plymouth Colony on account of his religious beliefs and, after securing some land from the Narragansett tribe, laid the foundations for the first Baptist Church of America.
Providence sits pretty on its seven hills with an array of colonial buildings and cobbled pavements for walkers to admire.
The seat of the Rhode Island state government is also full of studious arty types from Brown University and the Rhode Island School of Design.
Most of the interesting historical finds are around the 350 year-old district of College Hill. Walking tours of Brown University are highly recommended.
New England
Rhode Island and Providence Plantations is one of the six states that form the region known as New England.
The others are: Connecticut, Maine, Massachusetts, New Hampshire, and Vermont.
Rhode Island is the smallest state in the Union of America and is often overlooked by visitors to New England.
Rhode Island offers much diversity in a small space, from the fine museums and restaurants of Providence and the sophisticated shops and mansions of Newport, to the quiet pastures and woods of South County and the tranquil beauty of Block Island.
With 36 islands and a mainland sliced nearly in two by Narragansett Bay, the Ocean State has over 400 miles of sandy beaches and rocky headlands along its varied coastline.
Rhode Island Travel Tips
In Rhode Island, go to any Point Judith area restaurant and order the Clam Bake: it's a feast of lobster, clams, mussels, potatoes, corn, and fish; served right off the fishing boats.
The 'New Port' community was founded by religious refugees from Massachusetts Bay Colony, in 1639, and soon became a haven for Quakers and Sephardic Jews.
It helps to have money in Newport, and there's certainly a lot of it swimming about here. Just take a look at some of the yachts in the marina.
If anyone ever invites you to their summer home in Newport, you've probably got good connections.
Go Newport
As America's First Resort, Newport takes pride in ensuring that everyone finds something that appeals to them. Tours abound in Newport. Consider a sunset harbour cruise, a winery tour, or a trek down breathtaking Ocean Drive or the renowned Cliff Walk.
The Greater Newport Chamber of Commerce is one of Rhode Island's largest business advocacy organizations formed to enhance the business, civic and economic vitality of the city of Newport and the surrounding towns of Middletown, Portsmouth, Bristol, Warren, Little Compton, Barrington, Tiverton, Jamestown and beyond.
Hotels in Newport, Rhode Island.
Newport Mansions
Just how many bathrooms do a loving couple need? When visiting the Gilded Age of Newport Mansions your jaw will surely drop. If these were late 19th century summer houses, then where did these people live in the winter?
Tennis Hall of Fame
The Tennis Hall of Fame at the Newport Casino, site of the first U.S. National Championships in 1881, was founded by tennis innovator James Van Alen in 1954 as 'a shrine to the ideals of the game'.
Newport's beaches attract the crowds, and if you want to slip anchor you'd be wise to head for Block Island.
Getting to Block Island
The most frequent departures are from Galilee State Pier in Point Judith, Rhode Island. It is also the shortest route, and the cheapest.
In season there are also daily ferries from Newport, Rhode Island; New London, Connecticut; and Montauk, New York.
In the Atlantic, ten miles south-east of Newport, the Wildlife Refuge makes an interesting day-trip from suburbia. You can hire a bike once you get off the ferry.
Bristol, Rhode Island is indeed the quintessential New England waterfront town and plays host to the oldest continuous Fourth of July celebration in the nation.
Where to Stay in Bristol, Rhode Island
Bradford-Dimond-Norris House
The stately Bradford-Dimond-Norris House house sits in the heart of downtown Bristol, just a stone's throw away from America's oldest Fourth of July parade route.
Bristol Harbor Inn
Bristol Harbor Inn: 259 Thames Street, Bristol, Rhode Island.
An elegant boutique-style, 40-room hotel located on the water at Thames Street Landing; in the heart of Historic Bristol, Rhode Island.
The waterfront setting of Bristol Harbor Inn offers guests spectacular views of Bristol Harbour and Narragansett Bay.
Hotels in Bristol, Rhode Island.
Rhode Island Roads
Rhode Island Roads is an online magazine of travel, life, dining, and entertainment for people who love Rhode Island.
About Rhode Island - Rhode Island Weather:
Find out more about Rhode Island before you travel there.
Travel Notes Online Guide to Travel
Africa - Asia - Caribbean - Europe - Middle East - North America - Oceania - South America.

The Travel Notes Online Guide to Travel helps visitors plan their trip with country and city travel guides, local tourist information, reviewed web sites, and regular travel articles.

South Carolina.
Travel and Tourism Guides on Travel Notes
If Travel Notes has helped you, please take a moment to like us on Facebook and share with your friends on social media.


Travel & Tourism With Industry Professionals.