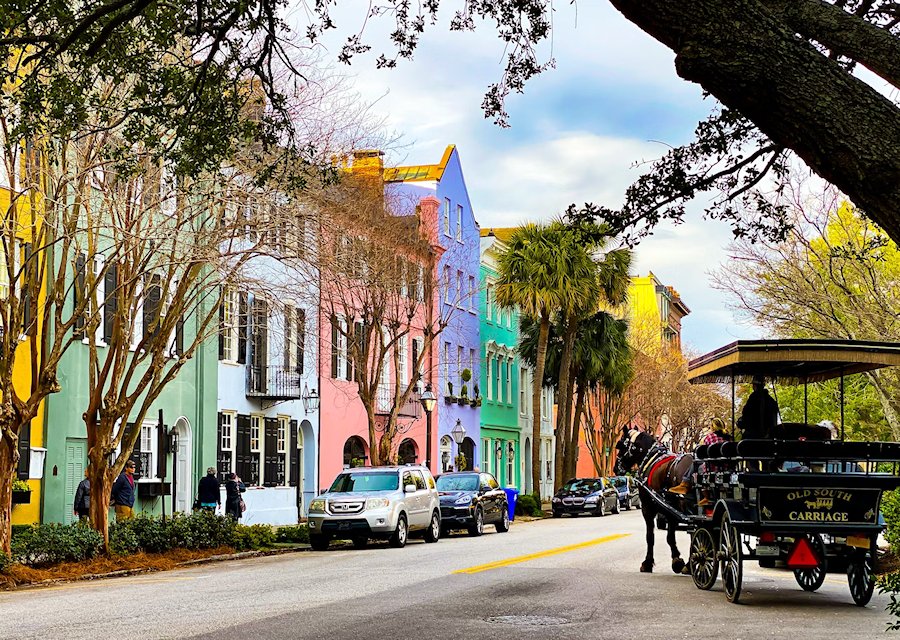 Charleston, South Carolina by Leonel Heisenberg on Unsplash.
Travel Notes: North America - United States - South Carolina Travel Notes.

Short URL: https://tnot.es/usSC
South Carolina Travel and Tourism on Travel Notes

Find South Carolina Travel and Tourist Information with links to official travel and tourism websites and state resources for visitors to South Carolina.
About South Carolina
South Carolina is also known as Palmetto State, after the Sabal Palmetto; South Carolina's official tree.
The state capital of South Carolina is Columbia.
Map of South Carolina
States neighbouring South Carolina: Georgia and North Carolina.
The capital of South Carolina sits on the inner edge of the Coastal Plain, or the fall line, in the middle of the state.
When General Sherman came through the state in early 1865, his forces burnt much of what would have been of interest to Columbia's tourists.
The State House is less than a hundred years old, and many visitors head to the University of Southern Carolina's Horseshoe to get a taste of history.
Visit Columbia
Experience Columbia SC is the official Columbia Metropolitan Convention & Visitors Bureau tourism website for Columbia, South Carolina.
African American History Tours
Since its establishment in 1786, Columbia has included a population of free Blacks, enslaved Africans, and African Americans whose labour, skills, and vision have been integral in the city's physical, spiritual, and social evolution.
Historic Columbia is offering a combined tour of both the Mann-Simons Site and the Modjeska Monteith Simkins House to learn more about Black history in Columbia.
Columbia Museum of Art
The Columbia Museum of Art, houses Italian Renaissance paintings from the Samuel H. Kress collection.
South Carolina is named after Charles I and Charles II of England, and can be divided into three major regions: the Atlantic Coastal Plain, the Piedmont Plateau, and the Blue Ridge.
South Carolina was the first state to secede from the Union on December 20, 1860.
The state stretches north-west from the Atlantic Ocean to the Appalachian Mountains. In colonial times the Coastal Plain was known as the low country.
South Carolina is relatively humid, except in the higher regions of the Blue Ridge. The Savannah, South Carolina's third major river, forms most of the southern border with Georgia.
Discover South Carolina
From the mist-capped ridges of the Blue Ridge Mountains to the sunny beaches of the Grand Strand, South Carolina is rich in natural beauty and endless recreation in the great outdoors.
Wander through America's oldest landscaped garden, take a swing at more than 330 golf courses, search for shells on pristine beaches, or kayak through undisturbed marshland.
South Carolina State Parks
With more than 90,000 acres of protected lands stretching from the Blue Ridge Mountains to the sand dunes of the Atlantic Ocean, South Carolina state parks protect some of the most inviting natural, cultural and recreational destinations in the country.
Discover stunning forested mountains and towering waterfalls, blackwater rivers and scenic inland lakes, white sand beaches and ancient inland shores, treasured American historic sites and priceless cultural treasures.
South Carolina Trails
South Carolina offers hundreds of scenic trails and walking paths. Explore the fascinating history, rich culture, and geographical diversity of South Carolina.
The Grand Strand is 60 miles of beaches, villages and restaurants catering to tourists.
Kiawah Island
Escape to Charleston's luxurious resort islands and explore the beauty of South Carolina's sea coast.
Myrtle Beach
Almost synonymous with Spring Break, this part of the Grand Strand can get lobster-packed with rollicking students drowning in pitchers of Bud.
The Myrtle Beach Area Convention & Visitors Bureau is the only officially recognised marketing organization for the Myrtle Beach Area, known as the Grand Strand.
Located a mile from the mainland and eight nautical miles from Savannah, Georgia, Hilton Head Island has more than twelve miles of beach, twenty two championship golf courses, 225 tennis courts, and fifty miles of bike paths.
Hilton Head Island:
Golfers paradise in two words, although there are other ways to get close to nature.
Hilton Head Rentals:
Description of rental prices and types of accommodations available on Hilton Head Island, South Carolina.
Although there are eleven distinct areas on Hilton Head, vacation rentals are predominately found in five main areas: Sea Pines, Forest Beach, Shipyard, Palmetto Dunes, and Mid Island.
HHI Direct Rentals:
All the Hilton Head vacation rentals recommended are meticulously maintained, and truly are some of the island's best homes and villas.
Visiting Hilton Head Island:
The 2.5 million travellers who arrive annually on Hilton Head Island can find an infinite variety of activities and reasons for visiting — and just as many reasons for not leaving.
Outside Hilton Head Island
Bluffton:
Located just across the bridge from Hilton Head Island, Bluffton is a quaint, charming town that offers a fascinating window into South Carolina's past. Antebellum homes, historic churches and unique shops line the moss-shaded streets of Bluffton's downtown historic district, offering a fine taste of Low-country living.
Freeport Marina:
You arrive at Freeport Marina, located on the historic Cooper River Landing of Daufuskie Island, by boat; as the inhabitants have for hundreds of years.
Off The Beaten Path in Hilton Head Island:
A sample of activities on Hilton Head Island not usually found in travel guides. If you grow tired of enjoying the 12 miles of beach, five star restaurants and world class shopping the following suggestions may help you find alternative activities.
South Carolina has many sites commemorating the War of Independence and American Civil War.
Victories over the British are commemorated in the Cowpens National Battlefield and Kings Mountain National Military Park, both near Gaffney.
Ninety Six National Historic Site, near Greenwood, is where Nathanael Greene led a siege against the English.
Historic Camden:
Restoration helps to picture the past. This recreated town of the late helps you to visualise life in the 18th to early 19th century.
Originally named Charles Town, in honour of England's Charles II, the community was first founded at Albemarle Point in 1670.
The settlement was moved to its present peninsular location in 1680, and became America's major slave trading port.
Later a flourishing cosmopolitan centre of luxury and culture, the name was shortened to Charleston in 1783.
Soon after, the state capital was moved inland from Charleston to Columbia and the port declined dramatically; with the city relying almost solely on cotton.
Fort Sumter:
The April 12th attack on Charleston harbour's Fort Sumter, in 1861, marked the start of the American Civil War. Boats ferry tourists from the city marina and Patriots Point to see the pockmarked garrison's walls.
The Charleston area, with its historical houses and interesting past, is now a popular tourist attraction.
There are many organised tours that help you to discover the charm and character of Charleston, if going it by foot is not for you.
The trolley cars add atmosphere to the narrow streets, and you can even see the city by water.
CARTA:
Charleston Area Regional Transit Authority.
South Carolina Travel Guides - Maps.
About South Carolina - South Carolina Weather:
Find out more about South Carolina before you travel there.
Travel Notes Online Guide to Travel
Africa - Asia - Caribbean - Europe - Middle East - North America - Oceania - South America.

The Travel Notes Online Guide to Travel helps visitors plan their trip with country and city travel guides, local tourist information, reviewed web sites, and regular travel articles.
Travel and Tourism Guides on Travel Notes
If Travel Notes has helped you, please take a moment to like us on Facebook and share with your friends on social media.


Travel & Tourism With Industry Professionals.

South Dakota.