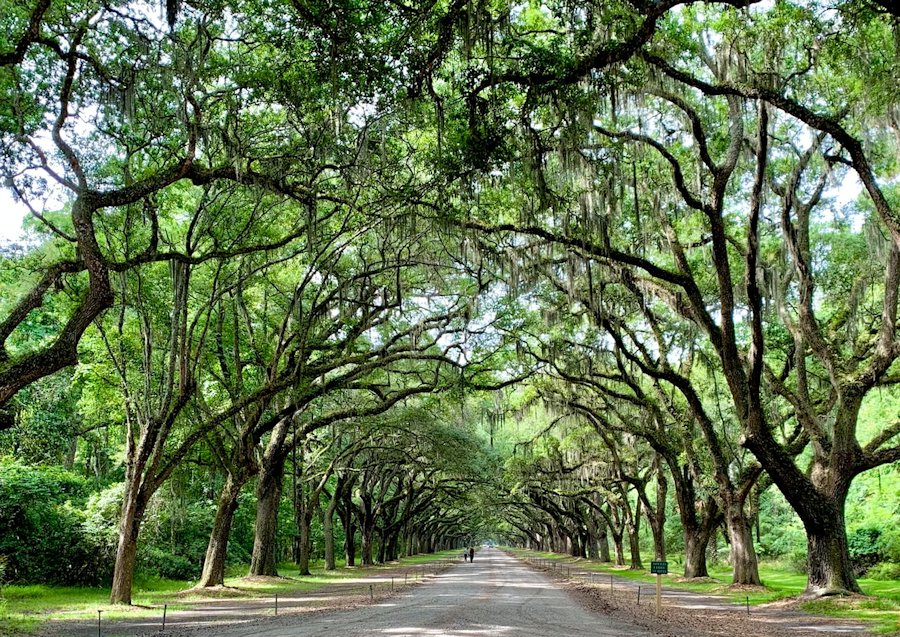 Wormsloe Historic Site, Savannah, GA by Jacob Mathers on Unsplash.
Travel Notes: North America - United States - Georgia State Travel Notes.
Short URL: https://tnot.es/usGA
Georgia Travel and Tourism on Travel Notes

Find Georgia Travel and Tourist Information with links to official travel and tourism websites and state resources for visitors to Georgia.
About Georgia
Also known as the Empire State of the South, or the Peach State, Georgia is named after George II of England.
The state capital of Georgia is Atlanta.
About Georgia - Georgia Weather:
Find out more about Georgia before you travel there.
Map of Georgia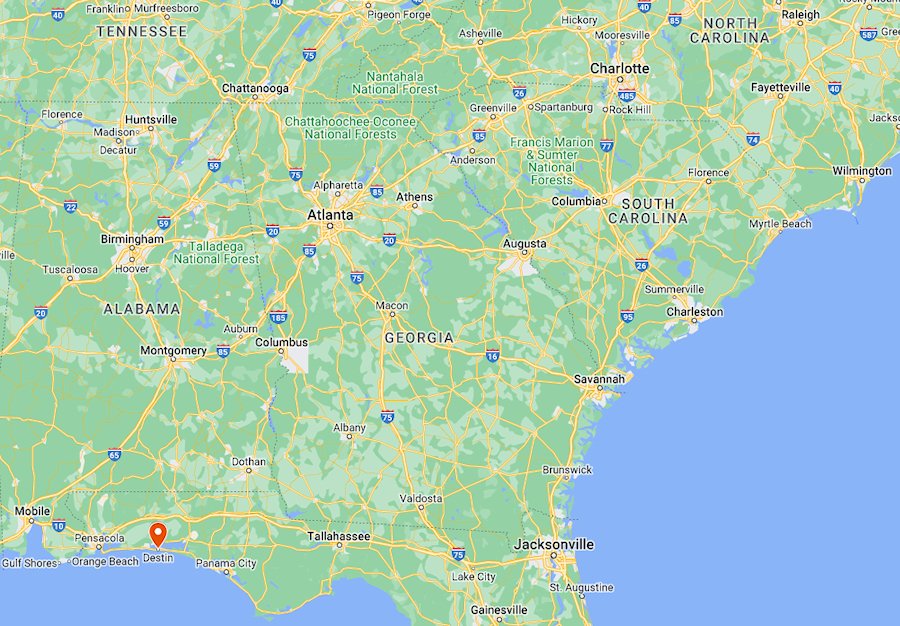 States neighbouring Georgia:
Florida, Alabama, Tennessee, North Carolina and South Carolina.
County Map of Georgia:
Colourful map of Georgia showing the location of all 159 counties: Appling, Atkinson, Bacon, Baker, Baldwin, Banks, Barrow, Bartow, Ben Hill, Berrien, Bibb, Bleckley, Brantley, Brooks, Bryan, Bulloch, Burke, Butts, Calhoun, Camden, Candler, Carroll, Catoosa, Charlton, Chatham, Chattahoochee, Chattooga, Cherokee, Clarke, Clay, Clayton, Clinch, Cobb, Coffee, Colquitt, Columbia, Cook, Coweta, Crawford, Crisp, Dade, Dawson, Decatur, DeKalb, Dodge, Dooly, Dougherty, Douglas, Early, Echols, Effingham, Elbert, Emanuel, Evans, Fannin, Fayette, Floyd, Forsyth, Franklin, Fulton, Gilmer, Glascock, Glynn, Gordon, Grady, Greene, Gwinnett, Habersham, Hall, Hancock, Haralson, Harris, Hart, Heard, Henry, Houston, Irwin, Jackson, Jasper, Jeff Davis, Jefferson, Jenkins, Johnson, Jones, Lamar, Lanier, Laurens, Lee, Liberty, Lincoln, Long, Lowndes, Lumpkin, McDuffie, McIntosh, Macon, Madison, Marion, Meriwether, Miller, Mitchell, Monroe, Montgomery, Morgan, Murray, Muscogee, Newton, Oconee, Oglethorpe, Paulding, Peach, Pickens, Pierce, Pike, Polk, Pulaski, Putnam, Quitman, Rabun, Randolph, Richmond, Rockdale, Schley, Screven, Seminole, Spalding, Stephens, Stewart, Sumter, Talbot, Taliaferro, Tattnall, Taylor, Telfair, Terrell, Thomas, Tift, Toombs, Towns, Treutlen, Troup, Turner, Twiggs, Union, Upson, Walker, Walton, Ware, Warren, Washington, Wayne, Webster, Wheeler, White, Whitfield, Wilcox, Wilkes, Wilkinson and Worth.
Georgia Travel Guides - Georgia Maps.
Georgia State Parks and Historical Sites
The Georgia State Parks & Historic Sites Park Guide is a handy resource for planning a spring break, summer vacation or family reunion. The free booklet is filled with tips on the best hiking trails, fishing spots, cabins, wedding venues and campsites.
Find a Park using the Georgia State Parks & Historic Sites Map.
Ocmulgee National Monument, near Macon, has remains of old Native American mounds and villages.
While on St. Simon's Island there is a British fort that was built in the 18th century.
For Civil War battle sites, head to the north-western corner of the state where you will find Chickamauga and Chattanooga National Military Park.
The Kennesaw Mountain National Battlefield Park is near Marietta.
A Civil War prisoner-of-war camp is in the Andersonville National Historic Site.
Governor's Mansion
The Georgia Governor's Mansion, a three-floor, 30-room, Greek Revival style home built in 1967, stands on approximately 18 acres in northeast Atlanta.
The Mansion is open for tours Tuesday, Wednesday, and Thursday, from 10:00 to 11:30, February to October.
Living History
Georgia offers a diverse group of Living History Museums, which are museums that offer a three-dimensional pilgrimage into a particular historical era.
Visit Georgia
Georgia's Official Travel Guide is your complete resource to planning a vacation in Georgia.
Ted Turner's CNN has made Martin Luther King, Jr.'s birthplace into the news capital of the world, and most of America's large corporations have offices here.
16 miles east of Atlanta, Stone Mountain National Park is interesting for the giant equestrian figures of the Confederate leaders Robert E. Lee, Stonewall Jackson, and Jefferson Davis -- measuring 90ft. x 190ft. -- carved into the granite face.
Accommodation in Atlanta
How to Find the Best Hotel Deals Online.
Atlanta Botanical Garden
Learn all there is to know about plants at the Atlanta Botanical Garden. Browse the extensive live plants collections and gardens on display in outdoor and indoor exhibits. Horticulture classes and special events are offered throughout the year.
Atlanta Braves - Turner Field
Catch Major League Baseball action at Truist Park, home to the Atlanta Braves baseball franchise.
Atlanta Falcons
Atlanta is home to NFL football team, Atlanta Falcons. Catch play-by-play action at the team's home field at the Georgia Dome.
Centennial Olympic Park
The Centennial Olympic Park was built in celebration of the 1996 Olympics. The 21-acre park attracts Atlanta residents and visitors throughout the year with musical performances, street fairs, art shows, and beautifully manicured gardens.
City of Decatur
In the City of Decatur, you'll find Southern charm, the energy of a college town, and the metropolitan zeal of neighbouring Atlanta. Stroll Decatur's historic districts, browse eclectic boutiques, and dine in quaint cafes.
Emory University
Emory University, located in the community of Druid Hills, is recognized among top academic institutions for its leading edge curricula, centres for advanced study, graduate school of arts and sciences, and professional schools for medicine, law, and theology, among other disciplines.
Fernbank Museum of Natural History
The earth's history, physical universe, and human culture come alive at the Fernbank Museum of Natural History in downtown Atlanta. Giants of the Mesozoic is the museum's newest permanent exhibit and features the world's largest dinosaurs including the 123-foot long Argentinosaurus.
Lenox Square Mall
Lenox Square Mall, located in the heart of Buckhead, offers more than shopping. It is a destination; featuring chic boutiques, upscale departments stores, movie theatres, and dozens of restaurants. A complimentary shuttle service transports shoppers between Lenox Square Mall and neighbouring Phipps Plaza.
Mall of Georgia
The Mall of Georgia, located in Buford (north-east of Atlanta), features over 225 shops ranging from upscale department stores like Macy's and Nordstrom to home accessories giants such as Pottery Barn and Restoration Hardware. A 20-plex movie theatre can be also found at the Mall of Georgia.
Margaret Mitchell House
Listed on the National Register of Historic Places and operated by the Atlanta History Center, the Margaret Mitchell House is a turn-of-the century, three-story, Tudor Revival building where Margaret Mitchell lived and wrote her Pulitzer-Prize winning book, Gone With the Wind.
Northlake Mall
Shop for trendy fashions, house wares, beautiful jewellery, and more at Northlake Mall, located off Interstate 285. Major department stores and over 100 speciality shops and restaurants anchor this Atlanta shopping centre.
Piedmont Park
Piedmont Park is Atlanta's premier outdoors gathering spot. The park features a swimming pool, tennis courts, a stocked fishing lake, pedestrian and bicycle paths, picnic areas, and event facilities.
Six Flags Over Georgia
Six Flags Over Georgia theme park offers thrilling roller coaster rides like Goliath, children's attractions like Bugs Bunny's Playfort, live entertainment, and more.
Stone Mountain Park
Stone Mountain Park is Atlanta's top family adventure attraction. Situated on 3,200 acres, the park offers everything from hiking and golf, to riverboat cruises on Stone Mountain Lake and train rides around the mountain. Live entertainment and festivals are scheduled throughout the year.
The Fox Theatre
One of Atlanta's most historic buildings, noted for its legacy of grandeur, The Fox Theatre today plays host to Broadway productions, opera, headline performances, and more.
The King Center
The King Center celebrates the life of Dr. Martin Luther King, Jr. Established in 1968 by his wife, Coretta Scott King, The King Center is an official living memorial located at the Martin Luther King, Jr. National Historic Site in Atlanta. View exhibits, archives, and Dr. King, Jr.'s birth place and grave.
The Varsity
A burgers and fries legend since it opened in 1928, The Varsity is the world's largest drive-in diner and an Atlanta icon. Situated on more than two acres, The Varsity can seat 800 people inside and accommodate 600 cars in its eat-in parking lot.
Zoo Atlanta
Zoo Atlanta features hundreds of animals from around the world. In addition to caring for such magnificent creatures as pandas, lions, rhinoceros, and gorillas, Zoo Atlanta offers interactive programs that demonstrate the necessity of conservation and animal research.
For a taste of the ocean, head out to Savannah. The restored houses of one of the oldest towns in the United States also make Savannah a very pleasant place to visit, even if you're a landlubber.
Albany, Georgia
Albany Convention & Visitors Bureau:
112 North Front Street | Albany, GA 31701
229-317-4760 | Toll-Free 866-750-0840
Travel Notes Online Guide to Travel
The Travel Notes Online Guide to Travel helps visitors plan their trip with country and city travel guides, local tourist information, reviewed web sites, and regular travel articles.

Join Michel on Meta-Travel.

Airlines and Airports.

Add a Business Listing - Add a Destination - Add a Place to Stay - Add URL.



Affiliates - North America Tourism - North America Websites.
If you find Travel Notes useful, please take a moment to like us on Facebook and share with your friends on social media.