Short URL: https://tnot.es/SH
Saint Helena Travel and Tourism on Travel Notes

Find Saint Helena Travel and Tourist Information with links to official travel and tourism websites and state resources for visitors to Saint Helena.
About Saint Helena
Saint Helena, one of the most isolated inhabited islands in the world, is a British dependency in the South Atlantic. Its capital is Jamestown.
Discovered by Portuguese navigator, Joao de Nova, in 1502, St. Helena became a fortress of the English East India Company, in 1659; for vessels on the newly opened trade routes.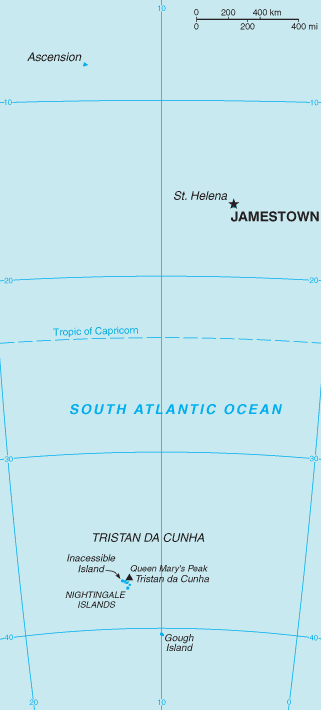 Charles II declared that the island should always be a part of England, in 1673, and.... 'that its subjects and their children should be regarded as if they had been abiding and born within this our realme of England'.
After the Battle of Waterloo, Napoleon was exiled on this volcanic rock until his death in 1821.
The St. Helena's Coat of Arms has the motto: Loyal and Unshakeable, and the banknotes still proclaim the authority of the Queen and Parliament of England.
Although the islanders are a fusion of former African and Indian slaves, Chinese and Malay labourers, Boer prisoners, and homeless Londoners from the Great Fire of 1966, the St. Helenians feel themselves British and helped the task force along to the Falklands in 1982.
5,500 Britons live on the isolated island, although they sometimes feel forgotten by the motherland.
The island can not support itself, so the British Government helps bail out the British Overseas Territories (Anguilla, Montserrat, Pitcairn, St Helena, Tristan de Cunha and The Turks and Caicos Islands).
St Helena also received EU aid to help improve access to the island and promote economic development.
The Overseas Territory of Saint Helena is one of the most remote inhabited islands in the world and, until recently, could only be reached by sea.
Until the airport on Saint Helena was built, it took five days to reach Saint Helena from Cape Town, by ship; or half that from Ascension Island.
St Helena Tourism:
St Helena has a wide variety of fascinating locations. Jamestown, the island's capital, can keep you occupied for much of the day. Venture further afield and you will discover the many reasons why St Helena was such an important location for so many years.
St Helena Yacht Club:
The only yacht club in the South Atlantic Ocean.
The planned airport, with a 2,250m runway, which was to be established near the eastern coast - at Prosperous Bay Plain - was put on hold, in December 2008.
On 22 July 2010, the Secretary of State for International Development, Andrew Mitchell, confirmed DFID's willingness to finance an airport for St Helena if four conditions were met.
In November 2011, it was announced that Basil Read had entered into a Design, Build and Operate (DBO) contract with the St. Helena Government.
Flying to St Helena
The innaugural flight to St Helena was made on 14th October, 2017.
The six-hour flight to St Helena operates from Johannesburg, on Saturdays, through SA Airlink.
Saint FM:
Saint Helena's community radio station.
St Helena Independent:
The Independent is available every Friday morning for free download and printing to users outside of St Helena. The web edition will become available every Monday after publication to internet users with a local IP address, originating in St Helena.
The St. Helena Institute was founded in 1997, to co-ordinate and undertake research into the Island of St. Helena and its dependencies, Ascension Island and Tristan da Cunha.

Add a Business Listing - Add a Destination Guide - Add a Place to Stay.



If you find Travel Notes useful, please take a moment to like us on Facebook and share with your friends on social media.
Africa Index - Africa Tourism - Africa Travel Websites.