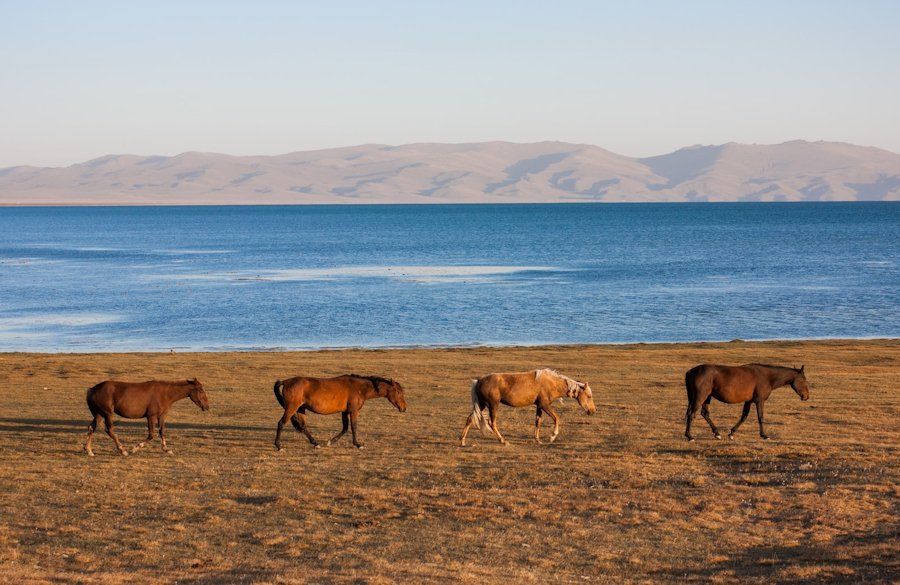 Horses at Son-Kul Lake, Kyrgyzstan by Daniele Nabissi on Unsplash.
Travel Notes: Asia - Kyrgyzstan Travel Notes.


Short URL: https://tnot.es/KG
Kyrgyzstan Travel and Tourism on Travel Notes

Find Kyrgyzstan Travel and Tourist Information with links to official travel and tourism websites and state resources for visitors to Kyrgyzstan.
About Kyrgyzstan
Kyrgyzstan was a former republic of the Union of Soviet Socialist Republics (USSR). Together with Kazakhstan, Tajikistan, Turkmenistan and Uzbekistan it forms a region known as Central Asia.
Map of Kyrgyzstan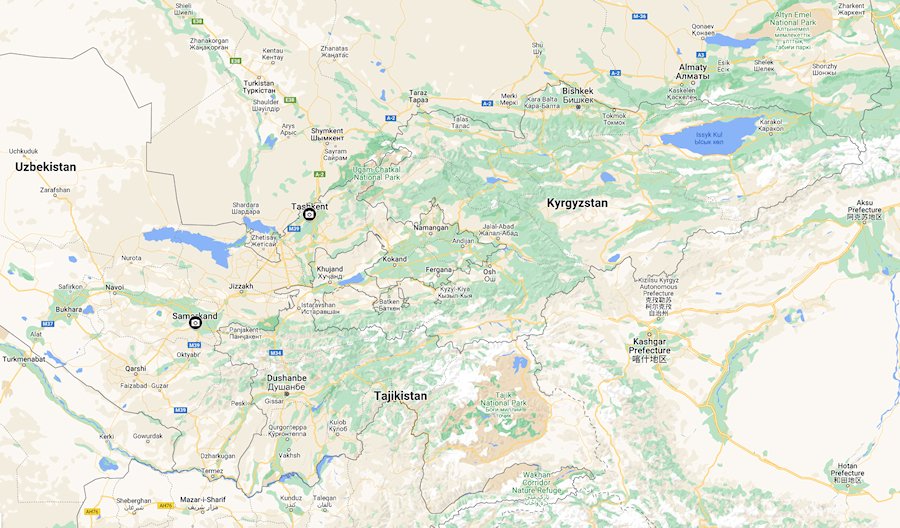 Countries neighbouring Kyrgyzstan: Kazakhstan, China, Tajikistan and Uzbekistan.
Kyrgyzstan Travel Guides - Kyrgyzstan Maps.
Weather in Asia:
Local weather forecasts for destinations around Asia.
The area of Kyrgyzstan is almost completely mountainous and is subject to major earthquakes.
Tien Shan means Heavenly Mountains in Chinese. It is the major mountain system of Central Asia; stretching for over 2,400 km, with a width of between 320 and 480kms.
In the border area where Kazakhstan, Kyrgyzstan, and China all meet is a succession of high peaks. Peak Pobedy (Russian for victory), in eastern Kyrgyzstan, is the highest (7,439).
The largest glaciers are formed in the high altitudes of these international boundaries when the amount of snowfall is greater than the melting rate.
Enjoy access to 198,000 sq km of deep powder heli-ski terrain, backcountry ski tours and a winter backcountry yurt camp set up in the Tien Shan mountains.
Formerly Frunze and Pishpek, the capital of Kyrgyzstan is situated in the irrigated Chu River valley.
The Uzbek khan of Kokand built a fortress here in the mid-19th century, and named it Bishbek.
The stronghold was taken by the Russians in 1862, and named Pishpek.
In 1926 the city was renamed Frunze in honour of the Soviet general, M. V. Frunze.
The Kyrgyz parliament changed its name to Bishkek in early 1991, before the country's declaration of independence.
This large mountain lake, in north-eastern Kyrgyzstan, is one of the deepest in the world and lies at an altitude of 1,607 m. Irrigation in the lake's basin has contributed to a decline in the lake's level.
Despite its height, the lake doesn't freeze in winter and supports some commercial fishing.
The Kyrgyz people migrated west from China, to settle in the area that is now Kyrgyzstan, in about the 16th century.
The region was conquered by Mongolians in the late 17th century, and came under the Kokand khanate in the 19th century.
Tsarist Russian forces defeated the khanate in 1876, and incorporated present-day Kyrgyzstan into the Russian Empire.
During the Soviet era, the republic experienced extreme cultural and political repression, saw the influx of Russians and other peoples in large numbers, and underwent large-scale industrialisation.
The collapse of Communism in the Soviet Union, in 1991, led to the republic's independence as Kyrgyzstan.
Travel Notes Online Guide to Travel
Africa - Asia - Caribbean - Europe - Middle East - North America - Oceania - South America.

The Travel Notes Online Guide to Travel helps visitors plan their trip with country and city travel guides, local tourist information, reviewed web sites, and regular travel articles.


Laos.

Add a Business Listing - Add a Destination - Add a Place to Stay - Add URL.



Affiliates - Asia Tourism - Asia Travel Websites.
Travel and Tourism with Industry Professionals
If Travel Notes has helped you, please take a moment to like us on Facebook and share with your friends on social media.


Increase Bookings & Reach More Customers.