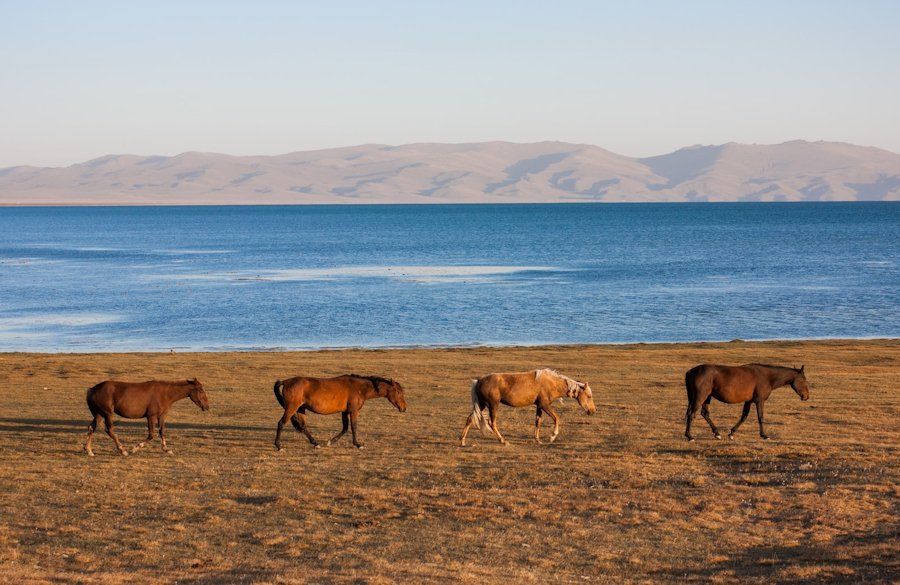 Horses at Son-Kul Lake, Kyrgyzstan by Daniele Nabissi on Unsplash.
Travel Notes: Asia - Kyrgyzstan Travel Notes.


Short URL: https://tnot.es/KG
Kyrgyzstan Travel and Tourism on Travel Notes

Find Kyrgyzstan Travel and Tourist Information with links to official travel and tourism websites and state resources for visitors to Kyrgyzstan.
About Kyrgyzstan
Kyrgyzstan has a rich cultural heritage, breathtaking landscapes, and warm hospitality.
Whether you are interested in hiking in the mountains, exploring ancient ruins, or experiencing nomadic life, Kyrgyzstan has something for everyone.
Countries neighbouring Kyrgyzstan: Kazakhstan, China, Tajikistan and Uzbekistan.
Map of Kyrgyzstan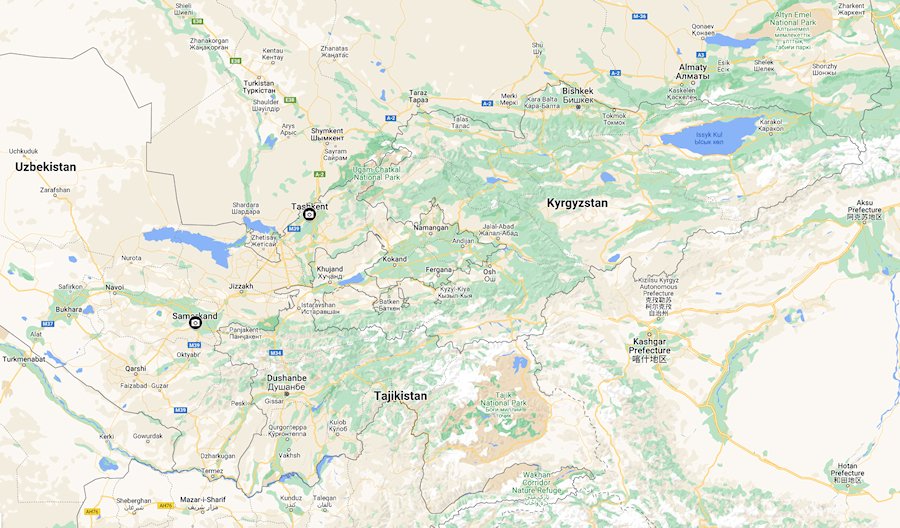 Kyrgyzstan was a former republic of the Union of Soviet Socialist Republics (USSR). Together with Kazakhstan, Tajikistan, Turkmenistan and Uzbekistan it forms a region known as Central Asia.
Kyrgyzstan, officially known as the Kyrgyz Republic, is a landlocked country located in Central Asia sharing borders with Kazakhstan to the north, Uzbekistan to the west, Tajikistan to the south-west, and China to the south-east.
With a fascinating history, breathtaking natural beauty, and an unique cultural heritage, Kyrgyzstan offers visitors a chance to explore its rugged landscapes, experience traditional nomadic customs, and immerse themselves in Central Asian culture.
The country's capital and largest city is Bishkek.
Culture and Ethnicity
The majority of the population in Kyrgyzstan is ethnically Kyrgyz, and Kyrgyz is the official language.
The country has a diverse cultural heritage influenced by Turkic, Persian, and Russian traditions.
Traditional nomadic practices, such as yurt dwelling, eagle hunting, and horsemanship, are still celebrated and form an integral part of the Kyrgyz culture.
Economy
Kyrgyzstan's economy is primarily agrarian, with agriculture being the main sector. The country exports products like cotton, wool, meat, tobacco, and minerals.
It also has significant hydropower potential, and hydroelectricity is an important source of energy.
Tourism is another growing sector, with visitors attracted to the natural beauty and cultural heritage of the country.
History
Kyrgyzstan has a rich history that dates back thousands of years.
The region has been inhabited since the Paleolithic era and has seen various empires and nomadic tribes pass through it.
It was a part of the Silk Road trade route and came under Russian rule in the late 19th century.
Kyrgyzstan gained independence from the Soviet Union in 1991.
Geography
The country is characterised by mountainous terrain, with the Tien Shan mountain range covering a significant portion of its territory.
Kyrgyzstan is known for its stunning landscapes, including soaring peaks, pristine alpine lakes, and lush valleys. Issyk-Kul Lake, one of the largest mountain lakes in the world, is a major tourist attraction.
Politics
Kyrgyzstan is a parliamentary republic with a multi-party system. The President is the head of state, and the Prime Minister is the head of government.
The political landscape has seen some changes and challenges since independence, including popular uprisings in 2005 and 2010 that led to changes in leadership.
Like many developing countries, Kyrgyzstan faces certain challenges. These include poverty, inadequate infrastructure in remote areas, and a lack of economic diversification.
Political stability and addressing issues like corruption and improving education and healthcare systems are among the ongoing priorities for the government.
Tourism
Kyrgyzstan is increasingly becoming a popular tourist destination, especially for outdoor enthusiasts and adventure travellers.
The country offers opportunities for trekking, mountaineering, horseback riding, and skiing.
Visitors can explore national parks, visit historic sites like the ancient city of Osh, and experience the unique nomadic culture of the Kyrgyz people.
Kyrgyzstan is a beautiful country in Central Asia, known for its stunning mountain landscapes, rich nomadic heritage, and warm hospitality.
Kyrgyzstan Highlights
Remember to check the latest travel advisories and plan your trip to Kyrgyzstan accordingly.
Ala-Archa National Park
For outdoor enthusiasts, a visit to Ala-Archa National Park is a must.
Located near Bishkek, this park offers stunning hiking trails, waterfalls, and alpine landscapes.
Enjoy a day trip or spend a few days exploring the natural beauty of the park.
Bishkek
Start your journey in the capital city of Bishkek.
Explore Ala-Too Square, visit the State Historical Museum, and stroll through the beautiful Oak Park.
Don't miss the vibrant Osh Bazaar, where you can experience the local culture and taste traditional Kyrgyz food.
Issyk-Kul Lake
Head to the spectacular Issyk-Kul Lake, one of the largest alpine lakes in the world.
Enjoy swimming, sunbathing, or take a boat ride on the crystal-clear waters.
The lake is surrounded by breathtaking mountain ranges, providing a picturesque backdrop.
Karakol
Make a stop in the charming town of Karakol, situated near the eastern tip of Issyk-Kul Lake.
Visit the Dungan Mosque, an architectural masterpiece, and explore the Przhevalsky Museum dedicated to the famous Russian explorer Nikolay Przhevalsky.
Kyrgyz Cuisine
Don't miss the opportunity to try traditional Kyrgyz cuisine.
Savour dishes like beshbarmak (boiled meat with noodles), manti (dumplings), and kumys (fermented mare's milk).
Visit local teahouses to enjoy the hospitality and taste delicious tea with traditional snacks.
Nomadic Culture
Kyrgyzstan has a rich nomadic heritage, and you can immerse yourself in this culture by staying with local families in yurts, participating in traditional activities like horseback riding, and attending festivals and cultural events.
Osh
Explore the vibrant city of Osh, located in the south of Kyrgyzstan.
Visit the famous Sulayman Mountain, an UNESCO World Heritage Site, and stroll through the bustling Osh Bazaar to experience the local flavours and buy unique souvenirs.
Outdoor Adventures
Kyrgyzstan offers various outdoor activities such as trekking, mountaineering, skiing, and rafting.
The country's rugged terrain and majestic mountains provide ample opportunities for adventure enthusiasts.
Song-Kul Lake
Experience the traditional nomadic lifestyle by visiting Song-Kul Lake, a high-altitude alpine lake surrounded by rolling hills.
Stay in a yurt, the traditional nomadic dwelling, and immerse yourself in Kyrgyz culture.
Tash Rabat
Journey to the remote Tash Rabat Caravanserai, an ancient stone fortress located in the Tien Shan Mountains.
Tash Rabat served as a crucial stopover on the historic Silk Road.
Take a moment to marvel at the impressive architecture and imagine the traders who once travelled through this region.Enjoy horseback riding or hiking in the picturesque surroundings.
Formerly Frunze and Pishpek, the capital of Kyrgyzstan is situated in the irrigated Chu River valley.
Map of Bishkek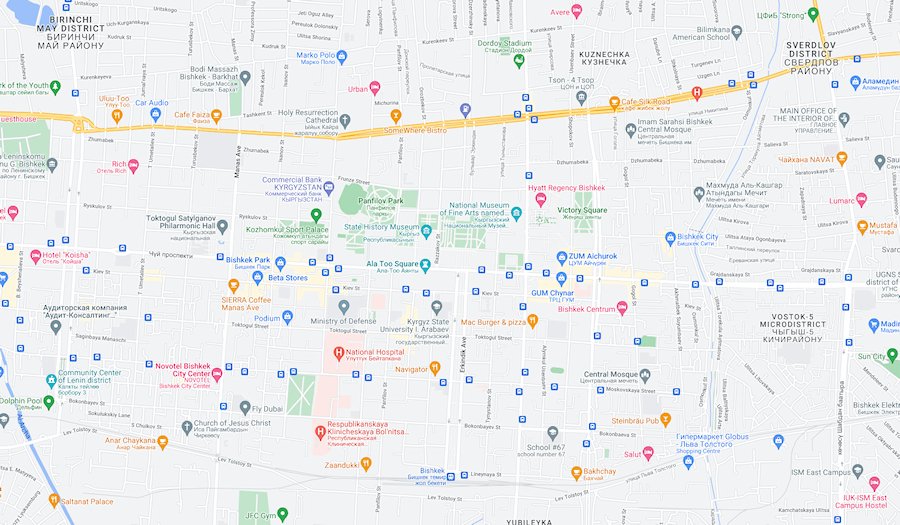 The Uzbek khan of Kokand built a fortress here in the mid-19th century, and named it Bishbek.
The stronghold was taken by the Russians in 1862, and named Pishpek.
In 1926 the city was renamed Frunze in honour of the Soviet general, M. V. Frunze.
The Kyrgyz parliament changed its name to Bishkek in early 1991, before the country's declaration of independence.
This large mountain lake, in north-eastern Kyrgyzstan, is one of the deepest in the world and lies at an altitude of 1,607 m. Irrigation in the lake's basin has contributed to a decline in the lake's level.
Despite its height, the lake doesn't freeze in winter and supports some commercial fishing.
The area of Kyrgyzstan is almost completely mountainous and is subject to major earthquakes.
Tien Shan means Heavenly Mountains in Chinese. It is the major mountain system of Central Asia; stretching for over 2,400 km, with a width of between 320 and 480kms.
In the border area where Kazakhstan, Kyrgyzstan, and China all meet is a succession of high peaks. Peak Pobedy (Russian for victory), in eastern Kyrgyzstan, is the highest (7,439).
The largest glaciers are formed in the high altitudes of these international boundaries when the amount of snowfall is greater than the melting rate.
Enjoy access to 198,000 sq km of deep powder heli-ski terrain, backcountry ski tours and a winter backcountry yurt camp set up in the Tien Shan mountains.
The Kyrgyz people migrated west from China, to settle in the area that is now Kyrgyzstan, in about the 16th century.
The region was conquered by Mongolians in the late 17th century, and came under the Kokand khanate in the 19th century.
Tsarist Russian forces defeated the khanate in 1876, and incorporated present-day Kyrgyzstan into the Russian Empire.
During the Soviet era, the republic experienced extreme cultural and political repression, saw the influx of Russians and other peoples in large numbers, and underwent large-scale industrialisation.
The collapse of Communism in the Soviet Union, in 1991, led to the republic's independence as Kyrgyzstan.
Kyrgyzstan Travel Guides - Kyrgyzstan Maps.
Weather in Asia:
Local weather forecasts for destinations around Asia.
Travel Notes Online Guide to Travel
Africa - Asia - Caribbean - Europe - Middle East - North America - Oceania - South America.

The Travel Notes Online Guide to Travel helps visitors plan their trip with country and city travel guides, local tourist information, reviewed web sites, and regular travel articles.
Travel and Tourism Guides on Travel Notes
If Travel Notes has helped you, please take a moment to like us on Facebook and share with your friends on social media.


Travel & Tourism With Industry Professionals.

Laos.