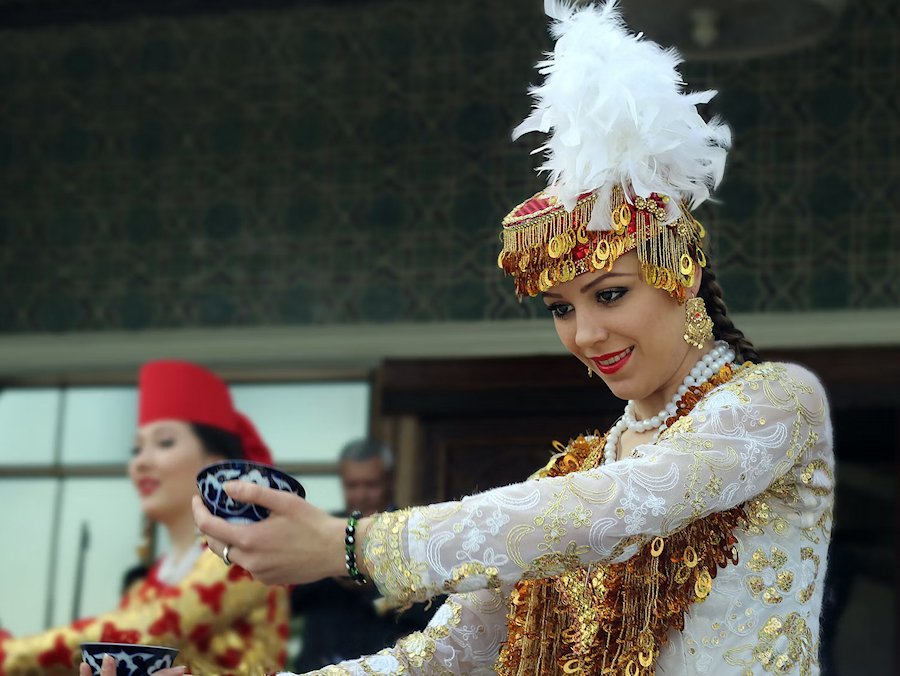 Uzbek Dancer, Tashkent by Nodir Khalilov on Unsplash.
Travel Notes: Asia - Uzbekistan Travel Notes.

Short URL: https://tnot.es/UZ
Uzbekistan Travel and Tourism on Travel Notes

Uzbekistan Travel and Tourist Information with links to official travel and tourism websites and state resources for visitors to Uzbekistan.
About Uzbekistan
With a rich cultural history and many stunning architectural and historical sites, Uzbekistan has become an increasingly popular destination for tourists.
Countries neighbouring Uzbekistan: Afghanistan, Turkmenistan, Kazakhstan, Tajikistan, and Kyrgyzstan.
Map of Uzbekistan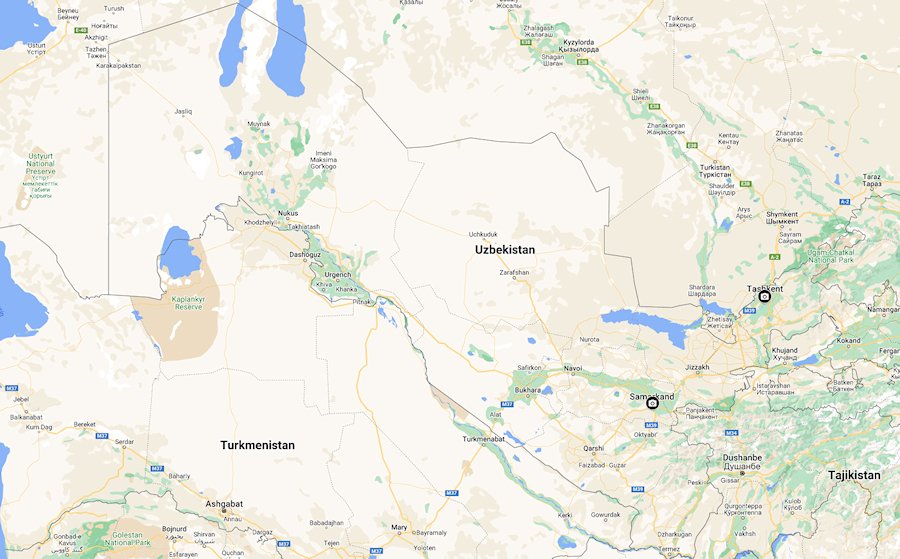 Uzbekistan was a former republic of the Union of Soviet Socialist Republics.
Together with Kazakhstan, Kyrgyzstan, Tajikistan and Turkmenistan it forms a region known as Central Asia.
Situated between the Amu Darya and Syr Darya rivers, Uzbekistan is roughly the size of California and lies at the heart of Central Asia.
Much of Uzbekistan is dry desert land (the Kara Kum desert), but it has rugged mountains and fertile valleys in the east, and irrigation has made much of the land habitable and productive.
Bordering Uzbekistan are Afghanistan to the south, Turkmenistan to the west and south, Kazakhstan to the north and east and Tajikistan and Kyrgyzstan to the east.
When to visit Uzbekistan
The area has a severe continental climate that is dry and hot in the summer months and cool and wet in the winter.
Spring and fall are the most comfortable seasons to visit Uzbekistan.
In the long summer, temperatures often reach 40 degrees Celsius.
During the short winter, temperatures generally stay above freezing but in occasions can dip well below.
Buddhism took hold and the Silk Road brought peaceful contact with the wider world.
Towns grew and the area became rich.
In the 6th century AD, Western Turks rode out of the steppes, bringing Islam and a written alphabet. When they moved on to greener pastures, Persia took over again, until Genghis Khan and his hordes rolled over the country.
With the rise of the ruthless warrior Timur in the 14th century, Uzbekistan again rose to prosperity and Samarkand became a glittering Islamic capital thanks to his patronage of the arts.
Around this time, certain Mongol tribes took the name Uzbek.
In the 14th century they began moving south, eventually conquering Timur's empire.
By 1510 they had control of everything from the Amu-Darya to the Syr-Darya, and they have maintained control ever since. In the early 18th century the khan of Khiva asked Peter the Great of Russia for aid in defending his land against Turkmen and Kazaks, stirring the first Russian interest in Central Asia.
However, by the time the Russians got around to marching on Khiva, the khan no longer wanted their help and massacred almost the entire army.
Apart from a few minor forays, the next major Russian excursion was made in 1839 by Tsar Nicholas I, who was eager to prevent British expansion in the area, but the mission was not a great success.
Twenty-five years later the Russians again made a serious move on Uzbekistan and by 1875 the region was theirs.
After the 1917 Russian Revolution, the Bolsheviks proclaimed the Autonomous Soviet Socialist Republic of Turkestan, despite the fact that most Central Asians defined themselves not by country, but as ethnic Turks or Persians.
In October 1924, Uzbekistan was declared, although it changed shape and size many times in the following decades.
For rural Uzbeks, Soviet rule meant forced collectivization of their farms, and a huge shift to cotton cultivation.
For the intelligentsia it meant devastating purges.
The capital of Uzbekistan, which suffered a major earthquake in 1966, was the largest city of Soviet Central Asia; and it shows.
The Russians built up Tashkent around the old city, and many Russians still live here.
The real reason to go to Tashkent would be to venture on to Samarkand, Bukhara and Khiva.
Where to Stay in Tashkent
The Uzbeks are a Turkic-speaking people with an Islamic ancestry.
They seem to spend plenty of time in tea houses clutching little birds in their strong, sun- weathered hands.
Education in Uzbekistan
Uzbekistan is the state of youth. Children, teenagers and young people under the age of 25 comprise approximately 60% of the total population.
Language and Culture
Although Uzbek is the official language of Uzbekistan, Russian is also widely spoken in the cities, particularly among the educated elite and government officials.
The historical towns of Bukhara and Samarkand are primarily Tajik speaking, and in the countryside, Russian speakers are far less common.
The Uzbeks (as well as the Karakalpaks, Kazakhs, Kyrgyz, Turkmens and Tatars) are a Turkic people and speak a Turkic language.
The language and culture in Uzbekistan also has a strong Persian influence.
Uzbekistan Population
Uzbekistan has an estimated population of 23 million people. Of these, around 17 million are ethnic Uzbeks, almost two million are Russian, and a slightly smaller number, Tajik.
The rest of the population is made up of Tatars, Kazakhs, Kyrgyz, and Karakalpaks, along with over 100 other ethnic groups.
Most of the population lives in the eastern and southern part of the country, particularly the Fergana valley, Tashkent and Samarkand regions.
Considered a museum in and of itself, Bukhara has more than 140 architectural monuments, dating back to the Middle Ages.
Lyabi House:
Located in the heart of Bukhara and within walking distance from the ancient Labi Hauz complex, this family run bed and breakfast type hotel offers comfortable accommodation in national style. Also arranges camel rides and tours of Bukhara and other ancient cities of Uzbekistan.
Khiva is divided into the inner town, Ishan-Kala, where about 60 historical monuments are located and Dishan-Kala, the outer town, where citizens of Khiva live and work.
Where to Stay in Khiva
Where to Stay in Samarkand
Jahongir Guest House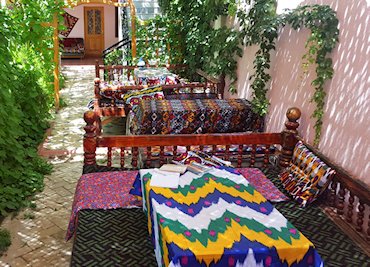 Jahongir Guest House: Chirokchi 4, Samarkand.
An ideal place to stay for those who want to experience Uzbek national atmosphere.
Located in the heart of ancient Samarkand, the family-run Jahongir Hotel is just a five-mintue walk from Registan Square.
Malika Prime Hotel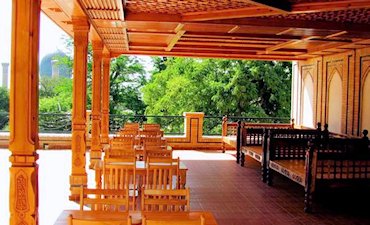 Located within easy walking distance of the main historical sites of Samarkand, the hotel's charm lies in its traditional woodwork design.
To add to the oriental flavour, authentic Uzbek cuisine is prepared in the Malika Prime Hotel restaurant.
Uzbekistan Airways:
The national airline of Uzbekistan.
Uzbekistan Embassy and Visas:
In general all foreign nationals are required to obtain a visa to enter Uzbekistan.
Uzbekistan Travel Guides - Uzbekistan Maps.
Weather in Asia:
Local weather forecasts for destinations around Asia.
Travel Notes Online Guide to Travel
Africa - Asia - Caribbean - Europe - Middle East - North America - Oceania - South America.

The Travel Notes Online Guide to Travel helps visitors plan their trip with country and city travel guides, local tourist information, reviewed web sites, and regular travel articles.
Travel and Tourism Guides on Travel Notes
If Travel Notes has helped you, please take a moment to like us on Facebook and share with your friends on social media.


Travel & Tourism With Industry Professionals.

Vietnam.