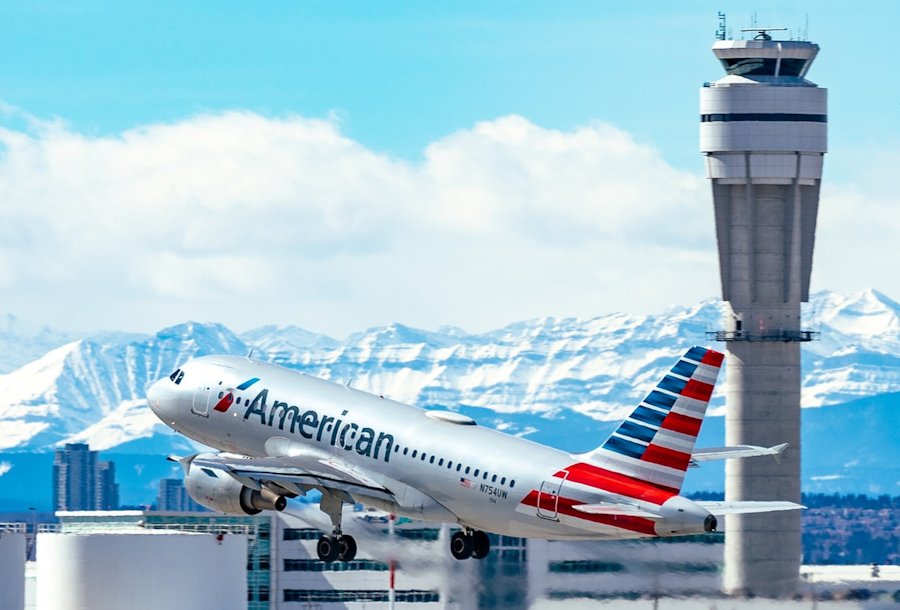 American Airlines by Justin Hu on Unsplash.

Travel Notes: Airline Directory - All Nippon Airways to Asiana Airlines.
The airline directory on Travel Notes helps you find the airline schedule that's right for you and makes searching for cheap flight tickets a lot easier.
You can also find airline codes and links to official airline websites, courier companies, scenic flights, country information, airports, official tourist offices, and foreign embassies.
Flight Search - Fly For Less
Travel Notes Airlines Directory - International Airlines and Airline Codes
Alitalia: (AZ)
The Italian airline links Italy with 60 countries around the world.
All Nippon Airways: (NH)
Visit Japan from Bali, Brussels, Chicago, Florida, Frankfurt, Hawaii, Hong Kong, London, Macao, New York, Paris, San Francisco, Shenyang, Seoul, Tianjin, Vienna, Washington DC and Xiamen.
All Nippon in Austria:
Flying ANA from Europe to Japan (Frankfurt, London, Paris and Vienna).
All Nippon in the UK:
ANA flights from London to Narita and Kansai. Special reduced fares are available on ANA domestic connecting flights from Tokyo or Osaka International Airports.
All Nippon in the US:
Flying ANA from the US to Japan and onto Singapore or Bangkok.
Tokyo from Spain:
Flying to Tokyo from Madrid with ANA, means changing in Frankfurt, London, Paris or Vienna.
Alliance: (ticket sharing)
Northwest Airlines and KLM partnership.
Alliance Airlines: (Y2)
African airline owned by the Governments of Tanzania and Uganda, South African Airways, Air Tanzania and Uganda Airlines. Its prime purpose is to provide long haul flights to East and Southern Africa.
Aloha Airlines: (AQ)
Hawaii-based Aloha Airlines offer fast, comfortable travel between O`ahu, Maui, Kaua`i and the Big Island of Hawai`i. With over 300 flights to the neighbouring islands daily, there's always a flight leaving soon. As of February, 2000 Aloha Airlines will also fly from Oakland to Honolulu and Maui.
America West Airlines: (HP)
Serving 17 California destinations with 15 daily roundtrip flights between Phoenix and Los Angeles (LAX). America West flies to more cities in Southern California than any other airline, including: Bakersfield, Burbank, Long Beach, Ontario, Orange County, Palm Springs and Santa Barbara.
America West Express: (HP)
Arizona hub. In September 1992, Mesa entered into a code-sharing agreement with America West Airlines allowing it to operate as America West Express. This operation now serves more than 20 cities in Arizona, California, Colorado, Iowa and New Mexico -- out of the Phoenix hub.
American Airlines: (AA)
View flight schedules and fares by typing in the airport codes or city names.
American Flight Airways: (virtual airline)
AFA now has 5 active hubs in Detroit, Atlanta, Dallas, Lima (Peru) and San Francisco.
American Trans Air: (TZ)
Based in Indianapolis, Indiana, North America's largest charter airline provides capacity to U.S., European and Latin American tour operators, as well as to the United States military. ATA's scheduled service flies to popular vacation markets and major business centers from gateways in Chicago-Midway and Indianapolis. Destinations include five Florida cities, the Caribbean, Dallas, Denver, Hawaii, Ireland, Las Vegas, Los Angeles, Mexico, New York, Phoenix and San Francisco.
Amerijet International: (JH)
Florida based cargo carrier providing scheduled, contract and common carriage service between North America, the Caribbean, Mexico, and Latin America as well as single flight charters worldwide.
Travel Notes Online Guide to Travel
The Travel Notes Online Guide to Travel helps visitors plan their trip with country and city travel guides, local tourist information, reviewed web sites, and regular travel articles.

Join Michel on Meta-Travel.

Arrivals and Departures.
How Many Air Miles:
Interactive Distances between major world cities, in miles or kilometres.
Air Help - Claim compensation for your flight delay or cancellation.
If you find Travel Notes useful, please take a moment to like us on Facebook and share with your friends on social media.