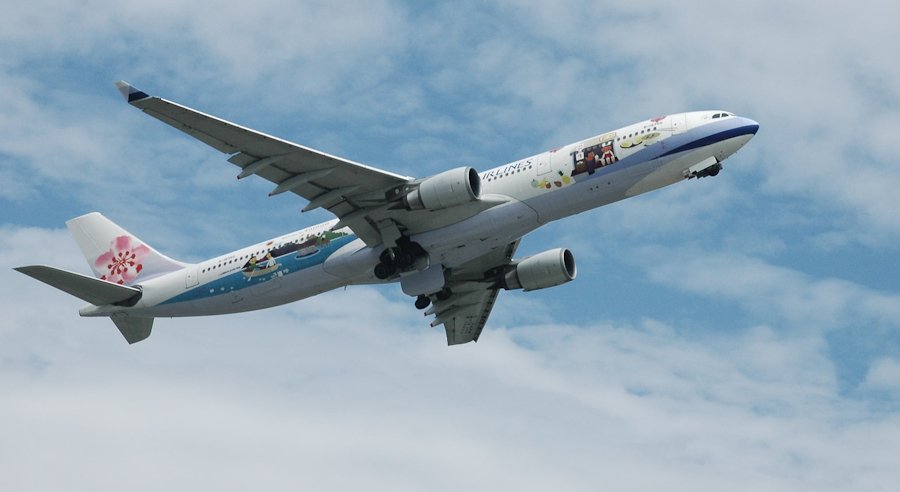 China Airlines by Tienko Dima on Unsplash.

Travel Notes: Airline Directory - Calm Air International to China Airlines.
The airline directory on Travel Notes helps you find the airline schedule that's right for you and makes searching for cheap flight tickets a lot easier.
You can also find airline codes and links to official airline websites, courier companies, scenic flights, country information, airports, official tourist offices, and foreign embassies.
International Airlines and Airline Codes
Calm Air: (MO)
From its beginnings in 1962 as a single aircraft operation in Northern Saskatchewan and Manitoba, this family-owned airline has expanded its fleet and spread its wings to over 20 communities throughout Manitoba and Nunavut.
CanJet Airlines: (C6)
Based in Halifax, Nova Scotia, Canada's first eastern Canadian low-fare scheduled carrier also serves Toronto, Ottawa, Montreal, Moncton, Deer Lake, St. Johns and St. Petersburg (Florida).
Canadian Helicopters:
The largest helicopter transportation services company operating in Canada with a network of 25 strategically located bases providing operations in every geographical region in the country.
Canadian North: (5T)
From Yellowknife (Northwest Territories), flights go to Hay River, Inuvik and Norman Wells; and down to Edmonton and Calgary (Alberta). Flight paths also stretch out west across Nunavut and down to Ottawa (Ontario) from Iqualuit.
Cape Air: (9K)
Cape Cod. Destinations include New England, Florida and the Caribbean.
Carib Air: (B9)
Specialising in air-freight flights throughout the Florida Keys, Caribbean Islands, and Latin America.
Carib Aviation: (DEL)
Charters to and from any island airport in the Eastern Caribbean. To/From Antigua -- To/From St. Kitts/Nevis.
Caribbean Star Airlines: (8B)
Based in Antigua, Caribbean Star Airlines serves the wider Caribbean with destinations in Antigua & Barbuda, Barbados, Dominica, Grenada, Puerto Rico, St. Kitts/Nevis, St. Lucia, St. Maarten, St. Thomas, St. Vincent, Tortola and Trinidad.
Cathay Pacific Airways: (CX)
Hong Kong's premier airline. The personal flight schedule planner provides you with Cathay Pacific's latest flight information to help you plan ahead. Special Offers!
Cathay USA:
Direct daily service from New York, Los Angeles and San Francisco to Hong Kong and the best airline network within Southeast Asia.
Cayman Airways: (KX)
The national airline of the Cayman Islands. Cayman Brac, Houston, Kingston, Miami, Orlando, and Tampa.
Chelan Airways: (Scenic Flights)
Washington state -- Upper Lake Chelan and Stehekin scenic flights and air taxi service.
China Airlines: (CI)
Taiwan's premier airline flies from Taipei to Abu Dhabi, Amsterdam, Anchorage, Auckland, Bangkok, Brisbane, Guangzhou, Chongking, Denpasar, Frankfurt, Fukuoka, Hanoi, Hiroshima, Ho Chi Minh City, Hong Kong, Honolulu, Houston, Izumo, Jakarta, Kaohsiung, Komatsu, Kuala Lumpur, Los Angeles, Manila, Miyazaki, Nagoya, New York, Niigata, Nanjing, Okayama, Okinawa, Beijing, Phuket, Rome, Saidor, San Francisco, Shanghai, Singapore, Sydney, Taipei, Takamatsu, Tokyo, Toyama, Taitung, Vancouver, Yangon.
China Southern Airways: (CZ)
People's Republic of China. Major business and vacation destinations served in China include Beijing, Guangzhou, Guilin, Hong Kong, Kunming and Shanghai. International service includes Amsterdam, Bangkok, Ho Chi Minh City, Kuala Lumpur, Los Angeles, Osaka and Singapore.
Flight Search - Fly For Less
How Many Air Miles:
Interactive Distances between major world cities, in miles or kilometres.
Air Help - Claim compensation for your flight delay or cancellation.
Travel Notes Online Guide to Travel
Africa - Asia - Caribbean - Europe - Middle East - North America - Oceania - South America.

The Travel Notes Online Guide to Travel helps visitors plan their trip with country and city travel guides, local tourist information, reviewed web sites, and regular travel articles.
Car Hire - Cruises - Flights - Hotels.

Arrivals and Departures.
Travel and Tourism Guides on Travel Notes
If Travel Notes has helped you, please take a moment to like us on Facebook and share with your friends on social media.


Travel & Tourism With Industry Professionals.