Travel to France:
France tourist information with details about travel to and around the country. Where to stay and what to see is made easier with insider tips and hand-selected France links, by dedicated editors and visitors to TravelNotes.org - The Online Guide to Travel.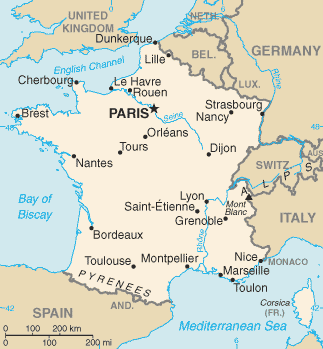 The capital of France is Paris.
The flag of France is three equal vertical bands of blue (hoist side), white, and red.
Known as the 'Le drapeau tricolore' (French Tricolor), the origin of the flag dates to 1790 and the French Revolution.
The design and/or colors are similar to a number of other flags, including those of Belgium, Chad, Ireland, Cote d'Ivoire, Luxembourg, and Netherlands.
The flag of France is also the official flag for all French dependent areas.
Although ultimately a victor in World Wars I and II, France suffered extensive losses in its empire, wealth, manpower, and rank as a dominant nation-state.
Nevertheless, France today is one of the most modern countries in the world and is a leader among European nations. Since 1958, it has constructed a presidential democracy resistant to the instabilities experienced in earlier parliamentary democracies.
In recent years, its reconciliation and cooperation with Germany have proved central to the economic integration of Europe, including the introduction of a common exchange currency, the euro, in January 1999.
At present, France is at the forefront of efforts to develop the EU's military capabilities to supplement progress toward an EU foreign policy.
Geographically
Western Europe - bordering the Bay of Biscay and English Channel; between Belgium and Spain, southeast of the United Kingdom - also bordering the Mediterranean Sea; between Italy and Spain.
Northern South America - bordering the North Atlantic Ocean; between Brazil and Suriname.
Caribbean - islands between the Caribbean Sea and the North Atlantic Ocean; southeast of Puerto Rico.
Caribbean - island between the Caribbean Sea and North Atlantic Ocean; north of Trinidad and Tobago.
Southern Africa - island in the Indian Ocean; east of Madagascar.
Administrative Divisions
Metropolitan France is divided into 22 regions (including the 'territorial collectivity' of Corse or Corsica) and is subdivided into 96 departments.
Alsace; Aquitaine; Auvergne; Basse-Normandie; Bourgogne; Bretagne; Centre; Champagne-Ardenne; Corse; Franche-Comte; Haute-Normandie; Ile-de-France; Languedoc-Roussillon; Limousin; Lorraine; Midi-Pyrenees; Nord-Pas-de-Calais; Pays de la Loire; Picardie; Poitou-Charentes; Provence-Alpes-Cote d'Azur; Rhone-Alpes.
See also: Overseas Departments (French Guiana, Guadeloupe, Martinique, Reunion) and the overseas territorial collectivities (Mayotte, Saint Pierre, Miquelon).
Dependent Areas
Bassas da India; Clipperton Island; Europa Island; French Polynesia; French Southern and Antarctic Lands; Glorioso Islands; Juan de Nova Island; New Caledonia; Tromelin Island; Wallis and Futuna.
Independence
486 (unified by Clovis).
National Holiday
Fete de la Federation: 14th July (1790).
Although often incorrectly referred to as Bastille Day, the celebration actually commemorates the holiday held on the first anniversary of the storming of the Bastille (on 14th July, 1789) and the establishment of a constitutional monarchy.
Other names for the holiday are Fete Nationale (National Holiday) and quatorze juillet (14th of July).

Add a Business Listing - Add a Destination Guide - Add a Place to Stay.



If you find Travel Notes useful, please take a moment to like us on Facebook and share with your friends on social media.