Air France by Daniel Eledut on Unsplash.

Travel Notes: Airline Directory - Air France to Air New Zealand.
The airline directory on Travel Notes helps you find the airline schedule that's right for you and makes searching for cheap flight tickets a lot easier.
You can also find airline codes and links to official airline websites, courier companies, scenic flights, country information, airports, official tourist offices, and foreign embassies.
International Airlines and Airline Codes
Air Djibouti: (DY)
The Republic's International Airport is located some 5km south of the city of Djibouti. There are also airports at Obock and Tadjoura.
Air Dolomiti: (EN)
Italian inter-regional airline with connections to Barcelona, Frankfurt, Munich and Paris.
Air Europa: (UX)
Spanish regional airline connecting mainland Spain with the Canary Islands, Havana, Ibiza, Lisbon, London, New York, Palma, Paris, Porto and Santo Domingo.
Air Europe: (PE)
Based at London's Gatwick Airport, Air Europe commenced operations in the summer of 1979. Originaly a charter operator, the airline has evolved into a scheduled carrier moving businessmen in and out of Europe's major cities.
Air Fiji: (PC)
Fiji's longest serving domestic carrier, serving exotic island destinations throughout Fiji with an average of 65 flights daily to: Cicia, Gau, Kadavu, Koro, Labasa, Lakeba, Levuka, Malololailai, Mana, Moala, Nadi, Savusavu, Suva, Taveuni, Tuvalu, and Vanuabalavu.
Air Foyle: (G2)
British charter airline operating cargo, on behalf of DHL, and passenger aircraft. Principal partner is Antonov Design Bureau of Kiev.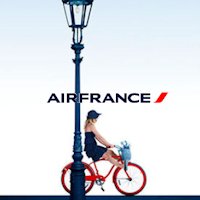 Air France (AF) - France:
With an activity divided between passenger transport, cargo transport and aeronautical maintenance, Air France is a major air transport player.
Air Greece: (JG)
Customized tour packages to Greece, including discount airline tickets on scheduled airlines, and charter air flights from Boston to Athens during the summer months. Travel through history and come home with a tan.
Air Hong Kong: (LD)
Subsidiary of Cathay Pacific Airways and the only all-cargo carrier in Hong Kong. Air Hong Kong also has scheduled flights to Brussels, Dubai, Manchester, Osaka and chartered services to other cities around the world.
Air Iceland: (NY)
Iceland domestic airline.
Air India: (AI)
India's national carrier flies to Abu Dhabi, Ahmedabad, Amsterdam, Bahrain, Bangalore, Bangkok, Calcutta, Calicut-Kozhikode, Chennai-Madras, Chicago, Cochin, Copenhagen, Dar-es-Salaam, Delhi, Dhahran, Doha, Dubai, Frankfurt, Geneva, Goa, Hong Kong, Hyderabad, Jakarta, Jeddah, Kuala Lumpur, Kuwait, London, Los Angeles, Mauritius, Moscow, Mumbai-Bombay, Muscat, Nairobi, New York, Osaka, Paris, Riyadh, Seoul, Singapore, Tokyo, Thiruvananthapuram, Vienna and Zurich.
Air Inuit: (3H)
Nunavik's scheduled airline providing scheduled services to most Nunavik communities five days a week.
Air Ivoire: (VU)
Ivory Coast's Airline has flights to Abidjan from Accra, Bamako, Conakry, Freetown, Monrovia and Ouagadougou, with flights to Cotonou, Dakar, Lome and Niamey coming soon.
Air Jamaica: (JM)
Connecting Jamaica with Atlanta, Baltimore, Barbados, Bonaire, Boston, Chicago, Cincinnati, Fort Lauderdale, Grand Cayman, Grenada, Hartford, Havana, London, Los Angeles, Memphis, Miami, Nassau, Newark, New York, Orlando, Philadelphia, San Francisco and St. Lucia.
Two islands for the price of one: Passengers booked for another Air Jamaica Caribbean destination can stop over in Jamaica for free before continuing on to their destination a few days later.
Air Jamaica Express: (JQ)
Jamaica's domestic air carrier offers scheduled services to Montego Bay, Negril, Port Antonio, Kingston and Ocho Rios. Air Jamaica Express has convenient connections to all Air Jamaica flights to/from Atlanta, Baltimore, Chicago, Fort Lauderdale, Los Angeles, Miami, Newark, New York, Orlando and Philadelphia.
Air Labrador: (WJ)
Newfoundland, Canada. Air Labrador has scheduled services from Blanc Sablon, Deer Lake, Gander, Goose Bay, St. Anthony, St. John's, Stephenville, and Wabush with connections to all 14 Coastal Labrador Communities through Goose Bay and St. Anthony respectively.
Air Lanka: (UL)
The national airline of Sri Lanka is now packaged as SriLankan Airlines.
Air Liberte: (IJ)
French airline connecting Paris and provincial France with Alicante, Pointe a Pitre, Malaga, St. Martin, St. Lucia and St. Denis. Only in French.
Air Lithuania: (TT)
Lithuania's airline operates regular flights to 5 destinations connecting Lithuania with Denmark, Germany, Norway and Sweden. Free shuttle-bus between Palanga airport and Klaipeda, and Kaunas airport and Vilnius.
Air Littoral: (FU)
Based in Montpellier, France. Regional airline with Nice - Milan among its routes.
Airlines of Carriacou: (C4)
Serving The Grenadine Islands with daily scheduled service between Carriacou, Grenada and Union Island plus private air charters.
Airlink: (ND)
Airline services for Papua New Guinea. More about PNG.
Flight Search - Fly For Less
How Many Air Miles:
Interactive Distances between major world cities, in miles or kilometres.
Air Help - Claim compensation for your flight delay or cancellation.
Travel Notes Online Guide to Travel
Africa - Asia - Caribbean - Europe - Middle East - North America - Oceania - South America.

The Travel Notes Online Guide to Travel helps visitors plan their trip with country and city travel guides, local tourist information, reviewed web sites, and regular travel articles.
Car Hire - Cruises - Flights - Hotels.

Arrivals and Departures.
Travel and Tourism Guides on Travel Notes
If Travel Notes has helped you, please take a moment to like us on Facebook and share with your friends on social media.


Travel & Tourism With Industry Professionals.