Travel Notes: Europe Travel Guides.
Short URL: https://tnot.es/Europe
Europe Travel and Tourism on Travel Notes

Find Europe Travel and Tourist Information with links to official travel and tourism websites and state resources for visitors to Europe.
Visiting Europe
Travel Notes helps guide visitors around Every Country in Europe.
Map of Europe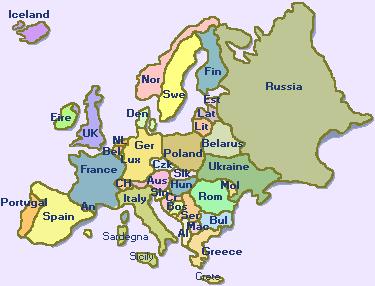 From Albania to Vatican City, travellers and tourists can find out more about Europe at Travel Notes with travel articles, discussions and links.
Europe by Country
Albania - Andorra - Armenia - Austria - Belarus - Belgium - Bosnia-Herzegovina - Bulgaria - Croatia - Cyprus - Czech Republic - Denmark - Estonia - Faroe Islands - Finland - France - Georgia - Germany - Gibraltar - Greece - Greenland - Holland - Hungary - Iceland - Ireland - Italy - Kosovo - Latvia - Liechtenstein - Lithuania - Luxembourg - Macedonia - Malta - Moldova - Monaco - Montenegro - Netherlands - Norway - Poland - Portugal - Romania - Russia - San Marino - Serbia - Slovakia - Slovenia - Spain - Svalbard - Sweden - Switzerland - Turkey - Ukraine - United Kingdom - Vatican City.
Europe Tours
G Adventures
In terms of pure convenience, no continent can touch Europe's diversity. With so many countries, cultures, languages, and varieties of cuisine packed into such a comparatively tiny place, you can spend a week in Europe and experience something wildly different every day.
Culture, history, people, cities, mountains, dancing, and beer all in one place? Sounds like an incredible G Adventures tour to Europe.
Insight Vacations
Experience Europe's most desired destinations in one unforgettable tour with Insight Vacations.
Marvel at must-see sights in culture capitals like London, Paris, Rome and Madrid. Be enchanted by imperial cities like Vienna and Prague, and roam in trendy locales like San Sebastián and Cinque Terre.
Trafalgar Tours
With each crossing of the border bringing new languages, foods, cultures and traditions, the continent of Europe offers one culture-dense, romantic country after the next.
European tour packages from Trafalgar Tours will see you connecting to the real soul of the destinations you go, from the canals of Venice to the countryside of France, and maybe even a stop en route to appreciate the incredible views of the Swiss Alps.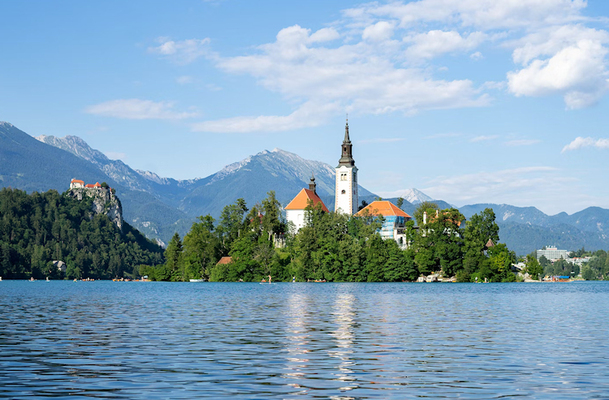 Europe Travel and Tours - What to See and Do in Europe:
When visiting Europe it can be tempting to see everything in one trip. Focus on a few key destinations and allow time to relax and enjoy the experience.
Europe has a diverse landscape with mountains, plains, forests, rivers, and coastlines.
Landscape
The landscape of Europe varies greatly, from the snow-capped peaks of the Alps to the sandy beaches of the Mediterranean.
Several major rivers flow through Europe, including the Danube, the Rhine, the Rhone, and the Volga.
Rich History
Europe is made up of 44 countries, each with its own unique history, culture, and language.
Europe's long and rich history stretches back thousands of years.
The continent has been the site of some of the world's most significant events, including the Roman Empire, the Renaissance, the Protestant Reformation, and the two World Wars.
Many of Europe's cities are home to historic landmarks, such as the Colosseum in Rome, the Eiffel Tower in Paris, and the Big Ben clock tower in London.
The Arts
Europe is known for its contributions to the arts and culture.
Some of the world's most famous artists, writers, musicians, and philosophers were European.
European culture has had a profound influence on the world, from the classical music of Beethoven and Mozart to the paintings of Van Gogh and Picasso.
Europe is also home to many renowned cultural institutions, such as the Louvre Museum in Paris, the British Museum in London, and the Uffizi Gallery in Florence.
Tourist Destinations
Some of the most popular tourist destinations in Europe include Paris, Rome, London, Amsterdam, and Barcelona.
The continent is also known for its contributions to art, music, literature, philosophy, and science, with many famous European artists, writers, philosophers, and scientists having made significant contributions to their fields.
Europe is home to many countries and cities, each with their own unique attractions and culture.
Visit Europe
Visiting Europe can be an amazing experience for Americans.
You should research and decide which destinations you want to visit based on your interests and budget.
France
Paris, is a popular destination for its iconic landmarks such as the Eiffel Tower, Notre-Dame Cathedral, and the Louvre Museum.
Other regions of France also offer a lot to see and do, including the French Riviera, Bordeaux, and the Loire Valley.
Germany
Berlin is known for its history, including the Berlin Wall and the Brandenburg Gate.
Other popular destinations in Germany include Munich, Hamburg, and the Black Forest.
Italy
Rome is a must-visit destination for its historical landmarks such as the Colosseum and the Roman Forum.
Other popular destinations in Italy include Venice, Florence, and the Amalfi Coast.
Netherlands
Amsterdam is a popular destination for its picturesque canals, museums, and nightlife.
Other regions of the Netherlands also offer a lot to see and do, including Rotterdam, The Hague, and Utrecht.
Spain
Barcelona is known for its architecture, including the works of Antoni Gaudi such as the Sagrada Familia and Park Guell.
Other popular destinations in Spain include Madrid, Seville, and Granada.
With so much to explore in Europe some trip planning will go a long way to make your visit to Europe an enjoyable and rewarding one.
Food and Wine
Europe is known for its delicious food and wine.
Make sure to try the local cuisine and explore the local markets and restaurants instead of asking Google where the nearest McDonalds is.
Learn Some Basic Phrases
While many Europeans speak English, it is always a good idea to learn some basic phrases in the local language to show respect and make your interactions with locals more enjoyable.
Pack Smart
The weather in Europe can vary greatly depending on the time of year and the location.
Make sure to pack accordingly and bring comfortable walking shoes for exploring the cities.
Europe is known for its cobblestone streets, so avoid high heels or shoes with thin soles.
Bring clothes that are appropriate for the weather and activities you have planned.
Layers are always a good idea, as the weather can be unpredictable.
Plan Your Itinerary
Once you have chosen your destinations, you should plan your itinerary.
Decide how long you want to stay in each place, how you will get around (train, bus, car, or plane), and what activities you want to do.
You can also look for travel packages that cover multiple destinations and activities.
Reserve Your Accommodations
Europe offers a wide range of accommodations, including hotels, hostels, bed and breakfasts, and rental apartments.
Look for accommodations that are conveniently located and within your budget.
Stay Safe
Europe is generally a safe place to visit, but it is important to take precautions to avoid pickpockets and scams.
Be aware of your surroundings and keep your valuables close to you.
Time of Year
Europe has four distinct seasons, and the weather can vary greatly depending on the region.
Some areas are more crowded in the summer months, while others are more popular in the winter for skiing and other winter sports.
Transportation
Europe has a well-developed transportation system, including trains, buses, and planes.
The Eurail Pass is a popular option for travellers who want to travel by train between multiple destinations.
Travel Insurance
Travel insurance can provide peace of mind and financial protection in case of unexpected events such as medical emergencies, trip cancellations, or lost or stolen luggage.
Travel Essentials
Cash and Credit Cards
While credit cards are widely accepted in Europe, it's a good idea to have some cash on hand for smaller purchases or in case you encounter a place that doesn't accept credit cards.
Make sure to notify your bank and credit card companies of your travel plans so they don't flag your transactions as suspicious.
Electric Adapters
European countries generally use different types of electrical outlets and voltage than North America and other parts of the world.
Make sure to bring a power adapter that is compatible with the outlets in the countries you plan to visit.
Medications
If you take any prescription medications, make sure to bring enough to last throughout your trip.
It's also a good idea to bring a copy of your prescription and a list of your medications in case you need to refill them while you're abroad.
Passport
Your passport is your key to entering and leaving Europe, so make sure to bring it with you and ensure that it is valid for at least six months beyond your travel dates.
Visa
Depending on your nationality, you may need a visa to enter some European countries.
Make sure to check the visa requirements for each country you plan to visit and obtain any necessary visas before you travel.

European Driving Distances:
Driving distances between major European destinations.
Driving Distances From
Amsterdam, Andorra, Athens, Barcelona, Belfast, Belgrade, Bergen, Berlin, Bern, Biarritz, Bilbao, Bonn, Bordeaux, Brindisi, Brussels, Bucharest, Budapest, Calais, Catania, Copenhagen, Cork, Dover, Dublin, Dubrovnik, Edinburgh, Essen, Faro, Florence, Frankfurt, Geneva, Genoa, Gothenburg, Graz, Hamburg, Hammerfest, Hannover, Helsinki, Innsbruck, Istanbul, Koln, La Coruna, Le Havre, Leipzig, Lisbon, London, Luxembourg, Lyon, Madrid, Malaga, Manchester, Marseille, Milano, Munich, Nantes, Naples, Nice, Nuremberg, Oslo, Palermo, Paris, Patras, Perpignan, Plymouth, Porto, Prague, Rijeka, Rome, Rotterdam, Salzburg, San Marino, Seville, Sofia, Southampton, Stavanger, Stockholm, Strasbourg, Stuttgart, Thessaloniki, Tirana, Toulouse, Trondheim, Vaasa, Venice, Vienna, Warsaw, Zagreb, Zaragoza, Zurich.
Europe by Rail
For the budget-minded, overnight trains are a great way to save on accommodation, and you'll wake up in a new city, or even a new country.
Exploring Europe by Rail has never been easier.
The romantic can enjoy a lakeside breakfast on the move, with views of snow-covered mountain peaks.
Ferry Crossings
DFDS Seaways:
Choose from a selection of ferry crossings, mini cruises, city breaks, themed cruises and holidays in Northern Europe and the Baltic.
Travel Europe by Bus
Eurolines connects over 500 cities in 25 European countries and offers travellers the freedom to explore Europe at their own pace, in the greatest comfort and the lowest price possible.
Europe Through The Back Door:
Includes itinerary planning, what form of transportation is best for you, sleeping and eating cheap, packing light, doing laundry, how to avoid theft and rip-offs, travel photography, communicating in a language you don't understand, using the phones for local and long-distance calls, keeping healthy while travelling, and advice for women travelling alone.
How Many Air Miles:
Interactive distances between major world cities, in miles or kilometres.
Orient Express Bicycle Expedition:
From the French vineyards, to the spas of Budapest, and the spices of Turkish bazaars, this is a continental tour like no other.
Mediterranean Europe Phrasebook:
The beauty of travelling around the Med is the various languages and cultures we encounter. Unfortunately, most of us can only manage a few of the languages, at most.
This practical phrasebook from Lonely Planet Includes Albanian, Croatian, French, Greek, Italian, Macedonian, Portuguese, Slovene, Spanish and Turkish.
Now you need never go hungry again.
Europe on a Budget
It is possible to travel in Europe on a shoe-string budget if you stay in convents/monasteries, hostels, or tap into traveller's networks such as Couchsurfing.
Go Barging
All inclusive luxury cruise barge vacations in Europe. Gourmet meals, private tours and transportation provided. Adventure cruises include special golf cruises and horse riding cruises.
Established in 1974, European Waterways offer luxury hotel barge cruises on some of the most beautiful waterways in Europe.
Far removed from the hustle and bustle of city life, these voyages allow you to travel in luxury without the strains of packing and unpacking, whilst enjoying a balanced blend of daily excursions and fascinating cruising.
Essential Sights and Attractions in Europe's Cities
Where else can you experience fine food, exquisite art, architectural splendour and world-class museums?
Europe's top destinations - London, Paris, Rome, Amsterdam and Venice - offer all of this and much more.
Been there, done that?
Then take try some of the other exciting tour options in the popular European cities of Athens, Barcelona, Berlin, Brussels, Budapest, Copenhagen, Madrid, Munich, Prague or Vienna.
Europe 101: History and Art for the Traveller
If you'd rather do a self-guided tour of Europe's famous museum's, be sure to arm yourself with a copy of Rick Steeves' Europe 101: History and Art for the Traveller.
Hen and Stag Weekends
If travelling on a stag or hen weekend to a foreign country (especially a city you have never been to before), always try and organise a local guide to ensure you get to see the best sights.
European Union:
Naturally the EU site is in all the languages of the member states. But just who are the member states?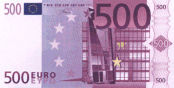 Eurozone:
The Euro is the official currency in 20 European Union countries (Austria, Belgium, Croatia, Cyprus, Estonia, Finland, France, Germany, Greece, Ireland, Italy, Latvia, Lithuania, Luxembourg, Malta, Netherlands, Portugal, Slovakia, Slovenia and Spain).
Although not EU members, Monaco, San Marino and Vatican City also use the Euro.
European History
If you're interested in European history, Eurodocs has a reviewed list of links to primary historical documents from Western Europe.
Europe Travel Guides - Europe Maps.
Satellite View of Europe's Weather:
How's the cloud cover over the European continent?
Weather in Europe:
Local weather forecasts for destinations around Europe.
Travel Notes Online Guide to Travel
Africa - Asia - Caribbean - Europe - Middle East - North America - Oceania - South America.

The Travel Notes Online Guide to Travel helps visitors plan their trip with country and city travel guides, local tourist information, reviewed web sites, and regular travel articles.
Travel and Tourism Guides on Travel Notes
If Travel Notes has helped you, please take a moment to like us on Facebook and share with your friends on social media.


Travel & Tourism With Industry Professionals.
Online Travel Resources

Advertise - Affiliates - Airlines - Airports - Business Listings - Car Hire - City Guides - Cruises - Favourite Places - Flights - Hostels - Hotels - Lodging - Rail Travel - Round The World - Timeshares - Topsites - Tours - Travel Blogs - Travel Directory - Travel Insurance - Travel SEO - Vacation Rentals.

Middle East.