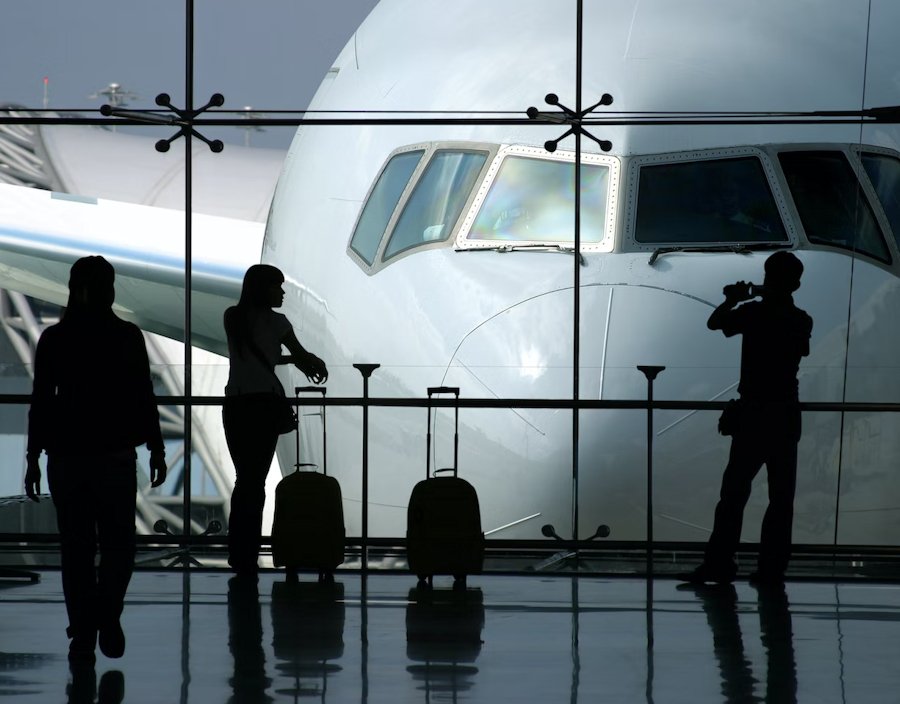 Airport Scene by L.Filipe C.Sousa on Unsplash.

Travel Notes: Airport Index - Airports by Destination A-B.
The airport index on Travel Notes helps you find airport websites around the world.
You can also find airport codes, where the airlines fly, destination information, how to get there and all about ground transportation and airport facilities around the world.
World Airports and Airport Codes
Airport Codes - Sorted by Destination
| A-B | C-E | F-I | J-M | N-R | S-U | V-Z |
Aalborg, Denmark (AAL)
Aalesund - Vigra, Norway (AES)
Aarhus - Tirstrup, Denmark (AAR)
Aberdeen Regional Airport, South Dakota (ABR)
Aberdeen - Dyce, Scotland (ABZ)
Abidjan - Port Bouet, Cote D'Ivoire (ABJ)
Abilene Municipal Airport, Texas (ABI)
Abu Dhabi International, United Arab Emirates (AUH)
Abu Simbel, Egypt (ABS)
Acapulco - Alvarez International, Mexico (ACA)
Accra - Kotoka, Ghana (ACC)
Adana, Turkey (ADA)
Addis Ababa - Bole, Ethiopia (ADD)
Adelaide, South Australia (ADL)
Aden, Yemen (ADE)
Agadir - Al Massira Airport, Morocco (AGA)
Agen - La Garenne, France (AGF)
Agra - Kheria, India (AGR)
Aguadilla, Puerto Rico (BQN)
Aguascalientes, Mexico (AGU)
Ahmedabad, India (AMD)
Ajaccio - Campo Dell Oro, Corsica (AJA)
Akron-Canton Regional Airport, Ohio (CAK)
Akureyri, Iceland (AEY)
Al-Ain, United Arab Emirates (AAN)
Alamogordo, New Mexico (ALM)
Alamosa - Bergman Field, Colorado (ALS)
Albany County Airport, New York (ALB)
Albany - Dougherty County, Georgia (ABY)
Albuquerque International Airport, New Mexico (ABQ)
Albury, New South Wales (ABX)
Alderney - The Blaye, Channel Islands (ACI)
Aleppo - Nejrab, Syria (ALP)
Alexandria, Egypt (ALY)
Alexandria - Esler Field, Louisiana (ESF)
Alghero - Fertilia, Sardinia (AHO)
Algiers - Houari Boumedienne, Algeria (ALG)
Alicante, Spain (ALC)
Alice Springs, Northern Territory (ASP)
Allakaket, Alaska (AET)
Allentown-Bethlehem-Easton Airport, Pennsylvania (ABE)
Alliance, Nebraska (AIA)
Almaty, Kazakhstan (ALA)
Almeria, Spain (LEI)
Alor Setar - Sultan Abdul Halim, Malaysia (AOR)
Alotau - Gurney, Papua New Guinea (GUR)
Alpena Regional Airport, Michigan (APN)
Alpine, Texas (ALE)
Alta - Elvebakken, Norway (ALF)
Altoona/Martinsburg - Blair County, Pennsylvania (AOO)
Amarillo International Airport, Texas (AMA)
Ambler, Alaska (ABL)
Ambon - Pattimura, Indonesia (AMQ)
Amman - Queen Alia International, Jordan (AMM)
Amman Civil Airport, Jordan (ADJ)
Amos, Quebec (YEY)
Amsterdam - Schiphol, Netherlands (AMS)
Anaheim - John Wayne International, California (ANA)
Anchorage International, Alaska (ANC)
Ancona - Falconara, Italy (AOI)
Andros Town, Bahamas (ASD)
Anguilla, Anguilla (AXA)
Aniak, Alaska (ANI)
Ankara - Esenboga, Turkey (ESB)
Annaba - Les Salines, Algeria (AAE)
Annecy-Meythe, France (NCY)
Anniston Municipal Airport, Alabama (ANB)
Antalya, Turkey (AYT)
Antananarivo - Ivato, Madagascar (TNR)
Antofagasta - Cerro Moreno, Chile (ANF)
Antwerp - Deurne, Belgium (ANR)
Anvik, Alaska (ANV)
Aomori, Japan (AOJ)
Apia - Faleolo, Samoa (APW)
Appleton - Outagamie County Airport, Wisconsin (ATW)
Aqaba, Jordan (AQJ)
Aracaju, Brazil (AJU)
Arauca, Colombia (AUC)
Arcata/Eureka Airport, California (ACV)
Arequipa - Rodriguez Ballon, Peru (AQP)
Arica - Chacalluta, Chile (ARI)
Arkhangelsk, Russia (ARH)
Armidale, New South Wales (ARM)
Arthurs Town, Bahamas (ATC)
Aruba - Reina Beatrix, Aruba (AUA)
Asahikawa, Japan (AKJ)
Asheville Regional Airport, North Carolina (AVL)
Asmara International, Eritrea (ASM)
Aspen - Pitkin County Airport, Colorado (ASE)
Asturias, Spain (OVD)
Asuncion - Silvio Pettirossi, Paraguay (ASU)
Aswan - Daraw, Egypt (ASW)
Athens International Airport Eleftherios Venizelos, Greece (ATH)
Athens, Georgia (AHN)
Atikokan, Ontario (YIB)
Atlanta - Hartsfield International, Georgia (ATL)
Atlantic City International, New Jersey (ACY)
Auckland International Airport, New Zealand (AKL)
Augsburg - Muehlhausen, Germany (AGB)
Augusta - Bush Field, Georgia (AGS)
Augusta - Maine State, Maine (AUG)
Aurangabad - Chikkalthana, India (IXU)
Austin Municipal Airport, Texas (AUS)
Avignon - Caumont, France (AVN)
Ayers Rock - Connellan, Northern Territory (AYQ)
Bacolod, Philippines (BCD)
Bagdogra, India (IXB)
Bahia Blanca - Commandante, Argentina (BHI)
Bahrain International, Bahrain (BAH)
Baie Comeau, Quebec (YBC)
Bakersfield - Meadows Field, California (BFL)
Baku, Azerbaijan (BAK)
Baltimore-Washington International, Maryland (BWI)
Bamaga, Queensland (ABM)
Bamako - Senou, Mali (BKO)
Bandar Seri Begawan, Brunei (BWN)
Bandung - Husein Sastranegara, Indonesia (BDO)
Banff, Alberta (YBA)
Bangalore - Hindustan, India (BLR)
Bangkok-Suvarnabhumi International Airport, Thailand (BKK)
Bangor International Airport, Maine (BGR)
Bangui, Central African Republic (BGF)
Banjarmasin - Syamsudin Noor, Indonesia (BDJ)
Banjul - Yundum International, Gambia (BJL)
Bar Harbor, Maine (BHB)
Barcelona, Spain (BCN)
Barcelona, Venezuela (BLA)
Bari, Italy (BRI)
Barinas, Venezuela (BNS)
Barnaul Airport, Russia (BAX)
Barquisimeto, Venezuela (BRM)
Barra - North Bay, Hebrides Islands, Scotland (BRR)
Barranquilla - E Cortissoz, Colombia (BAQ)
Barrow, Alaska (BRW)
Basel-Mulhouse, Switzerland (BSL)
Bastia - Poretta, Corsica (BIA)
Bathurst Island, Northern Territory (BRT)
Baton Rouge - Ryan Airport, Louisiana (BTR)
Bayreuth, Germany (BYU)
Beaumont - Jefferson County, Texas (BPT)
Beckley, West Virginia (BKW)
Bedford, Maine (BED)
Beica, Ethiopia (BEI)
Beijing - Peking Capital Airport, China (PEK)
Beijing, China (NAY)
Beira, Mozambique (BEW)
Beirut, Lebanon (BEY)
Belem - Val De Cans, Brazil (BEL)
Belfast International, Northern Ireland (BFS)
Belfast Harbor, Northern Ireland (BHD)
Belgrade-Beograd, Yugoslavia (BEG)
Belize City International, Belize (BZE)
Belize City Municipal, Belize (TZA)
Bellingham International, Washington State (BLI)
Belo Horizonte International, Brazil (CNF)
Belo Horizonte - Confins/Pampulha, Brazil (PLU)
Bemidji Municipal Airport, Minnesota (BJI)
Benton Harbor - Ross Field, Michigan (BEH)
Bergen - Flesland, Norway (BGO)
Berlin - Schoenefeld, Germany (BER)
Berlin - Schoenefeld, Germany (SXF)
Berlin - Tegel, Germany (TXL)
Berlin - Tempelhof, Germany (THF)
Bermuda/Hamilton, Bermuda (BDA)
Berne - Belp, Switzerland (BRN)
Bethel, Alaska (BET)
Beziers, France (BZR)
Bhairawa, Nepal (BWA)
Bhubaneswar, India (BBI)
Biak - Mokmer, Indonesia (BIK)
Biarritz - Parme, France (BIQ)
Bilbao - Sondica, Spain (BIO)
Billings, Montana (BIL)
Billund, Denmark (BLL)
Bimini Island International, Bahamas (BIM)
Bimini - North Seaplane Base, Bahamas (NSB)
Binghamton/Endicott/Johnson City, New York (BGM)
Bintulu, Sarawak, Malaysia (BTU)
Birdsville, Queensland (BVI)
Birmingham International, England (BHX)
Birmingham, Alabama (BHM)
Bishkek Airport, Kyrgyzstan (FRU)
Biskra, Algeria (BSK)
Bismarck Mannan Municipal, North Dakota (BIS)
Bissau - Osvaldo Vieira, Guinea-Bissau (OXB)
Blackpool, England (BLK)
Blanc Sablon Airport, Quebec (YBX)
Blantyre - Chileka, Malawi (BLZ)
Bloemfontein, South Africa (BFN)
Bloomington - Monroe County Airport, Indiana (BMG)
Bloomington, Illinois (BMI)
Bluefield, West Virginia (BLF)
Boa Vista, Brazil (BVB)
Bodo, Norway (BOO)
Bodrum - Imsik Airport, Turkey (BXN)
Bogota - Eldorado, Colombia (BOG)
Boise Municipal Airport, Idaho (BOI)
Bologna - Guglielmo Marconi, Italy (BLQ)
Bombay, India (BOM)
Bonaire - Flamingo Field, Dutch Antilles (BON)
Bonaventure, Quebec (YVB)
Bonn, Germany (BNJ)
Bordeaux - Merignac, France (BOD)
Bornholm - Arnager, Denmark (RNN)
Boston - Logan International, Massachusetts (BOS)
Boulder, Colorado (WBU)
Bozeman - Gallatin Field, Montana (BZN)
Bradford Regional Airport, Pennsylvania (BFD)
Brainerd, Minnesota (BRD)
Brandon, Manitoba (YBR)
Brasilia International, Brazil (BSB)
Bratislava - Ivanka, Slovakia (BTS)
Breckenridge, Colorado (QKB)
Bremen, Germany (BRE)
Bremerton Municipal, Washington State (PWT)
Brest - Guipavas, France (BES)
Bridgeport - Sikorsky Memorial, Connecticut (BDR)
Bridgetown - Grantley Adams Int., Barbados (BGI)
Brisbane International Airport, Queensland (BNE)
Bristol, England (BRS)
Bristol - Tri-City Regional Airport, Tennessee (TRI)
Brive-La-Gaillarde - Laroche, France (BVE)
Brno - Turnay, Czech Republic (BRQ)
Brockville, Ontario (XBR)
Broken Hill, New South Wales (BHQ)
Bronnoysund, Norway (BNN)
Brookings Municipal Airport, South Dakota (BKX)
Brownsville - South Padre Island Int., Texas (BRO)
Brunswick - Glynco Jetport, Georgia (BQK)
Brussels Airport, Belgium (BRU)
Bucaramanga - Palo Negro, Colombia (BGA)
Bucharest - Otopeni, Romania (OTP)
Bucharest - Baneasa, Romania (BBU)
Budapest - Ferihegy, Hungary (BUD)
Buenos Aires - Ezeiza Int. Airport, Argentina (AEP)
Buenos Aires - Jorge Newberry, Argentina (AEP)
Buffalo, New York (BUF)
Bukhara, Uzbekistan (BHK)
Bulawayo, Zimbabwe (BUQ)
Bullhead City, Arizona (IFP)
Burbank Glendale Pasadena Airport, California (BUR)
Burlington International Airport, Vermont (BTV)
Burlington Municipal Airport, Iowa (BRL)
Burns Lake, British Columbia (YPZ)
Bushehr, Iran (BUZ)
Butte, Montana (BTM)
Butuan, Philippines (BXU)
Airport Codes - Sorted by Destination
| A-B | C-E | F-I | J-M | N-R | S-U | V-Z |
Three Letter IATA Airport Codes
A - B - C - D - E - F - G - H - I - J - K - L - M
N - O - P - Q - R - S - T - U - V - W - X - Y - Z
Flight Search - Fly For Less
How Many Air Miles:
Interactive Distances between major world cities, in miles or kilometres.
Air Help - Claim compensation for your flight delay or cancellation.
Travel Notes Online Guide to Travel
Africa - Asia - Caribbean - Europe - Middle East - North America - Oceania - South America.

The Travel Notes Online Guide to Travel helps visitors plan their trip with country and city travel guides, local tourist information, reviewed web sites, and regular travel articles.
Car Hire - Cruises - Flights - Hotels.
Travel and Tourism Guides on Travel Notes
If Travel Notes has helped you, please take a moment to like us on Facebook and share with your friends on social media.


Travel & Tourism With Industry Professionals.

Who Flies Where.